The following Best Steaks in Singapore guide has been a delicious work in progress for a while now, and is very close to my heart. And arteries. For those of you who have been reading my blog, you'll know I absolutely love steak and have gone to great lengths finding the best there is in Singapore. Most of the steaks in Singapore are either from Australia, USA, or more frequently now, Japan for their prized Wagyu breeds.
This guide is split into more affordable options, and the 'money isn't an issue, I own a yacht' option. But honestly there's still a significant difference in quality between the premium cut and the cheaper cuts; You get what you pay for. The best balance is perhaps to buy an expensive beef steak at a wholesaler, then cook it yourself with the appropriate equipment.
But if you're lazy or just prefer a professional to handle your steak, these restaurants will do your steak the best you can find in Singapore. Remember as with all food guides, this is based on my experience and opinion, which can be highly subjective. A final caveat: if you prefer your steak well-done, I'll have to firmly yet politely ask you to leave now.
At well-doneness, it makes no difference the quality of steak you cook as all the fats and flavour are pretty much burnt to oblivion. You can eat a tire and it'll be the same.
Best Good and Cheap Steaks in Singapore
By cheap, I mean these are $30-$50 steaks. It's all a matter of relativity because if you want any decent cut less than $20 a steak, you're going to have to cook it yourself. Check out my wholesale fresh meat guide on where you can buy good raw steaks just for that. But if you are the type that can set maggi mee on fire, here's my list.
1. Huber's Butchery/Bistro
"Best of the butcher's steak"
Huber's is probably the most modernised butchery in Singapore right now and supplies meat to many restaurants around Singapore. Why not just eat at the source?
There are only two steaks on the menu: US Prime Sirloin Steak 220g ($28) and Australian Angus Fillet Steak 220g ($28). The steaks are simply grilled and you can be assured this butcher serves meat as fresh as it gets in Singapore.
At $28 for a US Prime steak and topped with a herb & butter flavoured brown sauce, you won't find this value quality anywhere else.
Huber's Butchery: 22 Dempsey Road, Singapore 249679 | Tel: +65 6737 1588 | Website
"Best value for its weight"
Meat n' Chill is a casual, Americanized diner along Bukit Timah which serves tasty meats and a good dose of mellowness. This diner which sits along Bukit Timah road was started by three good pals fueled by their love for meaty American foods and for casual dining.
One of the best value steak I've seen in Singapore is their gigantic New York Strip (500g) for just $27. The orders for the steaks at Meat n Chill are limited to about 10 to 15 a day as the process to prepare these meats are long and arduous. Steaks are slow cooked, then char grilled resulting in a deep smokiness.
Also, try the 250g Red Neck Soo-veed Rib-eye Steak ($27) which is more tender and almost melts in your mouth.
Meat n Chill: 805 Bukit Timah Rd, Singapore 279883 | Tuesday to Sunday 1100-2300, Closed on Mondays | Tel: 6219 7460 | Website
 "A different zi char with steak"
New Ubin seafood is what I would call a  'hipster' zi char restaurant, now relocated Hillview from Sin Ming Road. Other than the traditional zi char dishes, what drew me here was the surprise recommendation from foodies that the beef steak is actually pretty good. So what they have at New Ubin is a USDA Choice Black Angus ribeye steak ($12/100g), which although technically not the most premium grade, was charcoal grilled and prepared well.
This steak typically comes between 500g to 700g, accompanied by potato wedges, and the fabled Fried Rice caramelized with beef drippings. The glorified beef fried rice is the stuff of many taxi uncle legends, and definitely something you have to taste to believe.
New Ubin Seafood: 63 Hillview Avenue, Level 6 (Canteen), Singapore 669569 | Tel: 6466 9558 | Website
"Fat and affordable steaks"
Hidden within Sugarhaus and only opening at 6pm is Fat Belly, an unassuming steakhouse serving great value steaks. Carefully sourcing their meats for premium breeds like Wagyu combined with secondary cuts such as onglet and careful portioning, Fat Belly is able to deliver excellent quality at pocket-friendly prices.
I personally recommend the 400 day grain-fed Marble Score 4-5 Wagyu Deckle ($45). The 'deckle' is also known as the ribeye cap which is a fatty strip cut from the ribeye that does have a little more connective tissues as a drawback but is tender and plump.
There's also the USDA 150 day grain-fed Angus Flat Iron ($22) cut from the second most tender part of the cow i.e the beef chuck, for an even more accessible price. Fat Belly has a small steak selection focusing on giving fatty, juicy steaks to willing guests.
Fat Belly: 10 Jln Serene, #01-04, Singapore 258748 | Tel: 6314 2247 | Website
"Secondary cut steaks"
Using secondary cuts rather than the more expensive primary cuts, The Market Grill manages to balance price and quality by utilizing good breeds of bovine. Good, hearty charbroiled steaks are the cornerstone of this small hole-in-the-wall concept.
Try the simple 200g Wagyu Rump ($40) topped with caramelized onions, Beef hanging Tender ($40) or Black Angus Beef Bavette ($40); very flavorful and still tender from their dry-aging process.
Comes with choice of pepper corn sauce or red wine jus. They also serve premium cuts if you are feeling wealthier, but then I'd recommend you check out the premium steakhouses in the next category instead.
The Market Grill: 208 Telok Ayer Street, Singapore 068642 | Tel: 6221 3323 | Website
"Restaurant steak at a hawker"
Meet 4 Meat is opened by Chef Jimmy (an ex-chef at Wooloomooloo Steakhouse in Swissôtel) who uses a flame-grill for his steaks at this hawker stall along East Coast road. According to him, this adds a robust smoky aroma and flavour to the different cuts of meat.
Their unique seller is the Beef Wellington ($27); a preparation of tenderloin coated with pâté and duxelles (mushroom paste), wrapped in puff pastry and baked.
In Chef Jimmy's rendition of this dish, instead of the traditional pâté de foie gras, a delicate piece of pan-seared foie gras is embedded in the mushroom duxelles. All these goodness is placed atop the filet mignon, 180-grams of grass-fed Australian tenderloin. Alternatively, the 200gm Aussie Ribeye ($18) is also worth a try. For this quality at its price, these hawker steaks are well worth it.
Meet 4 Meat: 228 East Coast Road, Singapore 428925 | Tel: +65 8290 3605 | Opening Hours: 12pm – 9.30pm (Daily) | Facebook
7. Culina Bistro
"Pick your meat"
Serving mostly Australian steaks, What I like about Culina bistro is how the experience is integrated with the butchery, and the way you can select any steak from the retail section then get it cooked (extra $15 prep fee). Prices can vary, depending on the type of beef you select, from $4.80/100 g (1824 Queensland) all the way to over $60/100 g (Blackmore full blood wagyu).
Culina supplies many of the steak restaurants, so they definitely have a freshness edge, but cooking technique still comes into play in the end. I highly recommend trying the Robbins Island Full blood Wagyu ($9.80/100 g) from Tasmania, the steak of choice used at Waku-Ghin. My only gripe about this place is how they don't sell any other beverage other than sparkling, still and wines. Can't a guy get a coke around here?
Culina Bistro: Blk 8, Dempsey Road, #01-13 Dempsey Hill, Singapore 247696 | Tel: 6474 7338 | Website
8. Les Bouchons
"Parisian steak frites"
A quaint parisian style steakhouse, Les Bouchons is small but serves amazing steak. I almost always get the Grilled Rib Eye Steak With "Vigneron" Butter ($38.80), which comes with salad and free flow homemade fries.
Very evenly cooked and flavorful, Les Bouchons' rib eye steak frites is probably in a tie with Cocotte for best steak in this price range. You can also try the Giant "Cote De Boeuf" ($48) 1Kg for 2 Persons, which is a bone-in prime rib basically. I still prefer the rib eye, but this is pretty impressive to behold with ample fats around.
Les Bouchons: 7 Ann Siang Road, Singapore 069689 | Tel: 6423 0737 | Website
9. iSTEAKS Diner
"Surprisingly good and cheap steaks"
Despite the tacky interior and fastfood looking concept, iSTEAKS serves pretty decent steaks for its price. There's not as much flavour profile but hell, their steaks are juicy and tender with a nicely done charred finish.
The New Zealand ribeye starts from $19.50 for 200g, but I'd recommend the Australian 100 days Grain-fed ribeye ($21.50). There's also fancier items like the 600g Porterhouse or 1.5kg NZ OP rib steak if you're starving.
There's no reservations available at iSTEAKS and it's purely a 'walk-in and camp for a seat' kind of place, so do be prepared to wait it out.
iSteaks: 1 Maju Avenue, myVillage, #02-03/04/05/06 , Singapore 556679 | Tel: +65 6285 8839  | Website
Best Premium Steaks in Singapore
Steaks in this category typically cost $70 and above per steak. Although not cheap, these restaurants below are probably the best you can find in Singapore. Expensive doesn't mean good though, and I've tried a few expensive steakhouses where they manage to screw up top quality meat. If it's well known and not featured here, that's why.
"My favorite steakhouse"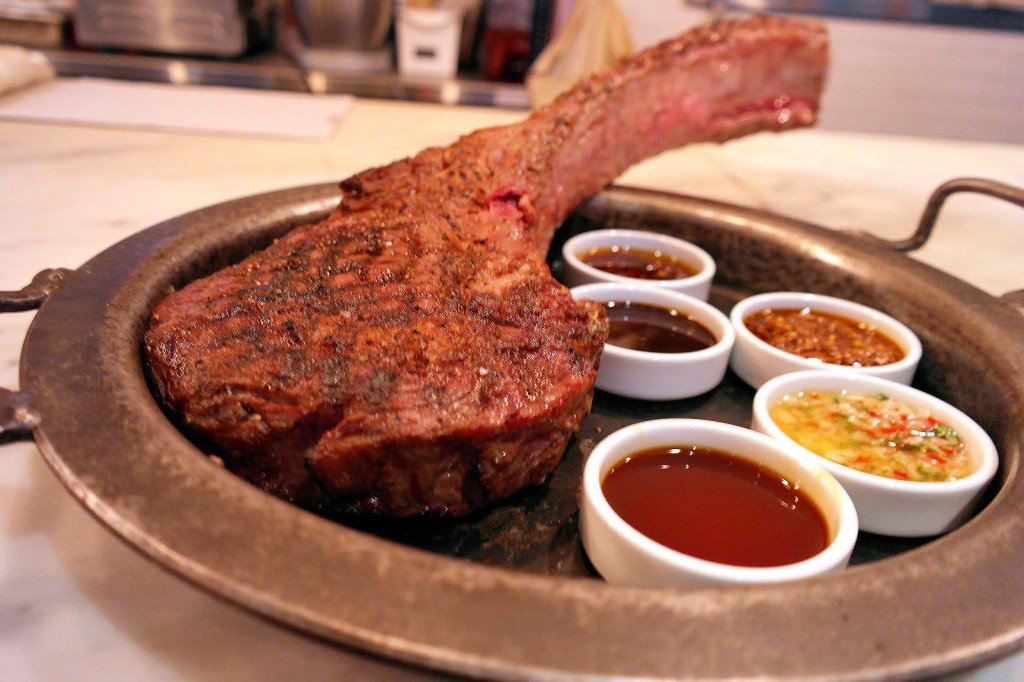 Bedrock is no doubt, my favorite steakhouse in this entire list. The Bedrock Black Pepper steak ($79), is probably the most balanced steak cut I've had, which uses Rib Eye Cap. Flavourful and evenly cooked with a nice charred finish, skip the black pepper sauce though.
You can also try the famous Tomahawk steak (market price), which was first introduced to Singapore at Bedrock. Typically it comes around 1.4- 2 kg per serving, which feeds at least 3 people already, and should be in the range of $200. Bedrock serves pretty fine whiskys too, prefect with grilled steaks.
Bedrock Bar and Grill: 96 Somerset Road, #01-05 Pan Pacific Serviced Suites, Singapore 238163 | Tel: 6238 0054 | Website
"Seared to perfection"
SEAR steakhouse aims to provide the highest quality of steak at prices more mainstream. Singular steaks might still be on the higher end, but the lunch sets are pretty affordable in the $30 range.
A Spanish imported Pira charcoal oven is used to cook the steaks thoroughly while imbuing that beautiful char finish that just completes the steak experience. The ambience and view at SEAR is also my favorite out of this list of steakhouses. SEAR comes in at a draw with Bedrock for my favorite steakhouse.
I especially enjoyed the Margaret River Wagyu Striploin 300gm ($75), while the Jacks Creek Ribeye 250gm ($70) is equally flavourful but a bit thin for my liking – I like biting into a good mouthful of beef, but other than that its perfect.
Sear: 50 Raffles Place, Singapore Land Tower, #45-01, Singapore 048623 | Tel: +65 6221 9555 | Website
"The house name for steak"
If you mention steaks in Singapore, Morton's Steakhouse always pops up. Is it worth the price? Absolutely. Morton's promise is to serve huge macho, hearty dishes with pleasant service. Prices are steep, but there is no way you will leave hungry from the size of their steaks.
Center Cut Prime Ribeye ($99.50) is my choice of flavorful steak at Morton's, and is an extremely close fight with Bedrock's ribeye cap. At about 450g, this is a huge piece of steak. You might try the Center Cut Filet Mignon ($80/$90/$99) as well, which is extremely lean yet still tender and juicy.
Morton's Steakhouse: 5 Raffles Ave, Mandarin Oriental Hotel, Singapore 039797 | Website
Related Guide: Where Chefs Eat: Best Restaurants in Singapore
"A mini steakcation"
The recommended Skirt steak 200g ($68) is pretty highly marbled and worth the price, but try the Bone-in 500g Striploin ($104), which although costs more, has a larger portion and tastes more beefy in flavour rather than just fats.
Great service and amazing ambience like stepping out of Singapore, SKIRT is definitely a steakhouse I would recommend for special occasions and for magnificent steaks. For steak connoisseurs who know specifically what type of beef they like, you'll also be pleasantly surprised by the wide variety of steaks they have.
SKIRT (W Hotel): 21 Ocean Way, W hotel, Singapore 098374, | Tel: 6808 7278 | Website
14. Luke's Oyster Bar and Chophouse
"The sleek steak"
Luke's Chophouse is an American concept restaurant (with European influences) specializing in serving steaks and chops expertly sourced and butchered. A frequent haunt of corporate steakphiles, Luke's is usually extremely packed, so do make reservations at least 3 days in advance. In fact, you'd have to leave a voice message for reservations.
For an absolute steal, go for the exclusive lunch item Steak and Fries ($38) with mustard cognac jus and peppercorn crust, which is similar to the pricier but larger Luke's Bone-in tenderloin Au Poivre ($74) on the regular menu. This steak is very lean, lacks all manner of tendon, yet still juicy and such a joy to consume with the peppercorn crust, a contrast to the usual grill charred top.
Luke's Oyster Bar and Chophouse: 20 Gemmill Ln, Singapore 069256 | Tel: 6221 4468 | Website
15. Burnt Ends
"The hottest steak"
Burnt Ends is another project by Asia's Top 50 restaurants Chef Andre Chiang, so that should tell you something about the standards already. A small, no reservations restaurant with limited seats, Burnt Ends' concept revolves around the open concept kitchen and back to basics, custom double giant wood-fired grill and oven.
Due to the high fat content of the meats used, it takes longer time to cook and render the fats thus resulting in a thick charred finish. Steaks to look out for include the 46 Days dry Aged Full Blood Mayura OP Rib ($450/kg) for higher marbled beef, and the 53-day dry aged Cape Grim Rib ($190/ kg), which will come heavily covered with burnt ends, which is literally also the barbecued, charred fat portion of the meat.
Burnt Ends: 20 Teck Lim Rd, Singapore 088391 | Tel: 6224 3933 | Website
"Celebrity steak"
CUT is definitely one of the top steakhouses in Singapore, don't get me wrong, but probably not as value for money as some of the other steakhouses. It's an expensive piece of steak. Really dark for dinner too.
Choice of fresh quality ingredients and minimal added flavours, that's the main style at CUT although they do provide mustard and some other sauces ($5) if required. Serving mainly American prime steaks like USDA Prime New York Sirloin steak ($72-$98), the 395g Ribeye steak ($98) is also pretty good, being flavourful with a touch of grilled char. They also serve wagyu steaks if you like very marbled and fatty meat.
CUT by Wolfgang Puck: 10 Bayfront Avenue, The shoppes at Marina Bay Sands, B1-71 | Tel :6688 8517 | Website
"Fiorentina style steak"
Serving Italian Fiorentina steak, Bistecca Tuscan is definitely on my list of one of Singapore's best steakhouses with excellent service and a romantic ambience.
You won't want to miss out their signature wood-fired Fiorentina BMS 6 Wagyu F1 T-bone (1.1 kg $188), which is not only huge, but very evenly pink and full of bone flavour. This Australia Wagyu-cross beef cut is exclusively exported to Bistecca Tuscan steakhouse only, and is grain-fed for 420 days as well as dry aged in-house.
Bistecca Tuscan Steakhouse: 25 Mohamed Sultan Road, Singapore 238969 | Tel: 67356739 | Website
"Distinguished gentlemen's steak"
Just beside the world-famous Long Bar, birthplace of the Singapore Sling, Long Bar Steakhouse continues the colonial heritage of Raffles Hotel with its warm, teak furnishing and gourmet steak delicacies. Long Bar Steakhouse gives off the scent of 'old money', a place for the upper-class to gather for fine-dining in Singapore.
If you would like to try a good variety, opt for the Tasting of Rib eye ($178) or the Tasting of Filet Mignon ($158), which will give you a variety of USDA prime and Australian steaks based on the cut you choose.
Long Bar Steakhouse: 1 Beach Road, Raffles Hotel, Singapore 189673 | Tel: 6412 1816 | Website
Classic table side service, top-notch hospitality, The Tavern restaurant epitomizes the old-fashioned European fine-dining concept. A very nice experience for dates with quaint accessories and furnishing.
They have 3 steak cuts: Japanese Miyazaki A5 Wagyu ($65/100g), Australian Stockyard Wagyu Ribeye MBS 7 ($45/100g) and U.S Certified Angus Beef Prime Ribeye ($39/100g). The steak will be brought out table side, which you can then state how much you want for them to cut.
The Tavern: 227 River Valley Road, Singapore 238285 | Tel: 67376995 | Website
"The black horse of steak"
This was a surprising find for me at Zafferano's during a tasting- Fiorentina alla brace ($168). Most Italian joints typically call it Bistecca alla Fiorentina, Fiorentina alla brace roughly translates as 'grilled Fiorentina steak' instead. Fiorentina steak is basically a T-bone steak, which is a combination of tenderloin and short-loin cut. Zafferano's Fiorentina uses a 900g charcoal grilled Australian Black Angus steak with oyster mushroom, shallots and bone marrow.
I didn't see any bone-marrow, but boy did I see a huge piece of steak. Soft, tender, no cartilage or veins, medium rare with a subtle brown mushroom sauce and char, this steak got it all right. This is definitely a top 5 beef steak I've had in Singapore, right here, in an Italian restaurant.
Zafferano: Ocean Financial Centre, Level 43 10 Collyer Quay, Singapore 049315 | Tel: 6509 1488 | Website
The roast beef comes as The Lawry's Prime Rib dinner, which includes Spinning Bowl Salad, Idaho Mash Potatoes, Yorkshire Pudding and choice size of prime rib steak cut (price depends on size, from 130g for $63 to 450g for $123). This is already a whole meal on its own. The prime rib is thoroughly done evenly, and tastes very different from the other steakhouses.
If you enjoy  tableside theatrics and having a more visual and interesting dining experience, no one does it like Lawry's the Prime Rib. Contrasting from the usual steak grills, texture and taste wise for the roast beef is quite subjective, but the experience is truly unique. Judging from the local response for Lawry's style of roast prime rib beef, you either love it or hate it.
Lawry's The Prime Rib: 333A Orchard Road #04-01/31 Mandarin Gallery, Mandarin Orchard Singapore 238897 | Tel: 6836 3333 | Website
"Smooth as butter"
USDA Petite Filet (230g for $80). Using USDA Prime beef which is the top 2% of US beef which is graded primarily for marbling and a younger age, tenderness is to be expected at Ruth's Chris Prime Steak House.
Ruth's Chris steak house is an excellent choice for US steaks and can go toe-to-toe with Morton's. Ruth's Chris however, infuses a country-side character into their dishes, which can be refreshing in this 120 seater fine-dining concept. Portions, as with American-style diners, are huge so you won't be walking away gingerly. Sides are a little standard though, with the usual suspects like mashed potato, and I'd recommend ordering the appetizers instead especially the barbecued prawns.
Ruth's Chris Prime Steak House and Restaurant: Raffles Blvd, Marina Mandarin Singapore, Singapore 039594 | Tel: 6336 9093 | Website
—————————–
Editor's End Notes
Price does not necessarily indicate the best steak, and it depends on individual preferences. Japanese Wagyu steak for example tends to be extremely pricey, but has such a high marbling content I actually can't take too much at one go without getting a heart attack. I'd much rather have an Australian Wagyu which I can continuously eat none stop.
I've also tried several of the other famous steakhouses as well, but felt they didn't quite make the cut for their price and quality. You don't have to ask about the obvious steakhouses, I've tried them but don't think they made the list. I definitely did not try ALL the steak restaurants in Singapore, but I can tell you with utmost confidence the kopitiam steak at $8 is going to taste like a leather shoe.
There might probably be some hidden gems in lesser known restaurants, and if you do know of any, leave a comment below on where I should go hunt for more steak.
Related Guide: Famous Local Singapore Foods To Eat before You Die