Imagine only selling chendol for decades. Now imagine selling that same chendol and still attracting long queues every day.
That's what I call leaving a legacy behind, which was what the late Mr Maideen Bin Ahmad, the founder of Cendol Geylang Serai did.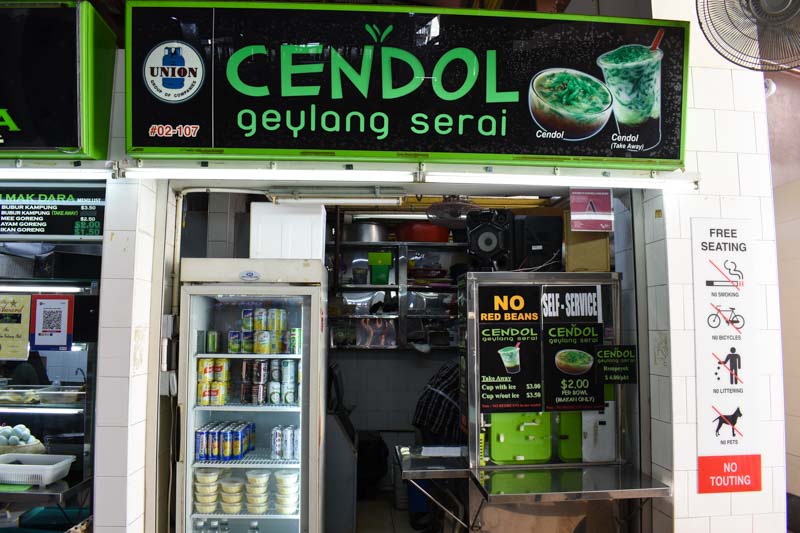 Established in 1952, Cendol Geylang Serai has since moved locations thrice. From the old Geylang Market to the current Geylang Serai Market, it has continued to prosper with its signature chendol dish.
What's even more impressive is that the dish has maintained its authenticity, with absolutely no changes over more than 50 years. No wonder the stall has attracted and maintained a steady stream of customers over the decades.
Besides the hawker stall, Cendol Geylang Serai is actively engaged in food events throughout Singapore. A testament to their quality food, these include the Ramadhan Bazaar, Bazaar Raya Utara and various Muslim weddings.
I was invited into the kitchen and got a sneak peek of the chendol making process.
The dish consists of chendol, gula melaka and coconut milk, without fancy toppings like red bean, attap seeds or durian. Mr Rezal, the third-generation owner, prefers sticking to the traditional Indonesian style passed down from his grandfather.
Mr Rezal shared that the green jelly in the Chendol (S$2) is made from scratch and contains more rice flour than those found outside.
Although the process is tedious, Mr Rezal insists on preparing the pure gula melaka and coconut milk daily, which ensures the quality and freshness of the chendol. 
They prepared and served the chendol promptly, much to my delight. It looked a little mediocre, compared to those found outside.
With much more coconut milk and less shaved ice added, this version looked different from the standard chendol which comes with a "mountain" of ice and colourful ingredients.
Luckily, it tasted better than it looked. Each scoop of chendol filled my mouth with fragrant and sweet coconut milk. The gula melaka surprised me as it was thicker and sweeter than usual.
With less shaved ice and lots of coconut milk, Cendol Geylang Serai's rendition was refreshing and more liquidy. The green chendol jelly was also softer than those from other stalls, but I prefer the chewier versions for that added texture.
To cater to different taste buds, Mr Rezal adjusts the sugar level based on his customers' requests. He notes that the older Muslim community has a sweeter tooth, while the younger generation preferred their desserts less sweet.
I had a version with a lower sugar level, which was perfect for me. If you like your drinks to be less sweet, I would recommend you to opt for the same!
Cendol Geylang Serai even offers a takeaway version served in a cup (S$3 with ice, S$3.50 without ice). However, there is a notable difference as they add ice cubes instead of shaved ice, and a fixed amount of gula melaka.
I would not recommend choosing this version, especially if you prefer drinks that are less sweet, since the sugar level can't be adjusted.
---
Although it's quite interesting to try a less common version of chendol, I prefer Singapore's rendition of chendol. It usually comes with additional ingredients like attap seeds for a chewier texture.
Nevertheless, Cendol Geylang Serai's chendol was smooth and deliciously rich, making it perfect for a post-meal dessert.
If you are in the area or need a reprieve from the sweltering weather, give this traditional Indonesian-style dessert a shot. 
Expected Damage: S$2 – S$3.50 per pax
Price: $
Our Rating: 4 / 5
Cendol Geylang Serai
1 Geylang Serai, Geylang Serai Market and Food Centre, #02-107, Singapore 402001
Price
Cendol Geylang Serai
1 Geylang Serai, Geylang Serai Market and Food Centre, #02-107, Singapore 402001