Human comes in all sorts of sizes, so does food.
And no one is going to judge you for reading this list of up-sized, fatty, gigantic, humongous food that are sinfully irresistible and can't fit properly into their own plates or bowls. But hey, the bigger the better!
If you like to take on a food challenge, need a reason to jio your friends for a meal, or are simply curious, this article is for you.
1. Portico's Ultimate Fries By Portico Host
I am a fan of truffle fries and Portico's Ultimate Fries ($48) would have set my sights upon them. You would wonder who would actually pay a staggering sum of $48 for a bowl of fries? But this is no ordinary fries!
Imagine 800 grams of truffle-drenched fries with white truffle salt, truffle shavings, shaved aged gruyere cheese, and edible golden leaves to top it all. No complaints here since you are getting quantity and quality.
Portico Host: 991B Alexandra Road, #01-10, Singapore 119970 | Tel: 6276 7337 | Opening Hours: Mon to Sat 11:30AM-3PM, 5:30PM-11:30PM, Closed on Sun | Website
For those who doesn't know what Nasi Ambeng is, it's essentially white rice paired alongside a variety of ingredients such as chicken curry, salted fish, beef, sotong, fried tofu, and more.
And Ambeng Cafe decides to have these portions upsized to become Ambeng Platters. There are three types of sets to choose from: Ummi Abdullah Nasi Ambeng Sahan Set, Ummi Abdullah's Nasi Rawon Sahan Set and Ummi Abdullah's Jenganan Sahan Set, each with an option of feeding two or three pax. The largest is the Ambeng Classic Duo Set D ($51.50) featuring 14 different ingredients and feeds about three.
Ambeng Cafe: 430 Upper Changi Road, #01-65, Singapore 487040 | Tel:6384 0495 | Opening Hours: Tue to Thu, Sat and Sun 12PM till sold out, Fri 3PM till sold out, Closed on Mon | Website
3. Sous-vide Spanish Octopus Salad By Spathe Public House
How many restaurants actually have a section of the menu dedicated for 'sharing' and stay true to their gigantic portions without ripping you off?
Look out for the 'Mammoth Signatures' in the menu that serves food for four to six people. They even dissect the word 'mammoth' down for you into 'immensely large, huge, enormous, gigantic, humongous, ginormous…' Get the idea?
The Sous-vide Spanish Octopus Salad ($44) is no joke. It comes in a huge bowl of mixed vegetables and octopus chunks, topped with whole-grain mustard vinaigrette.
Spathe Public House: Mohamed Sultan Rd #01-01, Singapore 238958 | Tel: 67351035  | Opening Hours: Mon to Fri 12PM-11PM, Sat and Sun 10PM-11PM | Website
4. Hollywood Punch By Tanjong Beach Club
When the Hollywood Punch ($23 Single, $46 Double) was served on our table, it was received with "oohs" and "aahs".
The 'boat' itself was massive, while the cocktail served in it was a secret concoction of Havana three and seven year Rum, St. George's Absinthe, cold drip coffee, coconut water, orgeat syrup, pineapple, banana, topped with some strawberries and mint leaves. This is a crazy portion best shared among drinkers.
Tanjong Beach Club | 120 Sentosa Beach Walk, Singapore 098942 | Opening Hours: Tue to Fri 11AM-10PM, Sat to Sun 10AM-11PM| Website 
5. Steam Minced Pork With Crab Roe Broth Dumpling By Ye Chun Xiao Jiang Nan
Giant xiao long bao? If the small ones are too small for you, grab the big ones.
The Steamed Minced Pork with Crab Roe Broth Dumpling ($4.80) is a huge pork dumpling where the soup inside is drunk from a straw. The soup was decadence and be mindful to take small sips as the soup could be really hot. The fillings consisted of a generous amount of crab roe mixed with minced meat that would satisfy any xiao long bao lovers out there!
Ye Chun Xiao Jiang Nan | 6 Raffles Boulevard, Marina Square #02-181/182, Singapore 039594 | Tel: 6333 4038
6. XXL Pizzas By Peperoni Pizzeria 
XXL Pizza aka family pizza is the in thing now. Since we all love pizzas and one or two slices can never satisfy the cravings inside us, why not get the largest size then!
If you like seafood, get the Fruitti Di Mare and Salmone (half-and-half) at $55 which feeds four to six people. Get crazy over the array of seafood like shellfish and salmon chunks on a layer of cheese and crispy dough.
Peperoni Pizzeria : List of Locations, Opening Hours and Contact Details | Website | Facebook
7. Double Chocolate Blackout Cake With Vanilla Ice Cream By PS. Cafe
Yes to a thick gooey slice of chocolatey cake!
Double Chocolate Blackout Cake with Vanilla Ice Cream ($16) is truly decadent, and I'd proudly say I devoured the entire piece by myself. It was a humongous slice of chocolate cake, with a brownie-like texture layered with thick chocolate ganache.
Every bite just got richer and richer, especially when drenched in a puddle of chocolate sauce, it was like eating a gooey chocolate bar.
PS. Cafe: 28B Harding Rd, Singapore 249549 | Tel: 9070 8782 | Opening Hours: Mon to Fri 11:30AM-11PM, Sat and Sun 9:30AM-11PM | Website
8. F1 Long-Bone Wagyu Ribeye By 
Bedrock Bar and Grill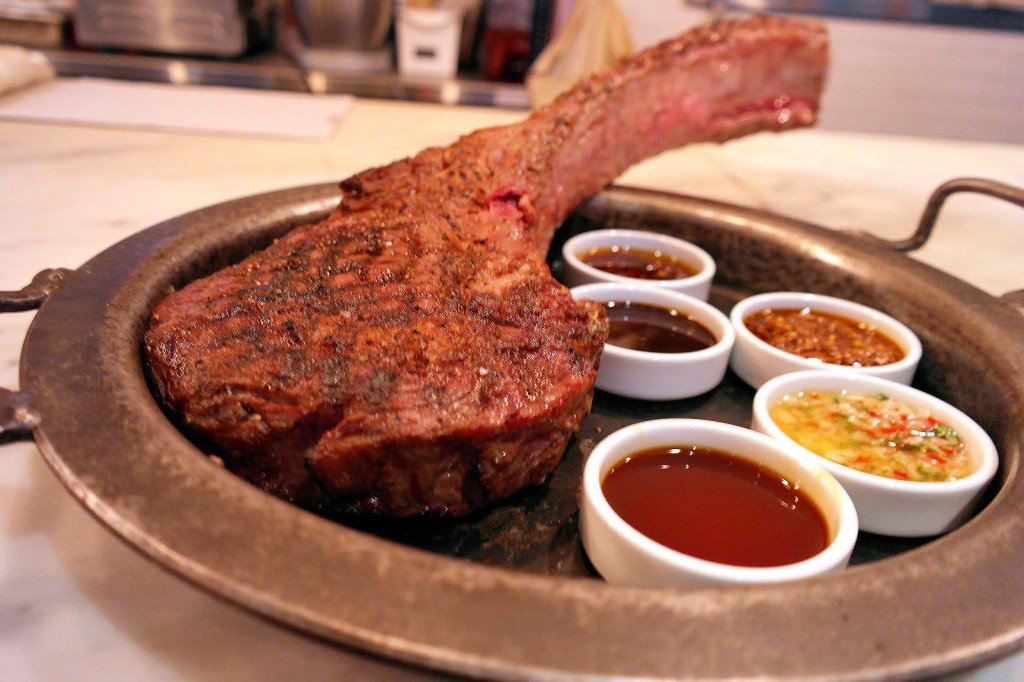 Not satisfied with your tiny 150g or 250g steak. Just ditch that and order the 400 days grain fed F1 long-bone wagyu ribeye ($200 / depending on market price) that weighed about 1.6kg including the bone.
If you want more stomach space to try other dishes, this is best shared among two friends. Otherwise, there is always an option of getting a steak that weighs slightly lesser, the Double Cut Dry Aged Porterhouse going at $180 and comes with thyme butter.
Bedrock Bar and Grill: 96 Somerset Road, #01-05 Pan Pacific Serviced Suites, Singapore 238163 | Tel: 6238 0054 | Opening Hours: 12Pm-3PM, 6PM-11PM | Website
9. Terminator Challenge Burger By Roadhouse
Game for the terminator challenge? Who knows, you might get your name on the 'wall of fame'.
Finish this tall stack of burger and I promise you will feel so accomplished you may never touch another burger again, for a couple of months that is. Just kidding. Anyway, it is worth a try if you are really hungry.
The burger comes with six beef patties, six cheese slices, streaky bacon, jalapeños and chilli sandwiched between two sesame buns. Wolf it down within 20 minutes and you'd get it free on the house!
Roadhouse: 13 Dempsey Road, Singapore 249674 | Tel: 6476 2922 | Opening Hours: Mon to Fri 11:30AM-3PM, 6PM-11PM, Sat and Sun 9PM-11:30PM | Website
10. One Meter-Long Sausage By House at Dempsey
Humongous food is not just about big food but they can be longggg as well.
The One Meter-long Sausage ($28) from House at Dempsey is probably the longest food you can find in Singapore. It comes with a choice of chicken or pork, but the recommended option is chicken. If you are a true fan of sausages, this is your type of food. Let's face it. It is not every day you can find a food this long.
House at Dempsey: 8D Dempsey Road, Singapore 249672| Tel: 64757787 | Opening Hours: (Mon to Thu) 12PM-11PM, (Fri) 12PM-12AM, (Sat) 11AM-4PM, 6PM-12AM, (Sun) 9AM-4PM, 6PM-11PM | Website