To me, Cantonese food is intricate and involves a certain form of fine art in order to whip up dishes for a wholesome experience behind its long culinary history. I often dub it as the French cuisine of the East, with its close attention to details that will play with all 5 senses.
For those who are huge fans of Cantonese food, like myself, here is a list of 15 best Cantonese restaurants for an indulgent family feast.
1. Wah Lok Cantonese Restaurant
Established in 1988, Wah Lok Cantonese Restaurant proudly resides within Carlton Hotel Singapore and has won numerous accolades such as 'Singapore's Top Restaurants' by Wine & Dine magazine since 1997 and the Michelin guide 2022.
Besides serving up dishes that showcase the culinary artistry of its chefs, the restaurant has an elegant and sophisticated ambience accented with oriental motifs. Service is also warm and inviting.
Feast on a chillax dim sum lunch with the luxurious Baked Diced Abalone & Chicken Pie (S$9.80) or Steamed Crab Meat & Egg White Dumpling (S$8). You can also take your taste buds on a joyride by ordering the Chilli Crab Spring Roll (S$8). Bon appetit!
No trip to Wah Lok Cantonese Restaurant is complete without ordering the Peking Duck (S$48 for half, S$96 for full).
If you're overwhelmed with the sweltering heat outdoors, cool down with their selections of cold dishes like the Chilled Green Bean Noodles with Jellyfish & Shredded Barbecued Duck (S$32/S$48/S$64) and Chilled Yellow Cream Crab (S$15 per 100g).
76 Bras Basah Road, Carlton Hotel Singapore, Singapore 189558
+65 6311 8188
Mon to Sat: 11.30am – 2.30pm & 6.30pm – 10pm
Sun: 11am – 2.30pm & 6.30pm – 10pm
Facebook | Website
2. Lei Garden
Lei Garden at CHIJMES is the ideal venue for all dining occasions. It prides itself on producing yummy and top quality Chinese cuisine, which has led them to obtain the prestigious 1 Michelin star award in 2022. The restaurant rose from humble beginnings of being a traditional Cantonese restaurant to becoming a multi-national award-winning restaurant group.
There's never a dull moment when you order from the menu as exquisite new offerings are regularly added. Try their range of delectable appetisers like the Pickled Pig Trotters in Chiu Chow Style (S$12), Home Made Deep Fried Walnut Coated with Honey (S$9) and Baby Conch with Wasabi Sauce (S$16).
If you're a seafood fan, get the Steamed Grouper Fillet with Spicy XO Sauce (S$24 per pax) or treat yourself by enjoying the Alaska King Crab Steamed With Chinese Wine (S$32 per 100g).
You can also pre-order the Michelin Star Set Menu which lets you have a taste of the dishes that gave them the royalty status. The S$148++ per pax menu includes exquisite dishes like Baked Live Lobster with Cheese and Salt Taste and Braised Bird Nest with Crab Meat and Minced Chicken.
30 Victoria Street, CHIJMES, #01-24, Singapore 187996
+65 6339 3822
Daily: 11.30am – 3pm & 6pm – 10pm
Facebook | Instagram | Website
3. Yan Palace Restaurant
Located at Hong Lim Complex and the Warren Golf & Country Club, Yan Palace Restaurant is an old-school Cantonese restaurant that's renowned for its extensive menu and amazing dishes. Don't expect anything fancy here, but you can rest assured that the food served  is traditional and top-notch.
Choose from an assortment of set menus suitable for 2 to 10 pax (depending on your party size). The prices also differ between the 2 outlets. At the Hong Lim outlet, the 2-Pax Set Menu A (S$78++) serves a heartwarming Seafood Treasure Soup, Fried Cod Fish with Chilli Sauce, Deep Fried Spring Chicken (Half), Pan Fried w/ Fine Vermicelli and Dessert Of The Day.
If you're a family of 6, check out the regal 6-Pax Set Menu (B) (S$288++) at the Warren Golf & Country Club outlet.
You'll be served the following:
Roasted 'Peking' Duck
Double Boiled Shark's Cartilage Soup
Fried Prawn with Salted Egg Yolks
Braised Fish w/ Roasted Meat & Yam
Sauteed Mushrooms with Leeks
Braised Twin Vermicelli w/Shredded Duck Meat
Dessert Of The Day
The restaurant also has a catering menu as well as wedding banquet packages; a jack of all trades.
Blk 531, Upper Cross Street, Hong Lim Complex, #01-49, Singapore 050531
+65 6222 2516
Daily: 11am – 2.15pm & 6.30pm – 10pm
Facebook | Instagram | Website
4. Xin Cuisine Chinese Restaurant (Holiday Inn Singapore Atrium)
Looking for a venue to impress your family or business partners with a mouth-watering Cantonese meal? Look no further, Xin Cuisine Chinese Restaurant at Holiday Inn Singapore Atrium is the place for you.
Just kick back, relax, and allow the incredible culinary team to work their magic; you're guaranteed to be in good hands. Besides the delicious dishes, the warm and inviting ambience of this award-winning restaurant is sure to bring a smile to the faces of all who enter— even grandma will be amazed.
Check out the range of handcrafted dim sum by their in-house chefs, and savour a medley of Cantonese snacks in small bites.
Relish in their Barbecue Pork Pie (S$8.80) which features a flaky and crispy exterior encasing a yummy and smoky char siew filling within. You can also admire how cute the Yam Dumpling with Chicken and Seafood Filling (S$6.80) is, with its representation of a swan (super IG-worthy).
If you're a seafood aficionado, experience the freshness of the Braised Live Lobster Ee-Fu Noodle (S$32 per person) as though it was still pulsating with life a few moments ago. You can also go for something light and delicate like the Sea Perch Poached with Chinese Rice Wine (S$22).
Invigorate your senses with the subtle fragrance of tea and other spices as you feast on their Signature Home-style Roast Duck with Tea Leaves (S$38 for half, S$66 for whole).
For location, contact number and opening hours, refer here.
Facebook | Instagram | Website
5. Asia Grand Restaurant
Since its days at Odeon Towers, Asia Grand Restaurant has garnered a reputation for its exceptional culinary offerings, renowned for both their quality and delectable flavours. After a brief 7-month closure, many die-hard fans of the restaurant were pleased when it reopened in Sep 2022 at Fairmont Singapore.
The menu embodies a wide spread of Cantonese dishes that are both traditional and straightforward which reflects their Hong Kong origins. Whether it's a simple family affair or a formal business dinner, you'll be well taken care of by their team of excellent service personnel.
Take a look at their list of appetisers which feature dishes such as Fried Octopus Tentacles w/ Pepper & Garlic (S$18) and Delicious Pig's Shank w/ Jelly Fish (S$15).
When your appetite has been fired up, tuck in to their luxurious main dishes including Braised Fish Maw w/ Oyster Sauce (S$138 per piece) or Crispy Boneless Chicken w/ Ham & Bean Curd Sheet (S$40 for half, S$80 for whole).
Don't forget to check out their range of dim sum too!
252 North Bridge Road, Fairmont Singapore South Tower, #03-22B, Singapore 179103
+65 6887 0010
Mon to Fri: 11.30am – 3pm & 6pm – 10pm
Sat & Sun: 11am – 3pm & 6pm – 10pm
Facebook | Instagram | Website
6. Majestic Restaurant
Majestic Restaurant was previously located at Bukit Pasoh before moving to Marina One in 2018. The award-winning restaurant is helmed by internationally renowned chef-owner Yong Bing Ngen.
Choose between their plethora of handmade dim sum which is served every afternoon for lunch. Get the classics like Pork Siew Mai With Crab Roe (S$9.80 for 4 pieces) or Radish Cake With Chinese Pork Sausage And Dried Shrimps (S$10 for 4 pieces).
For adventurous eaters looking for something unique, taste the Organic Brown Rice Roll With Prawn, Hakka Style (S$11) or Trio of Dim Sum (S$16 per pax) (which consists of vegetarian dumpling with black truffle, fresh prawn dumpling with celtuce and yam dumpling with scallop).
The Kurobuta Pork Belly Char Siew By Master Chef (S$19) and Seared Kagoshima Wagyu Ribeye With Yuzu Spicy Sauce And Sea Salt (S$55) are must-tries. Pair them up with a simple serving of Sautéed Mixed Vegetables With Black Fungus And Sliced Lotus Root (S$24).
5 Straits View, Marina One East Tower, #04-01, Singapore 018935
+65 6250 1988
Daily: 11.15am – 3pm & 5.30pm – 9.30pm
Facebook | Instagram | Website
7. Fu Lin Men Cantonese Dining (Chinese Swimming Club)
Fu Lin Men Cantonese Dining located at the Chinese Swimming Club is known for serving up scrumptious Hong Kong specialties like dim sum, roast meats and Cantonese wok-fried dishes.
If you're searching for a venue to host small intimate affairs, this place is perfect with its swanky interior and high-spirited surroundings. The restaurant even has 5 VIP rooms which can accommodate your large family or business partners.
For special occasions, get the iconic whole Roasted Suckling Pig for S$328 (available only upon advance order) and complement it with other dishes such as the Golden Pumpkin Soup with Prawn and Scallop (S$15 per pax), Pan-Fried Stuffed Sea Cucumber (S$48), Stir-Fried Prawn with XO Sauce and Glass Noodle in Clay Pot (S$30) and Stir-Fried Prawn with XO Sauce and Glass Noodle in Clay Pot (S$20).
To finish off your meal with something sweet, get a refreshing Lemongrass Jelly with Lime Sherbet (S$7) or Chilled Mango Cream with Pomelo and Sago (S$6).
Order Delivery: foodpanda
21 Amber Road, Chinese Swimming Club, Level 3, Singapore 439870
+65 6282 0810
Mon to Fri: 11.30am – 3pm & 6pm – 10.30pm
Sat & Sun: 10.30am – 3pm & 5.30pm – 10.30pm
Facebook | Instagram | Website
8. Man Fu Yuan
Man Fu Yuan at InterContinental Singapore is no stranger to the local F&B scene, earning themselves the title of being Michelin-recommended and emerging as one of Singapore's best Chinese restaurants.
Executive Chinese Chef Aaron Tan and his exceptional team renew the essence of Cantonese cuisine with their upcoming new à la carte and set menus which will be available for dine-in from 24 Jun 2023.
Five Star Hong Kong Style Handmade Dimsum: Freshly made Cantonese-style dimsum hidden in an industrial building
Highlights on the new menu include the Double-boiled Superior Seafood Soup, Mushroom, Served In Melon Husk (S$108), "Bowrington Bridge" Crispy Soft-shell Crab, Garlic, Chilli and Scallion (S$26) and the lavish Braised South Africa 18-head Premium Abalone, "Guan Dong" Sea Cucumber (S$288 per person).
End your feast with the selection of satisfying desserts such as the Chilled Coconut Jelly, Korean Peach Collagen (S$18 per pax), Chilled Almond Cream, Egg White, Hashima (S$38 per pax) and Black Sesame Rolls With Coconut (S$18 per pax).
80 Middle Road, InterContinental Singapore, Level 2, Singapore 188966
+65 6825 1224
Mon to Fri: 12pm – 3pm & 5.30pm – 9.30pm
Sat & Sun: 11.30am – 3pm & 6pm – 10pm
Facebook | Instagram | Website
9. Summer Palace
If you're looking to get classic Cantonese cuisine and dim sum under one roof, make Summer Palace at Conrad Singapore Orchard one of your must-visits. Get ready to pamper your taste buds as their renowned chefs create culinary masterpieces that showcase precision and skill.
What's more, this restaurant has earned themselves a Michelin star by the Michelin Singapore Guide constantly; an attestment of their quality and consistency.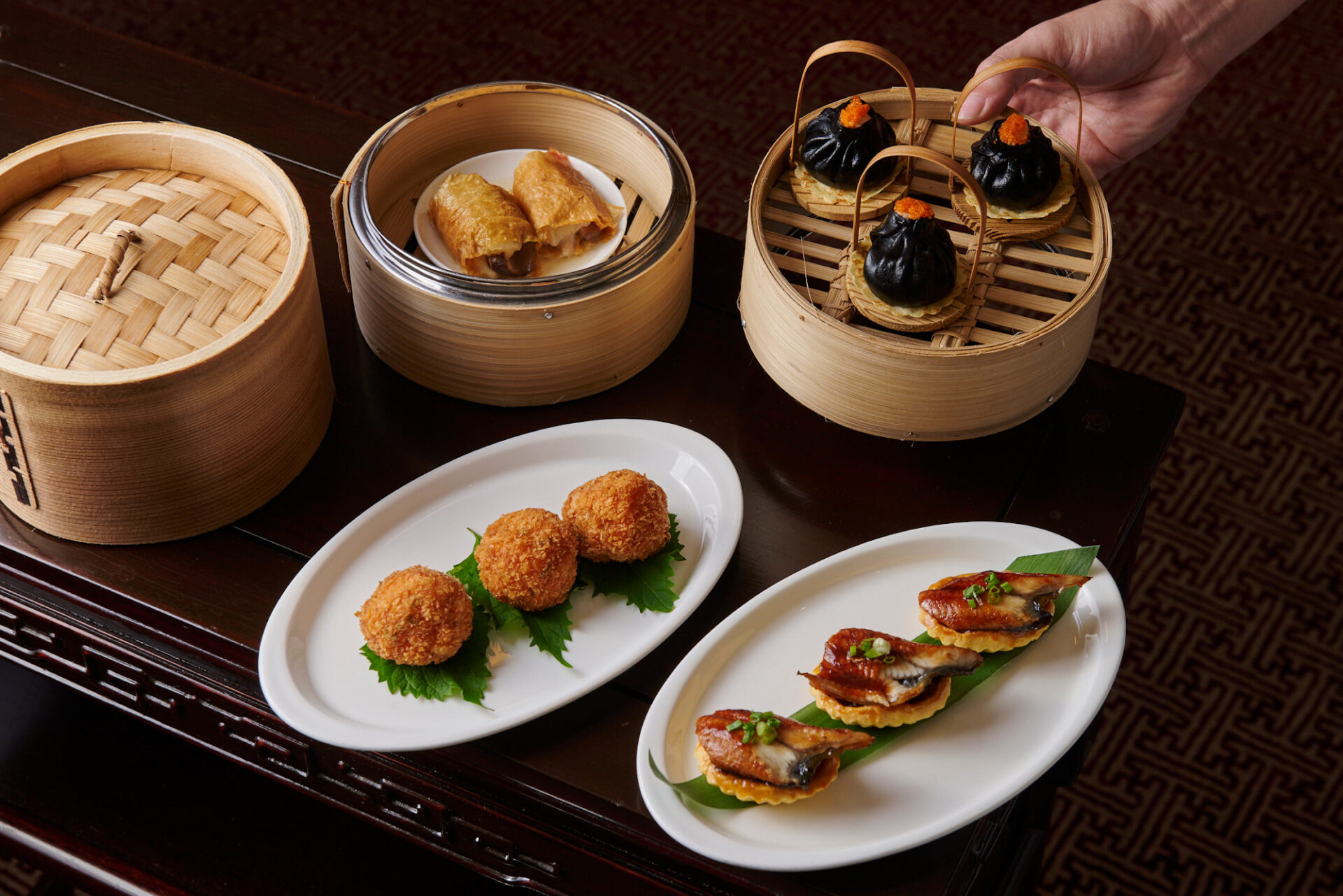 Take your pick from their diverse array of drool-worthy barbecued meats such as the half Hong Kong-style Crispy Roasted Duck with Plum Sauce (S$45), half Crispy Roasted Chicken with Almond Flakes and Dried Shrimps (S$33), or Crispy Roasted Pork (S$28).
The seafood selections do not disappoint either. Be spoiled for choice with options like the Oven-baked Cod Fish with Caviar and Egg White (S$30 per pax), Braised Soon Hock Fish with Roasted Pork in Casserole (S$78 per pax),and Sautéed Scallops with Honey Pea in X.O. Sauce (S$60).
1 Cuscaden Road, Conrad Singapore Orchard, Level 3, Singapore 249715
+65 6725 3288
Mon to Fri: 12pm – 2.30pm & 6.30pm – 10.30pm
Sat & Sun: 11.30am – 2.30pm & 6.30pm – 10.30pm
Website
10. Lai Wah Restaurant
Lai Wah Restaurant has quite a colourful history. They were the first restaurant who created yam pot with shredded meat (佛钵飘香), mandarin stewed chicken (京都镡子鸡), and yu sheng (鱼生) (raw fish salad which everyone eats during Chinese New Year).
The restaurant rose from humble beginnings at Jalan Besar back in 1963, before moving to Bendemeer Road (which is where they're currently located) in 1970. Over the years, they have received a lot of media attention and were patronised by celebrities like Andy Lau.
Explore their à la carte menu for delectable Cantonese dishes like the whole Golden Cage Chicken with Sotong and Prawn Paste (S$53), Venison with Ginger and Spring Onions (S$33) and Homemade Golden Coin Beancurd with Crab Meat (S$14.30).
If you're thinking of visiting in a large group between 8 to 10 pax, getting the Signature Dishes Set Menu (S$380) is a really good deal.
It has the following dishes:
Lai Wah Starter platter
Shark fins with crab meat
Roast chicken
Deboned red grouper cooked in 2 styles
Yam pot with cashew nuts and prawns
Kyoto pork chops
Chinese spinach with 3 eggs in superior broth
Braised Hongkong eefu noodles with chives
Almond longan cold dessert.
44 Bendemeer Road, #01-1436, Singapore 330044
+65 6294 9922
Daily: 11.30am – 2.30pm & 6pm – 9.30pm
Facebook | Instagram | Website
11. Jade Palace Seafood Restaurant
Jade Palace Seafood Restaurant nestled within Forum The Shopping Mall has a seating capacity of 150 coupled with 6 private dining rooms. They focus on using only the freshest ingredients to produce top quality Cantonese cuisine.
Who says wine is meant to be only paired with Western dishes? This place has an excellent wine cellar storing over 3,000 bottles (between 150 – 200 labels) from various parts of the globe; perfect for wine connoisseurs.
Savour the best of both worlds by ordering their assortment of set menus which meld Cantonese main dishes with dim sum. You can check out the Lobster & Dim Sum Set Lunch (S$46.80++ with min. 2 pax) which has the following dishes:
3 kinds of dim sum
Soup of the day
BBQ pork and soya chicken
Stewed lobster tail and noodle with ginger and spring onion
Dessert of the day
For lavish occasions, the Peking Duck & Dim Sum Set Lunch (S$188++ for 4 pax) is an excellent alternative. It consists of:
3 varieties of dim sum
Whole Peking duck
Special daily soup
Chopped duck drumstick
Stir-fried Hong Kong cabbage
Stewed H.K Noodle w/ shredded duck fillet & "xue cai"
Complimentary fresh fruit
Do note that this set has limited servings a day and it's recommended to order in advance.
583 Orchard Road, Forum The Shopping Mall, #B1-13, Singapore 238884
+65 6732 6628
Daily: 11am – 3pm & 6pm – 11pm
Facebook | Instagram | Website
12. Golden Peony
The well-known Golden Peony located at Conrad Centennial Singapore is headed by celebrity chef Ku Keung, and his team of talented individuals. The eatery offers sophisticated Cantonese fare, delicious signature dim sum delights and a special curated wine list.
Claypot cooking is known for producing dishes with robust flavours. Check out Chef Ku's claypot specialty menu which contains dishes like Braised Pork Ribs with Bitter Gourd and Fermented Black Bean Sauce (S$48++/S$92++), Mee Tai Mak Noodle braised with Minced Pork, Eggplant and Salted Fish (S$42++/S$80++) and Conpoy and Mushroom in Superior Broth (S$20++/S$30++); guaranteed to leave you satisfied!
If you're on leave from work, why not head over there for a relaxing weekday dim sum lunch? Try the Carrot Cake (S$9.80) which is stir-fried with Chinese sausage and a homemade signature XO sauce.
You can also feast on their spread of dumplings such as the Squid Ink Prawn Dumpling (S$7.80), Pork 'Siew Mai' Mini Abalone (S$9.80) and the Lobster Seafood Dumpling (S$9.80).
2 Temasek Boulevard, Conrad Centennial Singapore, Level 3, Singapore 038982
+65 6432 7482
Mon to Fri: 11.30am – 2.30pm & 6.30pm – 10.30pm
Sat & Sun: 11.30am – 1pm, 1.30pm – 3pm & 6.30pm – 10.30pm
Facebook | Instagram | Website
13. Peach Garden
Peach Garden is a noteworthy household brand that is familiar to those who frequent Chinese restaurants. With 4 outlets around Singapore ranging from casual to fine dining, they cater to a wide audience depending on the occasion. All dishes are delicately executed using traditional Chinese techniques and fresh ingredients.
I personally recommend the OCBC Centre (fine Chinese dining) branch which has an excellent view of Singapore's skyline; 33 storeys high. I mean… great food with an awesome view; it can't get any better than that!
At S$98 per pax (min. 2 persons), the set consists of:
Traditional roasted crispy duck
Double-boiled shark's bone cartilage soup with fish maw and bamboo pith
Steamed fillet of soon hock fish with 'mui choy' in superior soya sauce
Braised homemade beancurd with baby abalone and local spinach
Fried rice with diced scallop, prawn and 'choy sum'
Chilled jelly royale with julienne of coconut
Enjoy the Suckling Pig Combination Platter which consists of char siew, crispy duck and suckling pig at the casual dining outlets (Chinatown Point and The Metropolis).
Both outlets also have a number of rice and noodle options like Fried Mian Xian with Assorted Diced Seafood, Fried Rice with Petite Abalone and Roast Pork and Stir-Fried Fish Paste Noodle with Prawn and Collagen Sauce.
Order Delivery: foodpanda Deliveroo
14. Kai Garden
The 200-seater Kai Garden at Marina Square is known to be one of Singapore's best Chinese Cantonese restaurants. The genius behind its opulent Cantonese and Chinese delicacies served with a creative spin is none other than Chef Fung.
I don't think I've ever come across a more unique rendition of the traditional Signature Crispy Peking Duck other than here. The dish comes with a collection of colourful wraps, with flavours like original, beetroot, bamboo charcoal, pumpkin and spinach.
Besides the traditional sauce, Chef Fung has created a black pepper, sesame, seafood, and special mixed sauces for you to mix and match to experience different sensations; it's entirely up to you what combination you desire. There's also large cubes of rice krispies provided for added crunch and texture. 
I've eaten this dish only once many years ago, and it's still one of the best I've had.
Be intrigued by unique dishes such as the Deep-fried Prawns in Laksa-infused Dressings, Stir-Fried Angel Hair Pasta with Seafood in Black Truffle Sauce and Crispy Marinated Pork Intestine with Salt and Pepper.
6 Raffles Boulevard, Marina Square, #03-128A/128B, Singapore 039594
+65 6250 4826
Mon to Fri: 11.30am – 3.30pm & 6pm – 11pm
Sat & Sun: 11am – 4pm & 6pm – 11pm
Facebook | Instagram | Website
15. Tonny Restaurant
Tonny Restaurant at Lorong 3 Geylang is owned by Chef Tonny Chan, a famous Cantonese chef from Hong Kong with over 30 years of cooking experience. It has received the bronze award from 2017-2019 for 'Best Asian Restaurants'. In 2002, he competed against more than 80 different restaurants to emerge the 'Winner of Singapore Golden Tripod Award 2002 (Gold)'.
The winning dish was named 'The Crouching Tiger Hidden Dragon', which is available at S$10 per pax. It consists of succulent scallops, tasty fish roe and egg white; a popular signature dish over here.
There are exclusive dishes that need to be pre-ordered in advance like the Hungary Roast Goose (S$138) and Stuffed Sea Cucumber w/ Minced Meat (S$128 per piece).
Fill your hungry bellies with delicacies like Steamed Glutinous Rice w/ Waxed Meat (S$22 for small), Scallops w/ Chinese Yam in XO Sauce (S$32 for small) and half Steamed Salted "Kampong" Chicken (S$24 for half).
10 Lorong 3 Geylang, Singapore 388862
+65 6748 6618
Tue to Sun: 12pm – 2.30pm & 6pm – 10.30pm
Closed on Mon
Facebook | Instagram | Website
* This post contains branded content.
Zhen Zhen Porridge: Most flavourful Cantonese porridge sold in unassuming stall at Maxwell