The zi char stall is the go-to stall for many when it comes to big group sharing and wallet-friendly prices. It's where busy families gravitate to when there's an occasion that calls for more than just the regular meat, soup and vegetable offered at a regular economic rice stall.
If you've seen the chefs at these zi char stalls at work, you might realise these wok masters can be quite performative in their craft, dishing out plate after plate. 
I guarantee it takes a fair bit of skill, experience and creativity for a zi char stall to qualify as a family favourite. With that, I dare say that the relatively new Chef Lam 65 at Golden Mile Food Centre serves up one of the most affordable and quality zi char dishes on the island.
The eponymous stall is a joint venture by Chef Lam Loon Tuck and his partner, Chef Tay Boon Aik with over 20 years of experience in the industry.
Having had a fair amount of experience from his previous endeavours at hotels like Shangri-La, Traders Hotel and having been the former head Chinese chef at Hotel Jen, patrons can expect dishes of high standards at his zi char stall.
Chef Lam's unique standing Seafood Crispy Noodle (S$6/S$10) was what caught our eye immediately.  The towering dish comes in two sizes, a single tower for the individual portion and duo towers for sharing.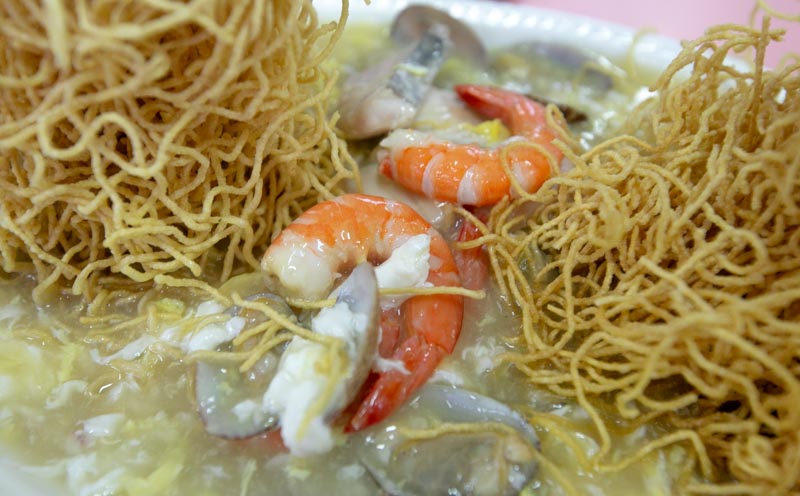 The viscous seafood sauce was velvety with eggs and had their master stock, that's freshly boiled for four hours every day, mixed in. I was most impressed by their use of extremely fresh seafood, like plump prawns and sweet clams.
Beyond chef's one-of-a-kind unique presentation, the taste of the dish definitely delivered as well. Having had my fair share of crispy noodles, nothing came close remotely close to this. 
Deep-fried and seared in the high-heat wok, the noodles scaled to a golden tower of perfect crispiness. As we made our way through the dish, the noodles surprisingly stood tall and retained its crispiness for quite a bit before succumbing to the sauce. 
His signature is the Fish Head Steamboat (from S$25). Diners have a choice of fish types between red groupa, red snapper and batang fish (prices vary). Depending on the availability, they can also choose the cut if diners prefer fish slices to the head. We opted for the red snapper. 
The selling point of the dish was definitely the soup. An unmistakable aroma of tee poh (dried flat fish bone) gave the soup much flavour.
Chef also mentioned the use of both old and blue ginger which aided in ridding any briny taste while also giving the soup a strong peppery and sweet quality. The same master stock is used across all their dishes, providing sweet undertones to the dish.
Admittedly, steamboat isn't the first thing that comes to mind when I think of zi char. But chef explains that his inclusion of steamboat is to replace the conventional fish head curry found in the menus of most mainstream stalls and continue to innovate and expand their menu to cater to the tastes of their customers.
The Seafood Petai Curry (S$15) was a personal favourite. I'll admit that petai, also known as stink beans, isn't a vegetable for everyone. As its namesake suggests, the pungency of the beans is not the only thing that makes it less appealing; it's bitter too.
Yet, Chef Lam uses younger stink beans which are less bitter and crunchier. Cooked in a rich, fragrant and adequately spicy curry, the bitterness of the petai isn't much of a worry. The standard of the seafood used remained consistent throughout all their dishes.
A generous serving of la la (clams), prawns, batang fish and a handful of vegetables made a very wholesome pot of curry. 
As part of the theatrics and artistry essential to his craft, Chef ensures that each pot of freshly-cooked curry is served to his customers while it is still visibly bubbling.
---
While zi char stalls are definitely not rare finds, stalls that take as much pride and effort as Chef Lam are certainly hard to come by. Boasting such skills and expertise, don't be too surprised to know that the waiting time during meal times can peak to about an hour since they practice a cook-to-order approach.
A pro-tip of Chef Lam's regular customers is to drop them a text for your order to minimise your waiting time!
Expected damage: S$10 – S$40 per pax
Price: $ $
Our Rating: 5 / 5
Chef Lam 65
505 Beach Road, Golden Mile Food Centre, #01-65 , Singapore 199583
Price
Chef Lam 65
505 Beach Road, Golden Mile Food Centre, #01-65 , Singapore 199583