Singapore is well-known for its local delights like chicken rice and char kway tiao which tend to get most of the limelight. However, one of my personal favourites has got to be bak chor mee.
There may be more popular, famous names that we hear often such as Michelin-starred Hillstreet Tai Hwa, but sometimes real taste lies beyond hyped up stalls.
Located in a run-of-the-mill coffee shop between blocks of flats, Macpherson Teochew Minced Meat Noodles at Toa Payoh Lorong 4 looks nothing out of the ordinary.
Having lived in Toa Payoh my entire life, I've tried most of the food here. When MacPherson Teochew Minced Meat Noodles first opened, I decided to give it a try.
Well, I'm glad to say that it ticked off all my boxes for a good hearty bowl.
At this family-run business, the uncle who owns the stall prepares all the bowls upon order. The glass panel in the kitchen lets you peer in to see him constructing your bowl of noodles step-by-step.
The aunty prepares all the ingredients from scratch, including the Fuzhou meatballs and the wontons, while their son helps to take the orders.
My usual order is the Signature Minced Meat Noodle (S$5), which never lets me down. The portion is extremely generous for its price, with a huge serving of noodles and a wide range of ingredients.
The noodle selection is pretty extensive, with the choice of Mee Pok, Mee Kia, Kway Tiao, Yellow Noodle, Bee Hoon or Mee Tai Mak. I have tried my bowl with all the choices (yes, I visit this stall regularly), but Mee Pok is my favourite of them all.
Each bowl came with two substantial Fuzhou meatballs and two huge deep-fried wontons. There was also a heap of minced meat, sliced pork, pork liver, braised mushrooms and a piece of Tie Por (otherwise known as dried flatfish that has been deep-fried).
As I mixed up all the ingredients, everything was well coated in the sauce. At MacPherson Teochew Minced Meat Noodles, their sauce has a slightly more distinct vinegar taste. The level of spice is just enough to add some heat but not leave you scrambling for water.
The noodles were smooth and cooked thoroughly. Together with the sauce, it was very addictive and easy to eat. I found myself going for one mouthful after another.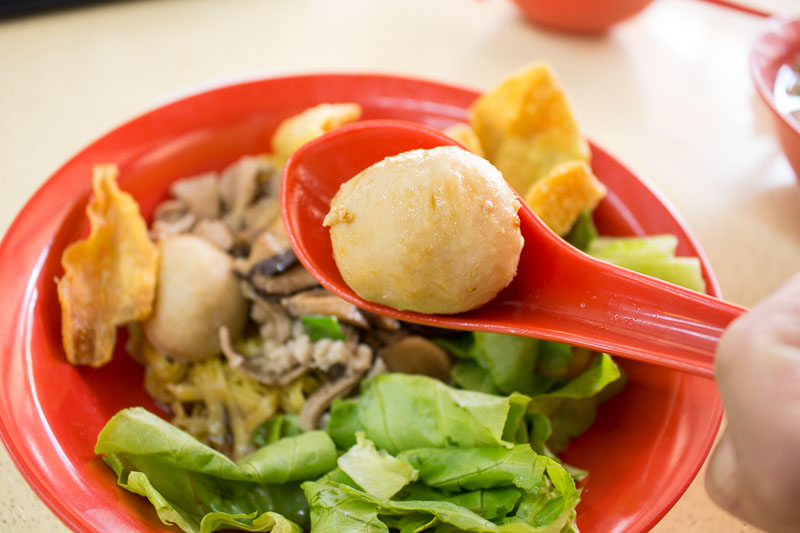 Aside from the noodles, the other components were also equally delicious. The Fuzhou meatballs are unique to MacPherson Teochew Minced Meat Noodles, and I have never had this anywhere else.
It looked like your average plus-sized meatball on the surface. However, when I bit into it, I was surprised by a gush of savoury pork flavour, which was the result of a smaller meatball engulfed within the larger meatball. The texture of both meatballs was different, which provided a nice contrasting mouthfeel.
The meatball was tender and juicy, unlike factory-made ones that can sometimes be tough to chew. However, I must say the porky taste is very distinct. Those who do not like strong meaty flavours may find it a little overwhelming.
The large wontons were deep-fried to perfection. By perfection, I mean the skin stayed crispy for the entire meal, even if you choose to have that at the end. However, the filling for the wonton was sparse and bordered on the dry side.
Pork liver is often known for its very strong gamey aftertaste and a coarse texture. However, the liver here is pretty well-handled. It's tender with a just slight "metallic" tang.
The braised mushrooms were also huge and succulent, which added an additional depth of flavour when taken with a bite of noodles.
The Tie Por was crunchy and gave more brininess to the dish. It was good, but I didn't feel like it added much in terms of dimensions, as the bowl was flavourful enough without it.
I also ordered the soup version of the MacPherson Teochew Minced Meat Noodles (S$3) to try out the difference. Ingredients-wise, they left out both the Fuzhou meatballs and wontons. For S$2 more, I would recommend getting the signature bowl instead as it's worth the price.
I chose to add on Minced Meat (S$2) for this bowl, and the image just speaks for itself. While it may be a little pricey, the portion justified the price — every spoonful had chunks of meat in them. Those who do not like meatballs or fried food can opt for this instead.
However, I found the soup version rather lacklustre. The noodles were slightly too soggy for my liking, perhaps because they were soaked in the broth. The broth itself was pretty bland, even with all the minced pork and pork slices in it. Perhaps adding the Tie Por here could bring out more flavour.
Although this is not my absolute favourite stall, it does rank pretty high based on the substantial quantity and quality of the ingredients. Whenever I crave a hearty bowl of bak chor mee, this would be one of my top few options. Do stick to the dry ones though!
The owners are also pretty friendly, which always makes the dining experience more enjoyable. You know where to go next when you are craving some good local dry minced meat noodles.
Expected Damage: S$3 – S$5 per pax
Price: $
Our Rating: 3 / 5
MacPherson Teochew Minced Meat Noodles
Toa Payoh Lorong 4, Block 95, Singapore 310095
Price
MacPherson Teochew Minced Meat Noodles
Toa Payoh Lorong 4, Block 95, Singapore 310095