"What's there to eat in Bishan?" This is a question I get asked very often whenever my friends suggest a meet-up in Bishan.
Having been a Bishan resident for nearly 21 years and counting, it's sad to realise that there simply weren't that many great things to eat here.
Thankfully, many new food spots have popped up in recent years. So, I set out to compile a list of 30 spots in Bishan that you should bring your foodie buddies to, the next time you're in the area.
—Bishan—
If there's one food spot which Bishan is consistently associated with, it's probably Ming Kee Chicken Rice (明记鸡饭).
This popular chicken rice stall is known for its ice-bathed chicken. It has truly stood the test of time, after relocating from Bugis Street to Kim San Leng Food Centre in Bishan, where it has stayed for many years.
During meal times, you'll probably see many office workers with the stall's signature green plates of Steamed Chicken Rice (S$3.50) on their tables. Be prepared to queue for your chicken rice!
I'd be content with just a bowl of their insanely oily and fragrant rice, drenched in the savoury sauce.
511 Bishan Street 13, #01-522, Singapore 570511
Wed to Mon: 10am – 8pm
Closed on Tue
Facebook
2. Shi Xiang Ge (食香阁)
One of the newer stalls to join the Bishan food scene, Shi Xiang Ge (食香阁) is tucked away in a corner of Bishan Cafeteria above Bishan Bus Interchange.
Run by the former la mian Director of Crystal Jade, the hawker stall serves up Chinese food from the Shanxi province.
The noodles are all priced at S$5 and below per bowl, and my go-to has always been their Minced Meat La Mian. They cover the noodles with juicy minced pork, tofu and shredded cucumber before topping it with braised sauce.
The noodles here are hand-pulled and the texture is absolutely divine and perfectly chewy. The portions are huge too, so come here with an empty stomach.
514 Bishan Street 13, Level 2 Bishan Bus Interchange, Singapore 570514
+65 9151 3586
Daily: 10.30am – 9.30pm
Instagram
3. Chindamani Indian Restaurant
It never goes unnoticed during my weekly runs past the store that there's always a queue in front of Chindamani Indian Restaurant at KPT coffeeshop.
Customers are always waiting in line for their famous Crispy Roti Prata (S$1.20 for one, S$2 for two), which is said to be originally from 151A Serangoon North Avenue 2.
Though I prefer my prata to be more doughy instead of crispy, I decided to give it a try and was pleasantly surprised. The prata had some crispy and flaky edges but was still stretchy in the middle. It's perfect for a quick prata fix!
284 Bishan Street 22, KPT, Singapore 570284
+65 69941749
Daily: 6.30am – 10.30pm
Facebook | Website
4. 284 Kway Chap (284 什菜饭/粿汁)
Economic rice stall by day and kway chap stall by night, 284 Kway Chap (284 什菜饭/粿汁) in KPT coffeeshop is well-known in the Bishan food scene. Together with Ming Kee Chicken Rice, it's probably one of the oldest Bishan food spots.
A bowl of Kueh here costs only S$0.50, and it's not uncommon to see hungry customers finishing a bowl or two in one sitting.
They also have a selection of side dishes ranging from S$0.60 to S$12 per portion. Complete your kway chap experience with your favourite sides!
Open all the way till 3am, you can definitely jio your friends for supper or satisfy those midnight cravings here.
284 Bishan Street 22, KPT, Singapore 570284
Daily: 8pm – 3am
5. Chef Recipe
If you're going for a low-cost meal, Chef Recipe at S11 coffeeshop will definitely fit comfortably within your budget.
The Chef Recipe Salmon (S$10.50) was delicious, with full marks for presentation. Moist and thick cuts of salmon each sat on top of a hill of mashed potatoes.
The unbelievably succulent Chef Recipe Kurobuta Pork (S$12.80) is one of their signature dishes. Even with three huge slabs of pork on the plate, its oozing juiciness had me craving for more.
Every main dish also comes with two generous servings of side dishes, one that's fixed and one of your choice.
Block 504 Bishan Street 11, S-11 Food Court, #01-444, Singapore 570504
+65 9124 6723
Daily: 11.30am – 10.30pm
Facebook | Website
6. Good Bites
From the folks behind Citrus By The Pool, Good Bites is a Western cafe serving up nutritious dishes. Located at the heart of Bishan Sports Hall, it's one of the latest establishments to pop up in the hood.
Good Bites offers a wide variety of dishes from mains, burgers, pasta to healthy bowls. They pride themselves on using premium ingredients while keeping their food affordable.
The Laksa Pasta (S$12.90) here is a mod-Sin take on the classic Singaporean favourite, laksa. Instead of using yellow noodles, they've substituted it with linguine.
Additionally, they don't serve their laksa pasta with a soup base, unlike traditional laksas. That said, it still retains all the rich flavours and aromatic spices you'd expect in a normal bowl of laksa.
5 Bishan Street 14, Bishan Sports Hall, #03-01, Singapore 579783
+65 6970 0233
Daily: 11am – 5am
Facebook | Instagram | Website
7. 99 Thai Story Kitchen
Tucked away in the outskirts of Bishan is 99 Thai Story Kitchen. This establishment prides itself on serving up authentic Thai dishes while keeping its prices affordable.
Their head chef hails all the way from Thailand itself and boasts almost 20 years of cooking experience. As such, you can be sure their dishes are the real deal here!
The signature Thai Claypot Crab Bee Hoon Soup (S$38) is their best-selling and must-try dish. They created it especially for their first year anniversary and it has stayed on the menu ever since.
The soup base packed an umami and buttery punch that was wildly addictive. I especially loved how the thick rice vermicelli soaked up all its flavours like a sponge. Not only that, but the crab was also sweet and juicy like good quality crabs should be.
151 Bishan Street 11, #01-195, Singapore 570151
Tel: +65 9773 8887
Daily: 11.30am – 2.30pm & 5.30pm – 10pm
Facebook | Instagram
8. Mata Thai Restaurant

Credit
If you're looking for a hearty, zi char-style meal for you and your friends to enjoy, Mata Thai Restaurant is the place for you. Their huge portions and a generous amount of ingredients makes this an ideal spot for group sharing!
Be sure to try their Tom Yum Seafood Soup (S$16), which is served piping hot in a claypot and comes overflowing with a medley of seafood. They've also got individual set lunches that start at S$8.80, which comes with soup and some side dishes. 
151 Bishan Street 11, #01-195, Singapore 570151
Tel: +65 9773 8887
Daily: 11.30am – 2.30pm & 5.30pm – 10pm
Facebook | Instagram
—Junction 8—
If you're too lazy to walk beyond Bishan MRT Station, here are some good picks from Junction 8.
Originally a kopitiam stall in Bishan Cafetaria above Bishan Bus Interchange, Fu Xiang Signatures 福翔 has expanded to become a chain. Hence, I felt it was totally fitting that they opened a branch at Food Junction in Junction 8 shopping centre too.
We had to try their signature dish, Bishan's Best Curry Chicken (S$6.50 per set, S$9 for three pieces a la carte, S$24 for nine pieces a la carte).
While the chicken meat was really tender, it was actually the curry sauce that was the highlight for me. With a velvety texture and a robust aroma of spices, it was to die for.
9 Bishan Place, Junction 8 Shopping Centre, #04-01, Singapore 579837
Daily: 10am – 10pm
Instagram
If you tend to struggle with finishing what's on your plate, consider sharing a plate of Japanese Chicken Katsu Omelet Original Curry Rice (S$8.10) from Washoku Goen at Food Junction in Junction 8.
The portions are incredibly huge here, which makes them perfect for sharing.
Or if you're feeling particularly hungry, get the Japanese Double Katsu Original Curry Rice (S$10.90) instead for double the portion of meat. Other meat options such as tonkatsu (pork) and fish katsu are available too.
9 Bishan Place, Junction 8, Food Junction, #04-01, Singapore 579837
Daily: 10am – 10pm
Facebook
11. Kagurazaka Saryo (神楽坂茶寮)
Here's one for those of you who are looking to splurge a little.
Hailing from Tokyo, Japan, Kagurazaka Saryo 神楽坂茶寮 in Junction 8 offers Cha-nabe (one-pot) dishes and absolutely Insta-worthy desserts.
Their Cha-nabe dishes start from S$11.90 a la carte and from S$14.90 per set. However, most people actually go there for their beautiful matcha desserts.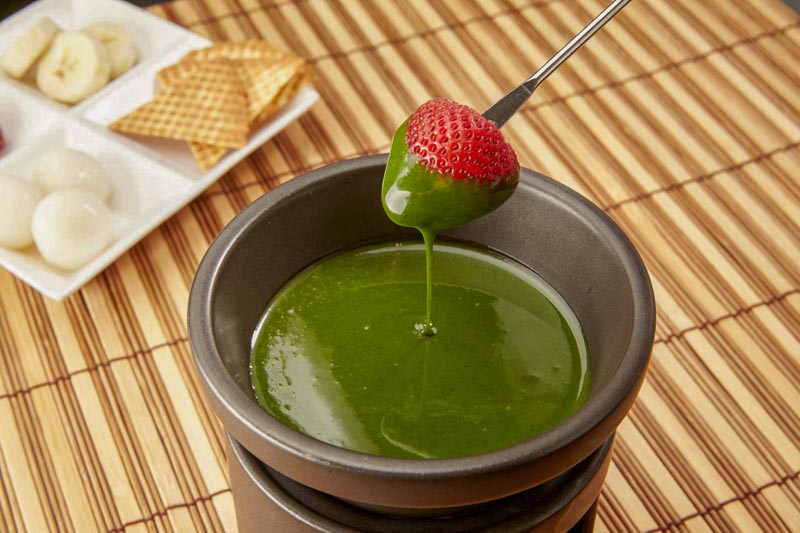 Their Matcha Fondue with Assorted Sides (S$14.90), Matcha Frozen Smore (S$9.90), and Matcha Kakigori (S$11.90) will surely earn you some extra 'likes' on your Instagram profile.
9 Bishan Place, Junction 8, #02-34/35/35A, Singapore 579837
+65 6259 6698
Daily: 10am – 10pm
Facebook
—Sin Ming—
Sin Ming isn't just where Kong Meng San (Bright Hill Temple) is, it's also home to quite a number of underrated food places.
After opening their first outlet in Commonwealth, Two Chefs Eating Place (双厨菜馆) now has a branch along Sin Ming Avenue too. Frequented mostly by residents in the area, this zi char stall serves up dishes with a taste of home.
You won't want to miss out on their Butter Pork Ribs (S$8) that are coated with milk powder. It's a real crowd favourite!
You'll want a second helping of rice to go with the thick sauce from their Golden Mushroom Beancurd (S$8). This comforting dish will surely have you coming back for more.
If you want to enjoy the food in the comfort of your own home, you can even call them to order and collect your food afterwards.
410A Sin Ming Avenue, #02-01, Singapore 570409
+65 6451 3812
Daily: 11am – 2.30pm & 5pm – 10.15pm
Facebook
13. Sin Ming Roti Prata
Located in Sin Ming, Sin Ming Roti Prata is the place to go for a prata fix if you're in the area. A long queue for the stall is a common sight, especially on weekend mornings.
A Plain Prata goes for S$1 while an Egg Prata costs only S$1.50, which is pretty affordable. Apart from their relatively low prices, what always draws me back is how sinfully oily their pratas are.
If you're craving for something even more hearty, get their fully-loaded Murtabak (S$7). It's bound to fill you up!
4 Sin Ming Road, Jin Fa Kopitiam, #01-51, Singapore 570024
+65 6453 3893
Sat to Thu: 7am – 6pm
Closed Fri
14. Sen Yen Charcoal Traditional Toast (森焱炭烤传统面包)
In the same coffeeshop as Sin Ming Roti Prata, you can hear loud and affectionate shouts from the uncles at Sen Yen Charcoal Traditional Toast (森焱炭烤传统面包).
Their jiam tao loti (Charcoal Toasted Baguette, S$1.20 per portion) is a must-have whenever I'm there.
Grilled over charcoal, the toasts always come with stripes of grill marks which make them extraordinarily crispy.
Filled with kaya and a generous amount of butter, the toasts here sell out really fast, even early in the morning.
24 Sin Ming Road, Jin Fa Kopitiam, #01-01, Singapore 570024
Mon to Fri: 7am – 9pm
Sat & Sun: 5.30am – 5pm
If you're a fan of duck rice and you're a morning person, this duck rice stall is perfect for you. Hup Seng Duck Rice serves up one of the best duck rice in the area.
Their ducks are braised Teochew-style and are served with a side of peppery, old-school kiam chye ark (salted vegetable duck soup). This bowl of soup also comes with duck meat that's so tender it just falls off the bone, and a heap of salted mustard greens.
They close for the day as soon as they're sold out, so make sure to get up early if you want a bite!
Block 22 Sin Ming Road, #01-258, Singapore 570022
+65 6454 3810
Mon to Wed & Fri: 9am – 2.30pm
Sat & Sun: 9am – 1.30pm
Closed on Thu
16. Buta Kin
Credit
Well known for serving quality Japanese ramen at affordable prices at Beauty World Centre, Buta Kin has opened yet another stall at Thomson V Two. A must-try dish would have to be their Tonkatsu Ramen which comes complete with a flavourful broth, char siu slices, black fungus, nori, and a soft-boiled egg for less than S$10. 
This is honestly such a steal, because finding a solid bowl of ramen that costs S$6 to S$8 these days, is close to impossible.
11 Sin Ming Rd, Thomson V Two, #01-13, Singapore 575629
+65 96132615
Mon to Wed, Fri & Sat: 11am – 10pm
Thu & Sun: 11.30am – 10pm
Facebook
—Bishan-Ang Mo Kio Park—
You'll also want to check out the many hidden food gems in the lush greenery of Bishan-Ang Mo Kio Park.
ToriYard is one of the fine dining options Bishan-Ang Mo Kio Park has to offer. Combining modern Japanese fare and Izakaya classics, the restaurant serves up unusual dishes that you probably won't see anywhere else.
With foie gras, uni, and an onsen egg, the decadent Onsen Tamago Cocktail (S$17) is sure to pique your curiosity.
You can also get their Tebasaki Gyoza (S$15) and Tsukune (S$8) too if you want to sink your teeth into some savoury meat dishes.
1380 Ang Mo Kio Avenue 1, Bishan Park 2, Singapore 569930
+65 9296 5988
Daily: 11.30am – 3pm & 5.30pm – 10.30pm
Facebook | Website
18. GRUB
Bishan-Ang Mo Kio Park is also home to the family-friendly bistro, GRUB. In addition to their huge Singapore-inspired Western menu, they come up with monthly specials.
The Mentaiko Fries (S$9.50) here will definitely put a smile on your face. Surely no one can resist a pile of crispy fries drizzled with creamy, tangy mentaiko sauce?
With different kinds of pasta, burgers, salads and pizzas available as well, there's certainly something for everyone in the family, after a day relaxing in the park.
510 Ang Mo Kio Avenue 1, Bishan-Ang Mo Kio Park, Singapore 569983
+65 6459 5743
Mon to Fri: 11am – 10pm
Sat & Sun: 8am – 10pm
Facebook | Instagram | Website
20. Canopy Garden Dining

Credit
Whether you're looking for a romantic night out, a chill brunch with your family or a cosy meal with friends, Canopy Garden Dining has got all your dining needs covered. Open from sunrise to sunset, this pet-friendly spot has a sumptuous brunch menu by day, and a chic, delightful dinner menu by night. 

Credit
With a gorgeous interior, an alfresco setting surrounded by lush greenery and a robust variety of pizzas, pasta, grains and mains, you'll feel like you're on vacation when you're there.
1382 Ang Mo Kio Ave 1 Bishan Park 2, Bishan-Ang Mo Kio Park, Singapore 569931
+65 6556 1533
Mon to Fri: 9am – 12am
Sat & Sun: 8am – 12am
Facebook | Instagram | Website
—Upper Thomson—
While Upper Thomson may be nearer to Marymount MRT Station, it's still a part of Bishan.
21. One Man Coffee
Upper Thomson is popular for its many cafes, and One Man Coffee is undeniably one of the most well-known of them all. Despite its relatively ulu location, this shophouse cafe is perpetually crowded, especially during the weekends.
While they're known to have some of the best coffees countrywide, their food is equally outstanding.
The Brioche French Toast (S$12) is said to be to die for. However, I'm actually more intrigued by their famous Gashouse Eggs (S$12). The sight of runny eggs oozing out of soft brioche bread is sure to whet your appetite.
215R Upper Thomson Road, Singapore 574349
+65 9658 1685
Wed to Mon: 9am – 4pm
Closed on Tue
Facebook | Instagram | Website
22. Columbus Coffee Co.

Credit
Another well-known cafe, Columbus Coffee Co. is the brainchild of the team behind Atlas Coffee and Lunar Coffee Brewers, and is no stranger to cafe-goers. Minimalistic and chic, this Instagrammable cafe serves comfort brunch staples like Mushrooms on Sourdough, Buttermilk Fried Chicken, and many more.

Credit
The Breakfast Strawberry Maple Pancake (S$16) is the dish for all pancake lovers. Crispy on the outside and fluffy on the inside, topped with a scoop of strawberry compote and fresh strawberries—what's not to love?
220 Upper Thomson Road, Singapore 574352
+65 6253 6024
Tue to Sun: 9am – 10pm
Closed on Mon
Facebook | Instagram | Website
23. Knockhouse Cafe

Credit
Previously known as Pacamara Boutique Coffee Roasters, this highly-raved cafe has rebranded and is now known as Knockhouse Cafe. They've got a brand new menu, and even offer their own range of local flavour coffee beans. 
Besides their brunch classics and unique fusion main, the two dishes that you have to try are their Sea Salt Caramel French Toast (S$16) or Gula Melaka French Toast (S$18), topped with a heavenly mix of gula melaka, coconut flakes and coconut ice cream. 
185 Upper Thomson Road, Singapore 574333
+65 8121 8904
Daily: 9am – 10pm
Facebook | Instagram
24. PocoLoco

Credit
Located deep inside the Upper Thomson neighbourhood, you'll probably miss PocoLoco if you don't pay attention. This hidden gem serves affordable Italian dishes using quality, Italian-sourced ingredients which had me, the pasta addict, all excited and wanting to order everything on the menu. 

Credit
I really enjoyed their PocoLoco Mentaiko ($14.90), which was topped with a flavourful Japanese inspired mentaiko cream sauce. The mentaiko gave the dish a tinge of spiciness which complimented the rich sauce beautifully.
215F Upper Thomson Road, Singapore 574349
+65 8436 3363
Mon to Fri: 12pm – 3pm & 6pm – 10pm
Sat & Sun: 12pm – 10pm
Facebook | Instagram | Website
25. Hello Arigato

Credit
Sandos are all the rage right now, and Hello Arigato has some really solid ones. This modern Japanese brunch concept has sando such as Teriyaki Chicken (S$15), Otah (S$20), and Katsu (S$16). 

Credit
What I love about their sando, is that they used Japanese milk bread which was so soft and fluffy, it balanced out the intense flavours from the fillings extremely well.
227 Upper Thomson Road, Singapore 574359
Tue to Sun: 11am – 4pm & 6pm – 9pm
Closed Mon
Facebook | Instagram | Website
26. Thus Coffee

Credit
This is truly the most hidden of gems, and it's not surprising that many people are willing to drop by this little indie cafe despite its slight inaccessibility. Coffee fanatics will be glad to know that Thus Coffee micro-roasts their own coffee which promises a robust pick-me-up.

Credit
The food here is also to die for. Think subtle variations on classic brunch staples, like their Thus Breakfast (S$21) that features sous vide eggs with hollandaise sauce on toasted muffin, apple cider sausage, back bacon, sautéed mushrooms and baked beans. I can't think of a better place for a quiet brunch than this idyllic spot.
4 Jalan Kuras, Singapore 577723
+65 84117565
Mon to Fri: 9am – 9pm
Sat & Sun: 8am – 9pm
Facebook | Instagram | Website
27. 928 Ngee Fou Restaurant (Hakka) Ampang Yong Tou Fou (928義和餐室(客家)正宗安邦酿豆腐)
928 Ngee Fou Restaurant (Hakka) Ampang Yong Tou Fou (928義和餐室(客家)正宗安邦酿豆腐) is located along the far end of Upper Thomson Road.
A standard plate of their yong tau foo includes bitter gourd, eggplant, fried quail eggs, fried wontons, okra and plenty of kang kong soaked in their insanely delicious sauce.
Some people may find the sauce a little too salty. But I actually find that it adds flavour to my bowl of rice. There's never a single grain of rice left in my bowl whenever I dine here.
928 Upper Thomson Road, Singapore 787121
+65 6452 1801
Tue to Sun: 10am – 7pm
Closed Mon
Facebook
—Shunfu—
Shunfu is a small estate that may be relatively unheard of. However, it's home to a quite a number of good foodie gems.
28. Chocolat N' Spice (晶品美食西点)
Chocolat N' Spice (晶品美食西点) in Shunfu Mart Food Centre typically has extraordinarily long queues. From their signature muffins to cakes and pastries, they have just about everything for breakfast, tea break and desserts.
I never fail to leave with at least one box of muffins every time I'm here, since their prices are so affordable.
Slightly crispy on the outside, their muffins are fluffy at the core. My all-time favourite is the Chocolate Chip (S$1.30 per piece). They even mix chocolate chips into the batter before baking so each mouthful contains gooey bits of melted chocolate.
For these old-school muffins, the fanciest flavour is probably their Coffee Walnut (S$1.50 per piece), which I'd recommend. Otherwise, they also have a wide selection of cakes for your special occasions.
Block 320, Shunfu Mart (Shunfu Market), #02-12/13, Singapore 570320
+65 9383 0413
Tue to Sat: 7.30am – 2.30pm
Closed Sun & Mon
Website
Apart from Chocolat N' Spice, Lai Heng Fried Kuay Teow & Cooked Food is one of the other few stalls in Shunfu Mart Food Centre that has long queues.
The combination of their incredibly moist Char Kway Teow (S$2.50 for small, S$3 for large) and their Specially Made Otah (S$1 per piece) will definitely wow you. You have to try it to believe it!
Block 320 Shunfu Road, Shunfu Mart (Shunfu Market), #02-20, Singapore 570320
+65 9183 1684
Tue to Sun: 11am – 7.30pm
Closed on Mon
30. Marsiling Teochew Fish Soup
Marsiling Teochew Fish Soup is another stall in Shunfu Mart Food Centre with long queues, especially during lunchtime.
For every standard bowl of Sliced Fish Soup (S$4 for small, S$5 for medium, S$6 for large), you get to choose the type of noodles you want. You also get about four to five thick and silky smooth slices of fresh batang fish.
Each bowl came with loads and loads of lettuce, which I appreciate very much as a veggie lover. There's even fried egg floss atop every bowl, which soaks up all the flavours of the fish and soup.
Block 320 Shunfu Road, Shunfu Mart (Shunfu Market), #02-07, Singapore 570320
Thu to Tue: 8am – 7pm
Closed Wed
This Bishan food guide is by no means exhaustible, so there may be more food spots out there that are just as good.
If you know of any other places which I haven't mentioned, please let me know and it can be our little secret. Good things should be shared, right?
Other articles you might like:
Where to eat: 10 best laksa spots in SG for an irresistible meal