Dosa, dosai, thosai. I feel like I should be having a showdown for the most common name for this popular Indian pancake first. Scissors, paper (dosai), stone! Dosai it is for this article.
Similar in presentation to a crepe, dosai is a savoury pancake made from a fermented batter of lentils and rice. It comes in many varieties with the most common being the self-descriptive plain dosai, paper dosai (named for its visual similarity to a rolled up newspaper), and masala dosai (with potato stuffing).
Tiny Singapore boasts a number of excellent restaurants famous for their version of this healthy delicacy. It was difficult to narrow down the finalists, but it came down to Ananda Bhavan, Anjappar, and Komala Vilas. Unsurprisingly, they are all located around Serangoon Road in Little India.
Ananda Bhavan
Located on prime real estate just opposite Mustafa, Ananda Bhavan is usually packed. However, fine dining this is not. From the bolted-down tables and non-swivelling chairs to the queue-up ordering system, the place has a decidedly fast food feel to it. The autonomous robot that delivers up to 4 trays of food at one time is a cute distraction, though.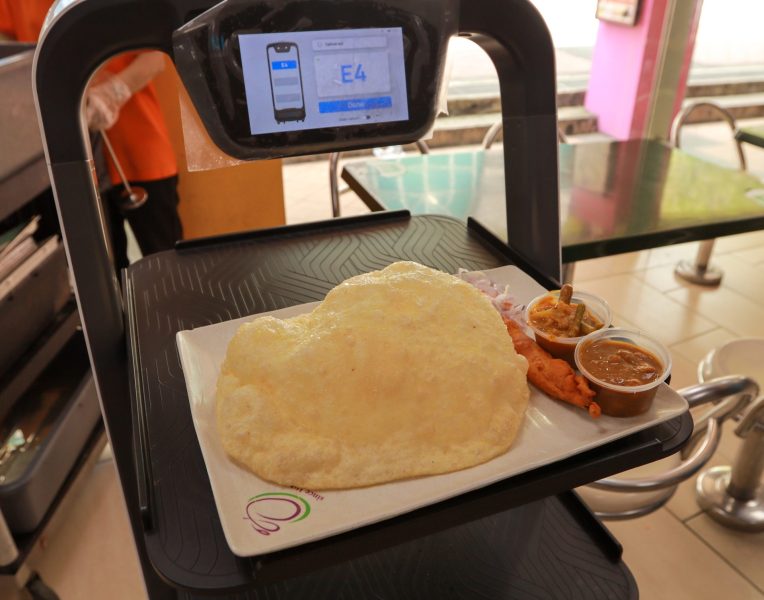 I ordered the Paper Dosai (S$5.30) and the cone-shaped Rocket Dosai (S$4.90). Service was quick and our trays were delivered by Skynet Jr.
The paper dosai was good, crispy as can be while still maintaining its texture.
The rocket dosai, however, disappointed because there was a definite aftertaste of ghee (clarified butter). Some diners appreciate that flavour, but I am definitely not one of them!
Both dishes came with 3 chutneys— orange onion tomato, green pudina (mint), and white coconut to accompany the yellow sambhar (mung dhal). I found the chutneys to be thin and not nearly as flavourful as that served at the other 2 restaurants.
It had been a long time since I had eaten at Ananda Bhavan, and this certainly fell far short of the quality of food I remember. Sad to say, it was an underwhelming and disappointing experience.
95 Syed Alwi Road, Singapore 207670
+65 63980837
Daily: 7am – 10:30pm
Facebook | Website 
Anjappar
Anjappar is never as packed as Ananda Bhavan despite being in the vicinity, possibly because its more expensive-looking frontage discourages some shoppers. However, its dishes are priced in roughly the same range.
It was quite a sight to see the massive Paper Dosai (S$8) overhanging the already wide square steel plate make its way to my table. The full-sized Plain Dosai (S$4.50) (on my neighbour's table) looked like a kiddie version in comparison.
Each comes with the standard of a sambhar and a tricolour of chutneys— orange tomato, white coconut, and a green coriander mint. On Fridays and Saturdays, the tomato chutney is replaced by a 'special' black sesame one. My advice is to not visit Anjappar on Fridays and Saturdays.
From Sundays to Thursdays, I could eat two whole dosai just with the tomato chutney! The coriander mint is also so good, but just cannot compare to the oh-so-delicious orange condiment. As an aside, can you tell what my favourite chutney is?
Anjappar is a stone's throw from Ananda Bhavan, but the dining experience was a world apart. I really enjoyed the dosai here (and am still thinking about it now)! It was certainly leading the race as I headed to Komala Vilas. 
102 Syed Alwi Road, Singapore 207678
+65 6392 5545
Daily: 11am – 12am
Facebook | Website 
Komala Vilas
Established in 1947, Komala Vilas is one of the oldest dosai restaurants in Singapore. The two-floor completely vegetarian dining experience sits right on Serangoon Road and sees huge crowds every day of the week.
So, I was slightly disappointed that my Paper Dosai (S$5) did not arrive quite in its newspaper-like glory but in a 'deflated' avatar. While still crisp, it was drooping off the ends of the wide food tray. However, all my reservations quickly disappeared when I tucked in.
Unlike Anjappar and Ananda Bhavan, Komala Vilas dosai sport an orange-white-yellow colour combination of chutneys. The yellow comes from combining coconut with coriander and mustard seeds. The surprise of the change delighted me immensely and I wonder if my next visit will be as rewarding because I already know what to expect. Their sambhar was the best of the three restaurants we tried.
Komala Vilas has a charming demeanour and I love that the ancient counter in the upstairs dining area has a rustic swivel door. The entire cabinet bears the marks of decades, which adds to the authenticity of the place.
76-78 Serangoon Road, Singapore 217981
+65 6293 6980
Daily: 7am – 10:30pm
Website 
Verdict
There was very little that separated the dosai in the 3 restaurants that made the final cut. Each in the trio excels at creating the softest plain dosai and the crispiest paper versions. With the exception of the heavy-handed ghee at Ananda Bhavan, we could not really differentiate between them in taste, either. By appearance, Anjappar's paper dosai was the most stunning.
Visual presentation and texture are important but it is really the chutneys and sambhars served as accompaniments that make a dosai experience what it is. By that yardstick, Anjappar is the winner of this showdown, just beating out Komala Vilas.
Anjappar's combination of flavoursome condiments are each infused with just the right balance of ingredients (except on Friday and Saturday as I explained earlier) and embody the perfect consistency.
That said, dosai is like chicken rice— everyone has their favourite and we could debate 'the best' without ever reaching universal consensus. I am sure I can muster up the appetite to go on another showdown— if you have a favourite dosai specialist that we missed out on, tell me in the comments and I will definitely try it out next time.
But for now, I've got to go burn all these dosai off!
Other articles you might like:
ADDA, Beach Road: Indian street food reimagined at Michelin-plated restaurant
Vadai Showdown: Gina's Vadai VS The Original Vadai VS Mr Vadai