"Inspired by the ages"

As part of a promotional initiative by the Regional Vine and Wine Chamber "Trakia", who are backed by the European Union, I've been invited to the city of Plovdiv, Bulgaria to visit the local wineries and taste the fine, regional wines.
The objective was to promote European wines from the Thracian Wine region, in hopes of introducing it into Asian markets of Singapore, Thailand and Vietnam, as well as to promote wine tourism.
Wine industry merchants, sommeliers, media publications as well as our group of 4 Singapore food writers (melicacy, celestialdelish, thehungrycow) myself included, were flown half way round the world to the beautiful city of Plovdiv for this to happen.
In this article I'll share with you some of the sights we've seen, and the wines we've tasted.
Day 1. Almost missed our transit flight to Bulgaria from Turkey, as the flight landing was delayed. Ran like a maniac across Istanbul Airport to catch our flight along with the other Singaporeans.
From the city of Sofia, we were brought to the city of Plovdiv via coach. Settled into Novotel Hotel, Plovdiv. A very clean and cosy hotel and was given my first bottle of Thracian wine. Drinking starts really early in Europe. Check out more information about Novotel on TripAdvisor.
Ate lunch at the restaurant downstairs, which was a baked trout with lemon, along with some potatoes. And off to our first winery visit!
Brestovitsa Winery |

Website
The Brestovitsa winemaking company start way back in 1908 in the Thracian Valley, and in the late 1930s built a winery following the classic French above ground cellar model.
Brestovitsa produces annually around 4 million liters of wine, and is a very recognized as well as reliable winemaker in the local market. They produce about 40% the Bulgrian red wines in the market, using a mix of Bulgaarian grapes with world wide grapes.
We had a tasting of mostly young wines, which included the Erigone Chardonnay, Young Wine Pamid, Erigone Rose, Erigone Rubin as well as Maximinus Thrax Mavrud. 
The highlights were the Erigone Rubin 2013, which had hints of strawberry, raspberry sweetness, was clean and easy to drink. Rubin grapes tend to have more sugars.
Some background information on the grapes: The Mavrud, Rubin and Pamid are local grape varieties that are indigenous to the Thracian Valley of Bulgaria. These are the grapes that makes the wine unique to the region.
Due to lack of exposure, many producers have actually started using the more common grape varieties because they sell better, which is a pity.
Bessa Valley Winery |

Website
Bessa Valley started in 2001, which is named after the "Bessi", the Thracian tribe that used to inhabit this area. This wine estate only produces red wines, specializing in high quality French varieties like Merlot, Cabernet Sauvignon, Syrah and Petit Verdoh.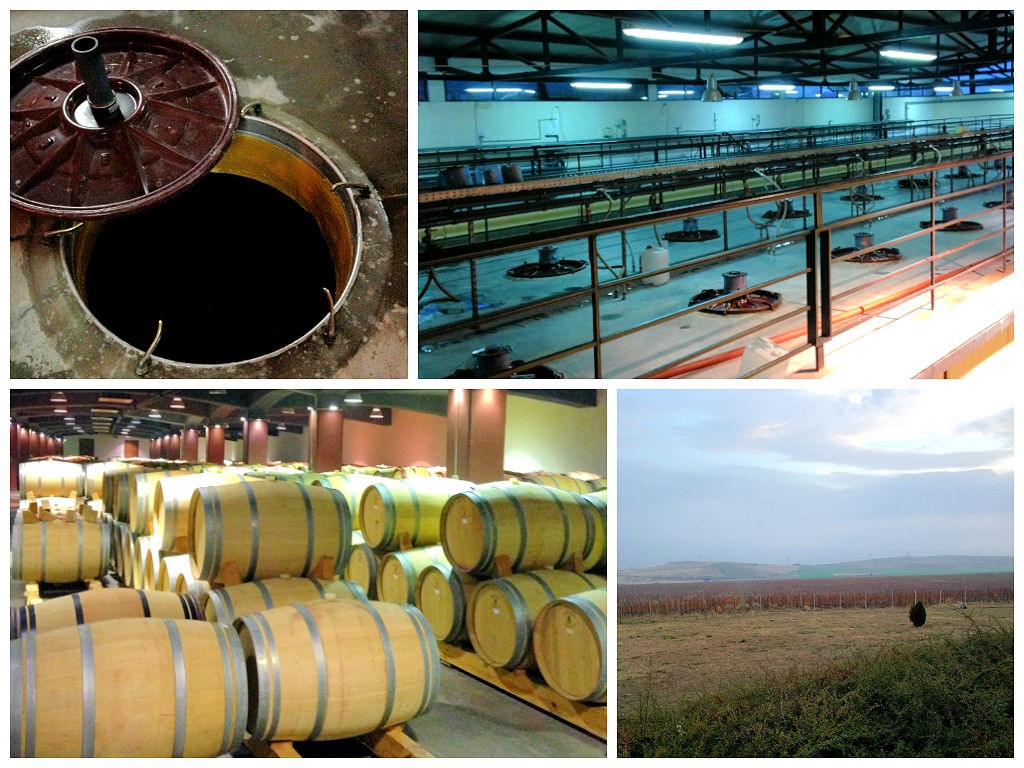 The grapes are all picked by hand, then transported by elevators gently so that it's not crushed before reaching the fermentaiton tanks via gravity. Bessa Valley uses concrete tanks to ferment, which is supposedly the best method of producing quality red wines the Bordeaux style.
The terroir (special characteristics of a land) has a combination of clay and sandy-stony soil, mixed with carbonates.
Wine Highlights: The Cabernet Enira, 2011, which has a blackcurrant flavour and quite a soft body from the gentle extraction process. The Reserva Enira 2008 has hints of red fruit, vanilla and methol, while the DUO Enira 2009 is really well balanced with berries and dried plum combinations.
Dinner at restaurant "Potomtsi", at the Old Town of Plovdiv. An eastern European fare of cheeses, cold-cuts and chicken. A very comforting, warm restaurant. Overwhelming amount of cheeses served.
Day 2. Woke up for hotel breakfast. I love hotel breakfasts, which had scrambled eggs, cheeses, cold cuts, cereal, sausages. Pretty ordinary, so didn't really bother to take a photo. And at 10am, we're back to drinking wine.
Dragomir Winery Estate |

Website
Founded by 2 Bulgaria Ecologist, Dragomir Winery aims to change the perception of Bulgarian Wine to be one that is attractive, interesting and diverse in taste. Dragomir uses a mix of old and new vintages.
A small winery, most of the wines are blended grapes bought from local producers around the region. They produce about 60,000 bottles of wine a year: 80% reds, 10% whites, 10% rosse.
Wine Highlight: The PITOS 2008 and PITOS 2009 are highly distinct from each other. The 2009 vintage has an addition of Rubin 16%, while the 2008 is a blend of Merlot 78% and Cabernet Sauvignon 22%, without the native Rubin grape.
Frankly I liked the 2008 version a lot better, but was told perhaps after a year of maturing, the 2009 will be as good. We can't be sure though, as the composition of grapes is also different between the 2 vintages.
Generally juicy and tight with plum and spice aromas, I find a subtle hint of saltiness in the wines as well. The Dragomir Rezerva is also of worthy note, being ranked among the top 6 Bulgarian wines.
Villa Yustina Winery |

Website
A relatively new winery, Villa Yustina was founded in late 2006 with their own vineyard to make boutique wines. The village of Yustina was chosen for this project as wine making history dates back to ancient times here. They believe the foundation of making good wines is a good vineyard, which is continuously designed and expanded concurrently with their manufacturing area.
The terroir here is suitable for Sauvignon Blanc, Chardonnay, Sauvignon Gris, Traminer, Aligote and Semillon grapes, while western edges of the vineyard are suitable for red varieties: Pinot Noir, Merlot and Cabernet Franc.
Stainless Steel tanks are used to ferment whole grapes, which are maintained around 12-15 degrees. Small quantities of very specialized wines are produced here.
Wine highlight: Monogram, 2009. Matured in 100% Bulgarian oak barrels. here you find an interesting blend of local grapes Mavrud and Rubin, which has become synonymous to the brand. An award winning wine, the Monogram has a complex body with hints of Chocolate, berries and is generally very harmonious.
Part of the lunch menu at Villa Yustina: more cheese! Baked with a crispy exterior and drizzled heavily in syrup.
Young Wine Parade 2013
We were welcomed to the annual Young Wine Parade in Old Town with performances by the local dance troupe, as well as more wine and cheese. This was held in the Anastas Gallery, which showcases many of his modern artworks.
There was also a paganistic ritual performance to emulate the ancient customs of washing your hand, face and sword with wine to celebrate the bountiful harvest. This dates back 7000 years.
Here's a clip of the dancing! Very festive indeed.
Actually a combination of 2 days, we came back to the wine parade the next day to sample more wines from the local producers. There were way too many producers to mention sadly, which had really interesting flavours and distinct styles. The local wines will also be judged and awarded for best Young Wines.
Day 3. Business Forum with Mr. Konstantin Madzharov, President of the Regional Vine and Wine Chamber "Trakia"- Plovdiv.
We had the opportunity to comment and ask questions about the Thracian wine promotional objectives, in an attempt to better understand and import these wines  to our countries through joint marketing efforts.
After the serious stuff, more drinking and dancing!
Stopping for lunch, one of the best dishes I've had in Plovdiv was this Chicken Soup on the top right, which reminded me very much of Asian style soup.  It tasted just right with the seasoning, with vermicelli and shredded chicken piece inside. Perfect for the cold weather we were experiencing here. I frankly have no idea where this restaurant is, because it was in Bulgarian words.
There was also a pulled pork with sauerkraut dish that was quite German influenced, and a homemade pistachio, caramel Ice-cream for dessert.
Zagreus Winery |

Website
Another new winery, Zagreus cultivates its vines according to the principles of the European Union for organic growing . The new harvest of 2013 is already completely organic certificated and will be on the market in 2014. Zagreus is also know as the Thracian God of Wine.
Vertical tanks are used to ferment flavours that are not as strong, while Horizontal tanks are used for stronger flavours like Mavrud to extract more Tannins due to higher contact with the skin.
They also produce a special white Mavrud wine, which is really unique.
Wine Highlights: Vinica Mavrud, 2011. 100% Mavrud Grapes are used to make up this unique wine. The grapes were dried on straw mats for 3 months before fermentation, concentrating and softening the sugars and flavours, thus producing a taste that is comparable to the Amarone. A dense and full bodied wine which gets more complex notes the more you let it breathe.
Day 4.
Chateau Copsa |

Website
A castle! That was my first thoughts here. Chateau Copsa is located on a hill top surrounded by vineyards located some distance away from the City of Plovdiv.
More of a vacation retreat, the suites and interior inside are all modern yet still emitting European nostalgia. A picturesque setting for a nice getaway holiday far away from the city.
 Starosel Winery Complex |

Website
On the last winery visit, we arrive at Starosel Winery complex. An immense wine estate that also has accommodations suited for wine and spa tourism. Definitely a good choice for a wine tasting tour.
Wine tasting was done in a 'temple', concluding with a live performances of dancers. An extravagant display and superb ending to the various wineries tasted here.
The temple also  has a unique acoustic setup, where if you stand at specific spots, you can hear someone far away as if talking into your ear. No idea how that works, but really amazing architecture design.
Starosel Winery Complex offers not only the opportunity to taste wine grown in the land of the Thracians but only to immerse yourselves in the atmosphere of an age long gone.
More Shopska salad. I've to say the tomatoes and cucumbers and just really fresh and juicy here, totally different from Asia. During my stay here, I've had at least 4 of these Shopska salads as a dish each meal. Not to mention the creative methods of cheese preparation.
Day 5. Free and easy exploration of Plovdiv City.
A Turkish Coffee and sweet house. The Bulgarian culture is influenced by the surrounding Eastern European nations with touches of Greek, Romania, Turkish.
Top: Ancient Theater. One of the best preserved ancient theaters in the world built in the end of the 1st century under Emperor Trayan. In addition to theatrical performances, it was also used for gladiators and hunting games. Capacity of 6000 spectators, it has since be partially restored and adapted to modern cultural life.
A local meat deli. Best shop I've come across, selling all sorts of roasted meats, sausages, pig's bloog as well as gourmet cheeses. There's a whole suckling pig just being roasted here.
I love the buildings in Bulgaria, which use a lot of handmade cobble stone and bricks. Very quaint and makes you feel at ease.
The uniqueness of Bulgarian wines is the use of their specific, indigenous grapes varieties like Mavrud, Rubin, Misket and Pamid. These are tastes you can't replicate, and what makes them distinct from other national wines.
The Thracian wineries are slowly incorporating more local grape varieties into their wines, which will be more exciting than the usual classic French grapes. Due to demand, other grape varieties were more acceptable and saleable, but this is part of the reason why the Wine Chamber "Trakia" exists as well, to promote what is exceptional to their country.
An upcoming and different wine-tasting tourist spot, Bulgaria is somewhere to consider rather than going to the overdone Italy or France wineries.
Big thanks to Mark Anthony Chesner, Marina Chesner and the Regional Vine and Wine Chamber for hosting us. Would love to visit again someday.
Have an interesting hawker story or good food to share? Email us at [email protected]