In this day and age, everyone from university students to office executives seems to be having a lot on their plate. A home-cooked meal is great, but there's only one problem— it's too much of a hassle prepping it. I discovered Appetized, which is a range of affordable hassle-free meal options designed to make your life easier, and I couldn't be happier to share it with you.
The range of products from Appetized contain no added preservatives, and were extensively put through tests by their chefs to guarantee that their meals are both delicious and nutritional at the same time. All their products are freezed immediately to lock in its freshness and taste. That's just amazing!
What I tried from Appetized
Mala is one of my favourite flavours, so imagine my excitement when I saw that it was one of the flavours available on their website. I went for Appetized's Marinated Mala Chicken (S$12.80).
Weighing about 180-200g per piece, there were two pieces of marinated boneless chicken thighs that's good enough for two or even three (if you have a small appetite). House-made mala paste, chilli sauce, garlic, mala oil and sze chuan pepper are just some of the ingredients which go into this fragrant concoction that's sure to satisfy all mala fans.
I tried the Microwave method for the Marinated Mala Chicken. Here are the three steps I took.
Thaw in the chiller overnight or defrost.

Tear a small slit on the packaging and place product in the microwave and reheat on medium to high heat for 5 minutes.

Pour the product out and enjoy it with your favourite mains or sides.
What you get is a mildly-spiced flavour and numbing notes coming from the mala spices. The flavours of the Mala Chicken Leg were spot on, and tasted legitly like my usual mala xiang guo.
I moved on with Appetized's Collagen Chicken Leg (S$6.80). It came with a whole chicken leg that was doused in a thick collagen chicken broth, which contained various Chinese herbs such as dang gui, wolfberries and red dates.
Let me start by giving compliments to the collagen chicken broth. I can only imagine how painstakingly long their chefs take to boil this lovely soup. It had tons of flavour with just a tiny hint of herbal infusion coming from the accompanied herbs— kids can definitely enjoy this!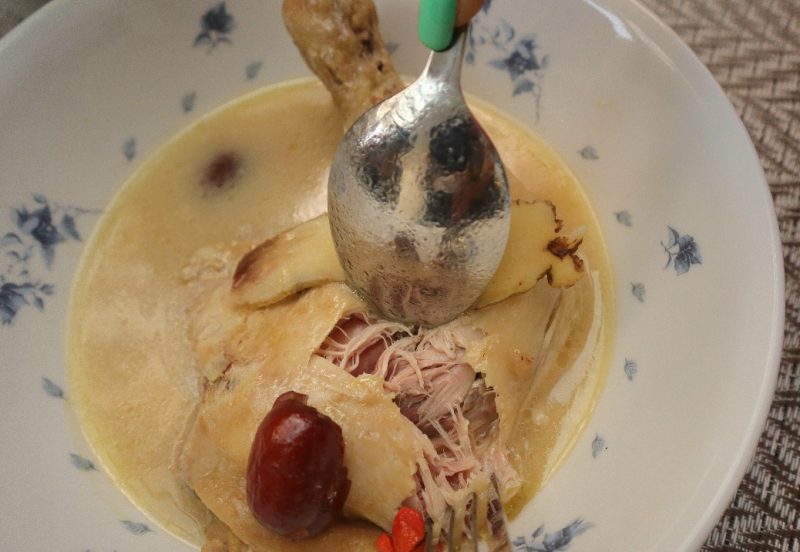 The meat tore apart without much effort and it was delightfully tender and flavourful with every bite I took. I could see myself thoroughly enjoying the Collagen Chicken Leg on a cold, rainy day, which would definitely provide me with some warmth and comfort.
Appetized also has other chicken leg flavours which will satisfy all kinds of taste buds, including Rendang Chicken Leg (S$6.80), Roasted Teriyaki Chicken Leg (S$6.80), and Ayam Masak Merah Chicken Leg (S$7.80).
Honestly, I wasn't looking forward to Appetized's Chilli Crab Sauce (S$9.80). I've had my fair share of mediocre chilli crab sauces from other brands and at eateries, and they all tasted either very ketchupy or too diluted.
I used the Heat On Stove method for the Chilli Crab Sauce. Here are the steps as follows:
Step one: Thaw in chiller overnight.
Step two: Pour product into a pot and reheat with low/medium heat until hot.
Step three: Add your favourite ingredients, mix thoroughly and serve hot.
I didn't add any extra ingredients to Appetized's Chilli Crab Sauce as I wanted to taste the sauce in its purest form. The consistency turned out very thick, identical to what is served at seafood restaurants.
I was marvelled at how perfect the ratio of sweet and spicy flavours was. It didn't possess the obnoxious sweet ketchup taste which I really dislike, while the spice packed a punch without having to run around searching for a glass of water. I excitedly dunked my fried mantou in Appetized's Chili Crab Sauce and was rewarded with all the delicious feels I experienced from eating it.
The Black Pepper Sauce (S$5) was value for money as it had a substantial amount that triumphs over several other off-the-shelf brands. Old habits die hard from my previous job (I was a chef once), and I carefully read the ingredients that's put into the Black Pepper Sauce. I was glad to see two key ingredients that set them apart— cream and unsalted butter. I will address this in a bit.
I tried the Water Bath Method for the Black Pepper Sauce. Here are the three steps I followed to heat it up— easy-peasy!
Step one: Boil water in a pot.
Step two: Place frozen bag in the boiling water and simmer for 20 minutes.
Step three: Pour the product over your favourite ingredients, mix thoroughly before consuming.
I cooked some spaghetti and tossed the heated Black Pepper Sauce together with it. Now to why I was glad there was cream and unsalted butter in the sauce itself. That's because cream lowers the robustness of the taste. Have you noticed that most over-the-shelf black pepper sauces are always intense and too salty? Cream also makes the overall taste more rich and flavourful.
Next comes the butter— it always makes things more delectable. During my days as a chef, I'd always add butter as the finishing touch— consider it my secret weapon! As expected, Appetized's Black Pepper Sauce was creamy and robust with the black pepper spices, and it complemented my spaghetti really well without being too intense. You may also pair this flavourful sauce with the seafood, red meat or poultry of your choice.
Final Thoughts
With Appetized's wide selection of products ranging from marinated meats, sauces and even soups, there's bound to be something for everyone.
Take the stress away with Appetized's range, which makes the process of planning and cooking meals more convenient. Whether you're in the comfort of your own home or on the go, rest assured that you'll always get great tasting food that's packed with nutrients.
Check out their website to place your orders now or email them for more information. Appetized is also available on Shopee.
Launch Special: Get 15% off all products with a minimum spending of S$30 (Use Code: Appetized15)
Expected damage: S$5 – S$27 per pax
* This post was brought to you in partnership with Appetized.
Other articles you might like:
Nic & Tom Eatery reopens at Sago Street with 3-day eat-for-free promotion
Home Treasure Salted Duck: 3-day marinated salted duck & yummy braised pork belly at Yishun
Price: $
Our Rating: 4 / 5
Appetized
39 Mactaggart Road, Singapore 368084
Price
Appetized
39 Mactaggart Road, Singapore 368084