Two time ramen champion winner Hakata Ikkousha Ramen has just opened its second branch at Chijmes, with the first being at Tanjong Pagar for around half a year now. "Ikkousha" means "one happy place", and reflects the simple and heartfelt motto of Chef Kousuke Yoshimura. Hakata, a city in Fukuoka, Japan, is known for springy and thin ramen noodles.
Chef Kousuke Yoshimura has done a great job bringing authenticity to his outlets in Singapore. It is not only reflected in the cooking, but also the shop's décor and layout.
The interior of the shop does make you feel like you are dining at an authentic Japanese ramen bar. Bold red torii beams catch your attention when you first enter, and you can immediately imagine yourself dining at the cultural landscapes of Japan.
Order sheets at this outlet come in three different languages to facilitate the tourists who visit the shop (there are a few major hotels within the vicinity). Hakata Ikkousha offers 5 flavours, and each bowl is fully customizable to suit your tastebuds.
You can select noodle texture, size, how heavy you want the soup to taste and what condiments you want added.
Special Topping Tonkotsu ($16). Ikkousha ramen earned its title from this winning bowl of ramen. The broth is simmered for over 12 hours using various types of pork bones, and it results in a creamy texture unique to Ikkousha Ramen.
There are health benefits to the broth too, especially for the ladies since it draws out skin-smoothing, rich collagen into the soup. The noodles are also handmade and the recipe tweaked to achieve the same result as it would in Japan, so as to accommodate for the temperature and humidity in Singapore.
Tonkotsu Spicy ($13.50). Nicknamed GOD FIRE in Japan, the spicy tonkotsu was my favorite! There was a perfect balance between the spiciness and the natural flavour of the original broth. It's not for the faint hearted as it might be over the average tolerance threshold.
Tonkotsu Black ($13.50). The black tonkotsu ramen is very special in colour. It's made with special fried garlic paste, and topped with black fungus and green onions. But contrary to its romanticized name, its not made with black pig, but tender cha-shu pork.
I found the taste to be a bit too mild for my liking, but its definitely something different for the ones who don't like their ramen broth too salty.
Hakata Specialty Hitokuchi Gyoza ($5/5pcs). The gyoza at ikkousha is what I'd come back more for. It's not too oily, and has very-well seasoned filling. The dish is also accompanied by a sort of salsa type sauce made from yuzu. It's not spicy at all despite it being a fiery red, and it gives the gyoza a nice tang apart from the usual vinegar dipping sauce.
Apart from add on toppings, there is a range of condiments on every table. This includes free boiled eggs and karashi takana (spicy mustard greens). The latter is handmade in the kitchen itself with ingredients flown in from Japan.
There's free boiled eggs too, like Keisuke Tonkotsu King.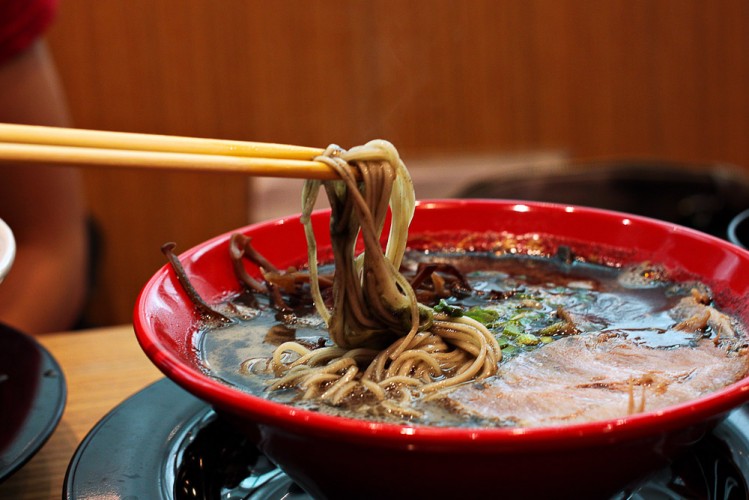 Despite its location, the prices are surprisingly affordable, and the serving size is just right. Furthermore, the ramen is served fairly quick to ensure that the noodles do not get soggy upon reaching your table.
My taste is to go for the slightly harder ramen noodles because the 'normal' variation is a little too pasty after being left in the broth for awhile. The firmer ramen maintains the spring in every bite for longer time. But others do still prefer a softer texture, so it's up to individual taste.
Hakata Ikkousha is definitely a place to add to your list if you are a huge ramen fan, especially if you like having the freedom to personalize. There is no doubt having a bowl there would bring you happiness (as per the Chef's vision!)
Expected Damage: $19 – $26 per pax
Price: $ $
Our Rating: 4 / 5
Hakata Ikkousha Ramen (CHIJMES)
30 Victoria Street, #01-07, CHIJMES, , Singapore 187996
Price
Hakata Ikkousha Ramen (CHIJMES)
30 Victoria Street, #01-07, CHIJMES, , Singapore 187996