Matcha is an ingredient which many foodies have high regards for. Many believe that it promotes weight loss and detoxifies the body, amongst other benefits, resulting in longevity.
I, for one, fell in love with matcha even before I knew of these benefits. The distinct bitter and sweet notes never fail to make me feel zen.
We've gone around hunting for the best places to get matcha-flavoured dishes. So here are 9 spots in Singapore to get your matcha fix!
1. Kagurazaka Saryo (神楽坂茶寮)
Originating from Tokyo, Japan, Kagurazaka Saryo (神楽坂茶寮) offers Cha-nabe (one-pot) dishes and absolutely Insta-worthy matcha desserts.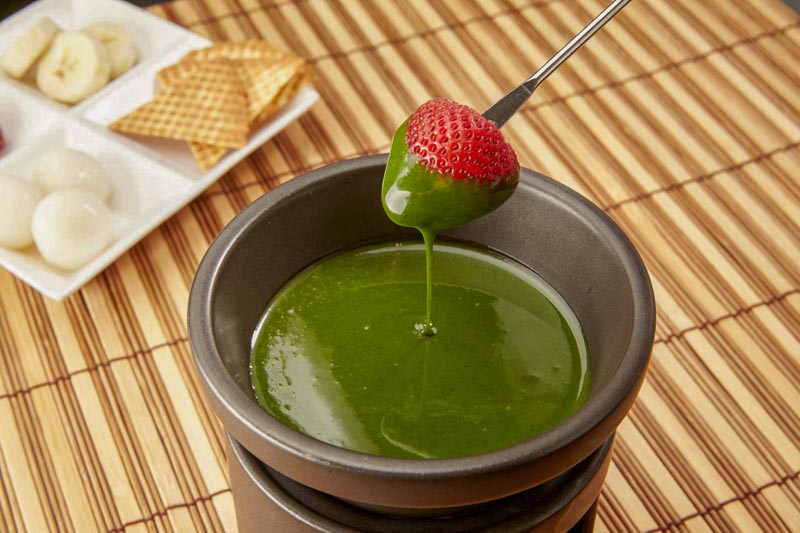 Satisfy your matcha cravings with their Matcha Fondue with Assorted Sides (S$14.90). The pull of the matcha fondue will surely earn you some extra 'likes' on your Instagram profile.
It's simply a blessing that this long-established Japanese chain has multiple outlets across Singapore. Getting your matcha fix certainly own't be all that hard. 
Kagurazaka Saryo 神楽坂茶寮: 9 Bishan Place, #02-34/35/35A, Junction 8, Singapore 579837 | Tel: +65 6259 6698 | Facebook
108 MATCHA SARO is one of the latest entrants to the matcha scene in Singapore. Located in Suntec City, this matcha dessert speciality shop hails all the way from Asahikawa in Hokkaido, Japan.
The free-standing store uses Uji Matcha Powder—which they obtain from Kyoto—in all of their matcha desserts. You can be sure it's the real deal!
The Warabi Mochi is undoubtedly 108 MATCHA SARO's best-selling and signature item. However, my favourite item has to be the Matcha Custard & Original Dough (S$2.90) obanyaki.
The way the bittersweet and luscious matcha custard oozed out with every bite made it a simply indulgent snack. As an added bonus, the obanyaki wasn't oily at all. You definitely won't feel too guilty from eating too many of them.
108 MATCHA SARO: 5 Temasek Boulevard, Suntec City, #B1-K5, Singapore 038985 | Tel: +65 6259 4704 | Opening Hours: 11am – 10pm (Daily) | Facebook | Instagram | Website
Tucked away on the second level of Odeon Towers along Orchard Road, Kurasu isn't actually a matcha-centric cafe.
That said, however, the Japanese coffee bar has an especially well-known matcha drink!
This matcha beverage in question is none other than their Matcha Latte (S$6)—with a twist. Most customers actually have it with an extra shot of Espresso (+S$1), a popular off-menu concoction.
The resulting three-tier colour scheme from the Morihan Japanese matcha powder, milk and espresso shot is super Instagrammable. Not only that, but you can bet it tastes as good it looked too!
Kurasu: 331 North Bridge Road, Odeon Towers, #02-01, Singapore 188720 | Opening Hours: 9am – 6pm (Mon – Fri), 12pm – 6pm (Sat & Sun) | Facebook | Instagram | Website
If you're a diehard matcha fan, chances are you've heard of Matchaya 抹茶屋. The homegrown brand has been around since 2015, satisfying the cravings of matcha-loving Singaporeans alike.
With a recent revamp in 2019, they've evolved from small kiosks to—finally—a concept cafe at The Cathay.
Now, they offer a wider range of items on their menu, which includes this exquisite-looking Koicha Azuki Roll Cake (S$6). As with the current food trend, they use activated charcoal powder for the cake sponge to achieve its black hue.
It also comes with a generous amount of ceremonial matcha and Chantilly cream and azuki red beans within. As the icing on the cake (literally), they dust it with matcha powder before serving. Talk about a perfect match-a!
Matchaya 抹茶屋: 2 Handy Road, The Cathay, #01-08/09, Singapore 229233 | Tel: +65 9837 3187 | Opening Hours: 1pm – 10pm (Sun – Thu), 1pm – 10.30pm (Fri & Sat) | Facebook | Instagram | Website
No distance should ever stop you from getting to good food, so here's one in Jewel Changi Airport.
JW360° is a Japanese concept store which houses a restaurant, cafe and retail store all under one roof. Their restaurant, Suju Masayuki, serves up posh Japanese cuisine, but the JW360° Cafe is where the prize is at.
Of their two popular matcha desserts, Matcha Mont Blanc (S$9) and Matcha Opera (S$8), the former was our favourite. Japanese sweet chestnut paste and matcha are the main ingredients which go into it. 
Mont blancs can get too sweet and cloying sometimes because of the huge amounts of whipped cream in it. However, the addition of matcha in this rounded off the dessert nicely, making it very palatable.
JW360°: 78 Airport Boulevard, #01-223/224/225, Jewel Changi Airport, Singapore 819666 | Tel: +65 6243 2466 | Opening Hours: 9am – 11pm (Daily) | Facebook
6. TSUJIRI
Another brand from Japan—more specifically, Uji, Kyoto—TSUJIRI has a long history which dates back to 1860. That's more than 150 years ago!
They pride themselves on still using the traditional grinding method to make their signature O-Matcha from premium green tea leaves.
If you're a matcha purist like me, the O-Matcha Milk Float (S$6.80) is definitely a must-try. This creamy matcha dessert leans slightly on the sweeter side because of the addition of milk.
Otherwise, the TSUJIRI Parfait (O-Matcha, S$7.70) is a popular choice too. You get the same bittersweet O-Matcha soft serve but, this time, with a variety of toppings! Think cherry, cornflakes, chocolate biscuit roll and azuki red beans.
TSUJIRI: 6 Eu Tong Sen Street, The Central, #01-74, Singapore 059817 | Tel: +65 6221 4282 | Opening Hours: 11am – 10pm (Sun – Thu), 11am – 11pm (Fri, Sat & PH) | Facebook | Instagram | Website
If you're near The Sail @ Marina Bay, The Matcha Project is where you can find delicious matcha drinks.
With only six seats available, the small cafe is more of a grab-and-go store. However, even so, that shouldn't stop you from sampling their unique range of matcha-coffee fusion drinks.
Their Premium Matcha Shot (S$6.50) is one which I will gladly take without any challenge. Instead of the bitter notes that one usually gets with matcha, we picked up an oddly-satisfying umami flavour instead.
Nonetheless, our favourite drink was actually the Houjicha Latte (S$5.50/hot, S$6/iced). The roasted flavour of the houjicha came through brilliantly, providing an additional depth of flavour.
The Matcha Project: 2 Marina Boulevard, The Sail @ Marina Bay, #B1-08C, Singapore 018987 | Tel: +65 9223 0245 | Opening Hours: 8am – 6pm (Mon – Fri), Closed on Sat & Sun | Facebook | Instagram
8. Nana's Green Tea
With multiple outlets islandwide, Nana's Green Tea is certainly no stranger to the matcha scene in Singapore.
The modern Japanese tea house takes pride in incorporating Uji tea in both their savoury and sweet dishes. In doing so, they hope to highlight the many health benefits that matcha provides.
Their Matcha Shiratama Float (S$9.10) comes with a hefty price tag, but is apparently a crowd-favourite item. Featuring their signature matcha latte, the drink comes with mochi balls and a scoop of matcha ice cream.
For sharing, their Hojicha Shiratama Parfait (S$11.60) is a great choice. From hojicha jelly, hojicha ice cream, bean paste to mochi balls, the variety of toppings will leave you extremely satisfied.
Nana's Green Tea: 435 Orchard Road, 4F, Wisma Atria, Singapore 238877 | Tel: +65 6262 3467 | Opening Hours: 11am – 10pm (Daily) | Facebook | Instagram | Website
Located in CHIJMES, Hvala is the perfect place to unwind after a day of shopping in town.
With a naturally bright space and a minimalist decor, the cafe looked like a Japanese garden in an open glasshouse.
To our delight, Hvala serves up a really good, quality Matcha Soft-Serve (S$6). We managed to pick up the distinct astringent flavour of the matcha, as well as a subtle sweet aftertaste.
They have a small selection of cakes too, and the Matcha Azuki Slice (S$7.80) was our favourite. Despite the layers of cream, azuki bean paste and matcha drizzle, the cake wasn't actually overly sweet!
Hvala:  30 Victoria Street, CHIJMES, #01-04/05, Singapore 187996 | Opening Hours: 9.30am – 9.30pm (Daily) | Facebook | Instagram | Website
---
Health benefits aside, matcha is certainly a very flexible ingredient. There're so many dishes it can be incorporated into, be it a beverage, ice cream or cake. I guess there's no such thing as having too "matcha" of it!
That said, if you know a matcha fanatic, or if you're one, definitely consider these places for your next matcha fix. You can bet these are the matcha spots I'll be frequenting.