Recently I've been somehow finding myself indulging in hotel buffets, and decided to try out Triple Three after my pleasant experience at Japanese Sze Chuan restaurant Shisen Hanten, which is also within the same hotel.
Triple Three is named after the road where Mandarin Orchard, which houses the restaurant, is situated at. I didn't catch it at first because I was blinded by hunger, but the Triple Three logo is composed of three 三 (Japanese/Chinese character for 3) across the name of the restaurant in the center, which is pretty brilliant typography design.
Triple Three's buffet also has a 'daily delight' theme featuring something unique everyday, which I will be touching on later in this review due to chef delightfully force-feeding me like goose liver.
Predominantly featuring black velvet for that classy vibe, Triple Three's interior is simplistic yet luxurious and represents the typical Japanese philosophy.
The Triple Three buffet area is really huge with multiple corners and live cooking stations, which reminds me of Mezza9 at Grand Hyatt.
As with my usual buffet protocol, I start with the fresh, cold seafood. A smorgasbord of Alaskan King Crab legs, mussels, clams, red prawns as well as Boston lobster (seasonal), there's also live-shucked Pacific oysters at the other section.
Freshness is to be expected- cold seafood lovers will thoroughly enjoy their selection.
Other dishes also sit inconspicously beside the seafood station like this delectable Foie Gras and duck toast. 
I never fail to harass the sashimi chef at a buffet for their exclusive salmon belly, and Triple Three was no exception. A good variety of sashimi including swordfish and yellowtail is also available.
Of course, sushi rolls, aburi sushi and maki are also available to reinforce the whole Japanese buffet theme. I for one wouldn't recommend eating too much rice at a buffet though.
Live Teppanyaki hot plate cooking of beef, prawn, bean sprouts and fish also add to the variety. Some of the meats were a bit cold though, being cooked in batches and left out instead of being done a la minute upon request.
Tempura prawns and sweet potato; another signature feature of Japanese food culture, which although popularized and perfected by Japan, actually originated from Portugese missionaries who were visiting the city of Nagasaki.
Chawanmushi, or steamed egg custard that has that unforgettable silky texture.
Baked honey ham is another very popular item here especially during Christmas. The honey flavour is very prominent in the soft ham which is a welcoming surprise due to the lackluster honey hams I've had in the past.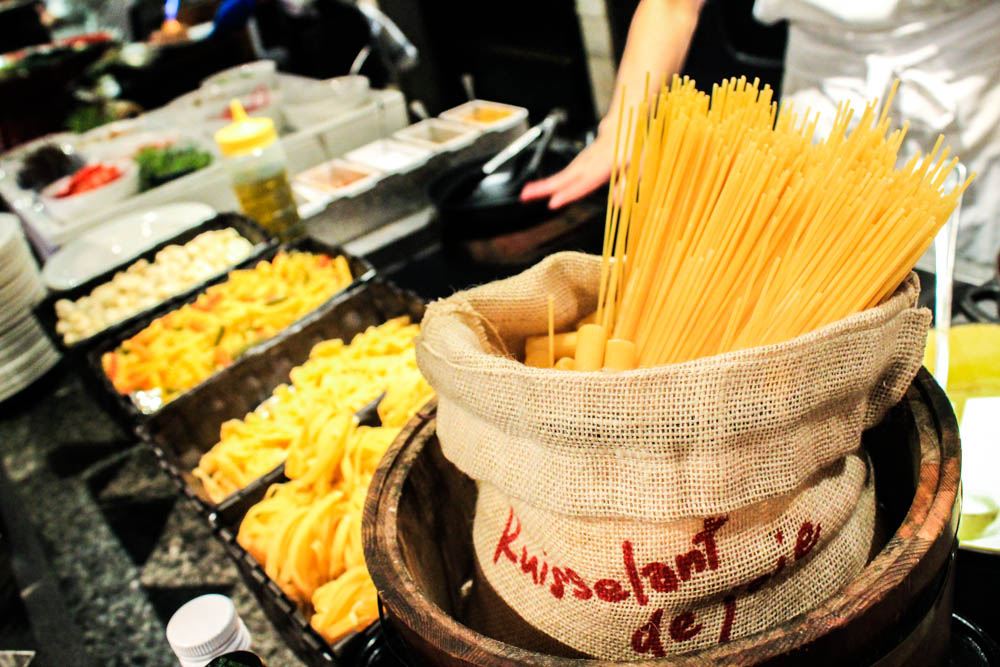 Tomato sauce spaghetti with mentaiko and prawn. The live pasta cooking station also lets you customize your own pasta, and I've to say this tomato base combination I ordered is mighty delicious despite my rule of no carbs at a buffet.
So what can you expect for the Daily Delights other than all the goodies I've highlighted above?
Foie Gras Frenzy: As part of Triple Three's Daily Delight specials, enjoy free flow foie gras every monday. This melt in your mouth pan-seared foie gras with miso sauce and daikon has that heart-attack inducing decadence like a forbidden fruit in the Garden of Eden. Miso and the winter radish attempt to reduce the fat overpowering liver, but that's the whole point of Foie gras to me anyway, the fats.
Nippon Night: Free flow Kirin beer on Tuesdays! Japanese street-food like oden also make an appearance on Nippon Night.
Kagoshima Wagyu Beef Night: On Wednesday and Thursdays, A4 wagyu is prepared in various ways like shabu shabu or roasted as seen here. Exquisitely marbled for that soft, butter bite.
Weekend Lobster Treat: Feast on free-flow lobster mentaiyaki on Friday and The Mentaiko really added that seafood burst, but I found the Boston Lobster meat to be a tad tough though, which Chef explains as being tougher than the local lobster.
End off the buffet at Triple Three with indulgent cheese cakes, chocolate tarts, pastries and cream in case you were wondering how much more calories it takes to hit 'obese'. Yes, there's ice cream and sorbets as well.
Triple Three at Mandarin Orchard hotel boasts an extensive range of buffet items, especially mixed with the Japanese variety, setting it apart from the other usual hotel buffets. A near mind-boggling variety of items that you won't want to miss.
Expected Damage:  $58++ (mon – sat lunch) | $88++ (mon – thurs dinner) | $88++ (sun lunch) | $98++ (fri – sun dinner)
Triple Three: 333 Orchard Road
, Mandarin Orchard Level 5, Singapore 238867 | Tel: 6737 4411 |

Website
Related Guide: Best Hotel Buffets in Singapore