"Charcoal Grilled Steaks"
After my steak guide was published, Angus House was one of those popular steakhouses many readers have recommended as a 'must try'. So here we are, not wanting to miss out any potentially good steaks in Singapore.
Located at the 4th floor of Ngee Ann City, Angus House is founded by a Japanese owner since 1993 and serves American and Italian cuisine, but with a Japanese styled finesse.
Upon entering, guests are treated to soft classical music playing from this automated piano. A pleasant treat to the ears and prelude to a semi-fine dining experience.
Classy and austere, the interior reflects the owner's Japanese influence for simplicity and going back to basics.
Featuring an open kitchen, steaks and seafood are grilled over charcoal by these merry chefs.
We were brought to the private room for this media tasting, which was a very nice gesture of the host. Ambience and service so far has been very apt, and the menu prices look pretty affordable compared to many premium steakhouses I've been to.
Things got a little unexpected though after we heard what was being served on the prearranged tasting menu: 1 garoupa appetizer, 1 pasta and a 150g tenderloin for me and my dining partner to share. I double confirmed whether this was all that management prepared for 2 people, to which I had a glooming confirmation by the restaurant manager. My impression just went downhill from there.
In most restaurant tastings, I've rarely had to request for more food, but on this occasion it seemed like I was going to have to eat ramen after dinner.
After lamenting on how to make this a more fruitful trip (as it was a steak review after all), I asked to check with management again whether we could try a few more steaks, and also because the quantity of food prepared would scarcely be filling. Thus management relented to serving more food, probably sensing our brooding mood. 
To start off the meal, we each received an individual serving of freshly baked bread. A medium sized roll with a cap baked into it. The bread was a lovely crusty delight leaving the dark table top completely covered in crumbs and the inside was a fluffy soft white mass. As far as bread goes it really was one of the better ones you get in most establishments. The only thing missing from this delicious carbohydrate fun was the butter.
We're not expecting to be offered a choice of salted or unsalted butter but a small pat of butter seems pretty standard in most restaurants. I went about to hunt for the butter, which was a drawback being in the private room as staff are not as accessible.
In my email feedback I did ask the restaurant if they simply forgot about the butter or was it a standard practice here, but I didn't get a clear reply on this topic, so the verdict is still out on this.
Garoupa Appetizer. Topped with fried seaweed, this fried morsel of fish was clean and not too oily. A special item off the menu, more like a chef's special. They didn't have an exact name for this impromptu dish.
Green Salad ($13). A simple green salad with corn, cucumber cherry tomato and lettuce. Seems a bit pricey at $13 though.
Minestrone ($10). Moving on to the soups, we settled for the minestrone. 
Generous amount of ingredients within.
There was also bits of bacon for a wisp of smoky heartiness balancing out the slight acidity from the tomatoes which made for an overall pleasant enough soup.
Spaghetti Pescatore ($23). The Japanese Italian styled seafood pasta was cooked pretty well with a clear flavorful stock. The seaweed looked a little haphazardly placed almost like an afterthought for colour. However it was tasty and the prawns had excellent texture with a springy firmness.
Astute dinners might have noticed that the ingredient description of the dishes are sadly lacking. When the dishes were served, the staff just stated simply "spaghetti". So honestly, we didn't really know what we were being served. We spent a good while trying to figure out what went into the food. It felt like a Master chef taste test elimination round.
Perhaps based on the restaurant setting and pricing I've been conditioned to expect a better standard of service, not to the level of premium fine-dining definitely, but basic introduction of dishes seems a prerequisite for semi-fine dining at least.

Now the part I've been looking forward to the whole meal. STEAK!
Tenderloin Steak 150g ($52). First up was a 150g serving of tenderloin, but they also serve larger sizes all the way up to 300g. It really was soft with the texture of a dense solid pate. I had been hoping that there might have been a more pronounced smokiness to it however I was left wanting. As with any tenderloin, the flavours of the beef weren't apparent.
The steak was also served with a bed of light sweet sauce and butter.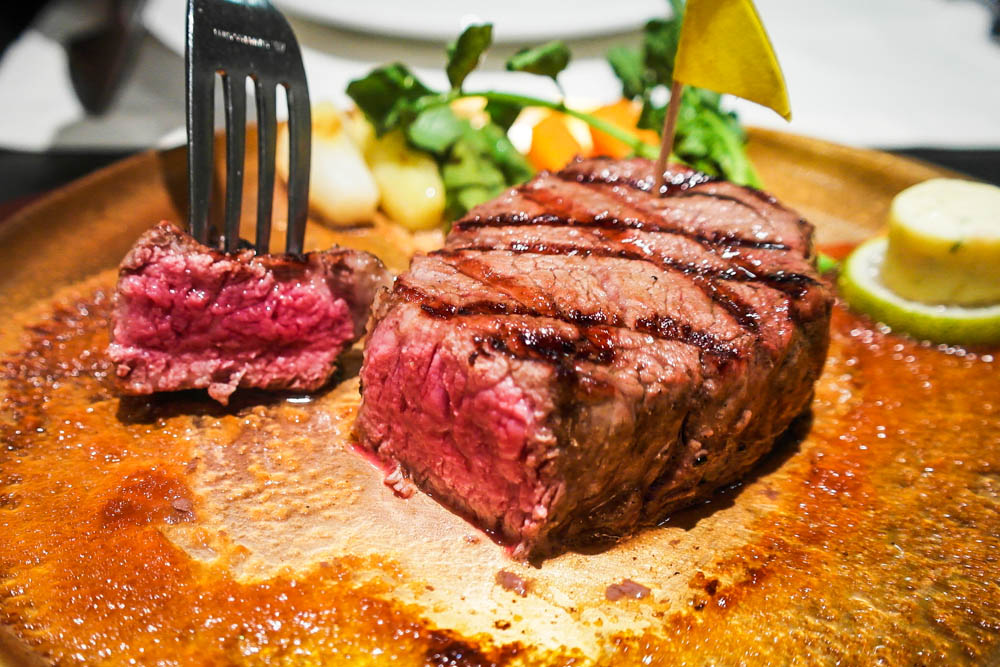 There is a reason why tenderloin/fillet mignon is usually served with bacon or prosciutto wrapped around it – the lack of fat results in a piece of meat with little inherent flavour. The brown miso sauce on the side gave it a much needed boost of savoury richness. When it comes to tenderloin you really are better off with the other tastier cuts that offer better value for your money.
We enquired on where the beef came from, and was a bit surprised that the staff had to check with the kitchen on where their signature steak origins are (it was USDA Black Angus by the way, after some checking).

Sirloin Steak 200g ($51). The sirloin was moderately tender with pleasant yielding and the increase in chewiness combined with the increased in beefiness made for the most visceral carnivorous experience of all the steaks, compared with the other steaks. It didn't come with the usual strip of fat though, which I love chewing together with the beef for a burst of umami.
Ribeye Steak 200g ($56). As expected the ribeye was the most satisfying steak of the three cuts. There was a stronger rich distinctive lovely beefiness to it. The looser grain of the meat interspersed with marbling made for a delicious piece with a soft moderately tender texture. I personally thought the cut was a bit on the thin side which resulted in it being cooked more throughout than my requested doneness.
Another reason why a thicker piece would really let the cut shine is that you would be able to better hold the steak upright with the cap of fat on the grill and let the fat render as much as possible. The fat would release a deep robust earthiness elevating the flavour by adding layers to the taste with every mouthful.

Sometimes if you're lucky the steakhouse would cook the fat to such perfection that you get this wonderful golden brown light crust almost like what you would get on a creme brûlée, offering just the slightest hint of a crunch when you bite into it. Whatever remaining fat beneath would rush forth releasing heady sweet-savoury beefy flavour that only reinforces your belief that you could never give up meat.

As a rule I do not like my steaks served on hot plates, as the steak sits there while you're eating and continues to cook resulting in your steak drying out and approaching a tough rubbery mass. The 3 pieces were no exception. We quickly had to shift the pieces from the hot plates onto our standard dining ones to prevent the meat from becoming overcooked. Even then 2 pieces of the steaks had been served slightly beyond our desired doneness. We simply chalked it up to the evil of the hot plates at work.

The tiramisu had a satisfying proportion of mascarpone to ladies fingers which pleased me greatly. However the taste of the rum was, oh wait, there was no rum in it. The restaurant takes pride in serving a non-alcoholic tiramisu recipe, which kind of made the cake incomplete to us.
The seasonal off-menu berries fruitcake was a whole other different story. The moist slightly crumbly texture lent a whole rustic element to it and the fruit compote with small bursts of tartness in the rich sweet berries was perfectly balanced. The faintest hint of ground nuts inside brought a wonderful mouth feel with the slight resistance when chewing was sublime.
The slight chewiness created a whole new dimension of dessert texture and was an exceedingly pleasant much welcomed surprise to what was an unremarkable meal. I would have happily paid to eat a whole kilogram of that unadorned cake. This was the standout dish the whole dinner.
Let it be known that I was comparing the steaks to non dry-aged steaks of the same breeds that I've had elsewhere.
Overall, I thought the steaks at Angus House although upper mid-range priced, was a little underwhelming in overall experience and taste. It's the small touches which elevates a restaurant, like educating consumers on the origin and ingredients. The steaks were USDA Prime grade and no doubt very tender, but didn't have as much beefy flavour in itself, with a very short finish on the palate.
Related Guide: Best Steaks You Can Find in Singapore
Expected Damage: $75 – $100 per pax
Angus House: 391 Orchard Road, #04-25 Takashimaya S.C, Ngee Ann City, Singapore 238872 | Tel:
67356015  

| Facebook