Besides delicious food, people love stalls with an acclaimed history. It just adds that much more satisfaction knowing that one is enjoying food with an "origin story".
I mean, there must be a good reason why that stall is able to survive so long. And that is why I have got you covered with 13 long history hawker stalls with more than 30 years of history that serves pretty superb food.
Located in the Pasar Geylang Serai, Geylang Briyani Stall is helmed by 31-year-old Hannan. Can you believe that this 55-year-old stall has existed before the independence of Singapore?
What's even more interesting is that Hannan was an ex-aerospace student that gave up his qualifications to take over his family business. If that's not dedication, I don't know what is.
Their Nasi Briyani Ayam (S$6 per portion) was simply delicious. The fragrant rice went perfectly with the luscious curry and I simply could not get enough of it.
Pair that with some succulent chicken and crunchy achar for a flavourful experience. Mmm, sedap!
Geylang Briyani Stall: 1 Geylang Serai, #02-146 Geylang Serai Market & Food Centre, Singapore 402001 | Tel: +65 9831 0574 / +65 6743 7458 | Opening Hours: 10am – 4pm (Tue – Sun), Closed on Mon unless it's a Public Holiday | Facebook | Instagram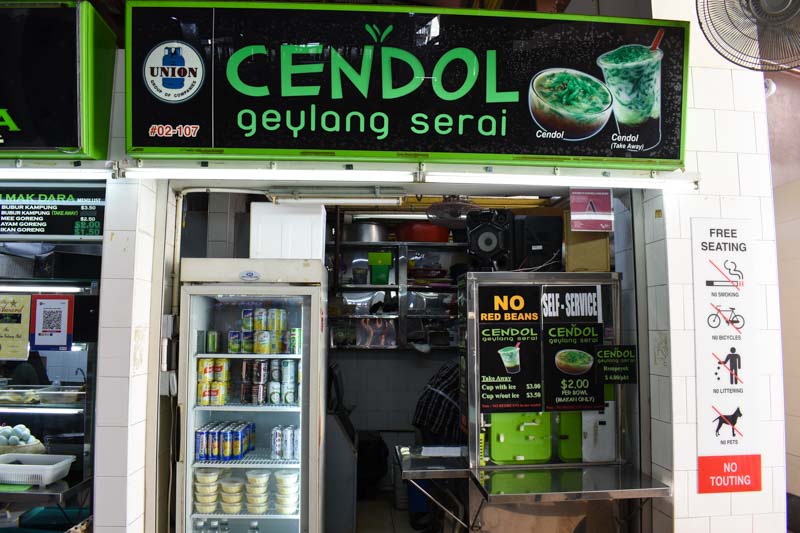 This stall has sold only chendol for 67 years without changing the recipe, and it's still going strong. Now that is really impressive! Third-generation owner Rezal told me that they make their ingredients daily to ensure its freshness.
This dish consisted only of basic ingredients like coconut milk, gula melaka and chendol noodles. It baffled me how it could be so popular with no innovative changes made to it.
My scepticism was put to rest with the first bite. I was greeted with the pleasant fragrance of the coconut milk, followed by the sweetness of the gula melaka.
Unlike those chendols with many dessert toppings, Rezal's rendition was like a refreshing beverage.
Cendol Geylang Serai: 1 Geylang Serai, #02-107, Geylang Serai Market and Food Centre, Singapore 402001 | Tel: +65 9090 9605 | Opening Hours: 8am – 5pm (Daily) | Facebook
Long Kee attracts such long queues! Puns aside, their queue is really no joke and it's not hard to see why.
For the past 40 years, this stall has been single-handedly managed by an elderly lady and it only opens for about three hours a day.
This Carrot Cake (S$2.50 for small, S$3 for medium, S$3.50 for large) is the best I have ever tried. Intensely fried, the radish cakes have minor charred marks that bring the coveted wok hei flavour. The eggs help to soak up the savoury chilli and seasonings, bringing satisfaction to every bite.
This masterpiece carrot cake is definitely worth waking up early to queue for.
Long Kee Fried Carrot Cake 龙记菜头粿 : 409 Ang Mo Kio Avenue 10, #01-19 409 AMK Market & Food Centre Singapore 560409 | Opening Hours: 7.30am – 10.30am (Daily) 
Lau Hong Ser Rojak is widely lauded as one of the best rojaks in Singapore. The stall is run by Mr Lim Khai Ngee, who has been making rojak for 45 years since he was a secondary school student.
This third-gen hawker painstakingly roasts the rojak over charcoal, grinding and roasting the peanut toppings every single day. He insists on doing this to bring the best to his customers.
The rojak sauce is thick and creamy, adding a rich flavour to the plain ingredients. The cucumbers and pineapples were wonderfully juicy and sweet, a testament to their freshness.
Every bite of the dough fritters was paired with a unique fragrance which I couldn't get enough of.
Lau Hong Ser Rojak: 271 Onan Road, #02-14, Dunman Food Centre,  Singapore 424768 | Tel: +65 9466 8250 | Opening Hours: 4.30pm – 1.30am (Mon – Sat), Closed on Sun
5. Jin Ji Teochew Braised Duck & Kway Chap 金记潮州卤鸭•粿汁
To keep up with the times and to remain competitive, many hawkers have introduced innovative tweaks to their dishes. And the 36-year-old Jin Ji Teochew Braised Duck & Kway Chap 金记潮州卤鸭•粿汁 is no exception with their modern Duck Rice Bento (S$8). 
I was immediately impressed by the presentation of the dish. It consists of the usual duck rice accompaniments, kway chap ingredients and yam rice balls which reminded me of the rice balls in Malacca chicken rice.
The duck meat had absorbed the savoury goodness of the gravy and herbs, adding more flavour to every bite. I wished there was more sauce to go around though.
The egg completely took me by surprise. With the partially runny yolk, the egg had a smooth texture without the dreaded dry aftertaste in the throat from most egg yolks.
Jin Ji Teochew Braised Duck Rice 金记潮州卤鸭•粿汁: Chinatown Complex Blk 335, Smith Street, #02-156,,Singapore 005335| Opening Hours: 10.30am – 6.30pm (Mon – Thu), 10am – 6,30pm (Sat & Sun), Closed on Fri | Facebook
6. Havelock Road Hawker Prawn Mee 乌桥头大牌50炒福建虾面
Uncle Soon, the humble man behind Havelock Rd Blk50 Fried Hokkien Prawn Mee 乌桥头大牌50炒福建虾面 has dedicated his entire life to Hokkien mee. Starting as young as 16 years old, Uncle Soon has been at it for 50 years.
Watching the 75-year-old Uncle Soon fry his Hokkien mee really reminded me what real dedication is.
For S$5, the servings were really generous. It may not be the best Hokkien mee out there but it definitely hits the right spots.
The zhup was heartily flavourful and the noodles were well-cooked and went well with the piquant chilli. This Hokkien Mee felt really heartwarming and homely.
Havelock Road Hawker Prawn Mee: 6 Jalan Bukit Merah, #01-100, ABC Brickworks Food Centre, Singapore 150006 | Opening Hours: 10.30am – 10.30pm (Wed – Mon), Closed on Tue 
7. Kheng Fatt Hainanese Beef Noodles (瓊发海南牛肉粉)
Besides boasting 41 years of history, Kheng Fatt Hainanese Beef Noodles (瓊发海南牛肉粉) has a storefront plastered with accolades. It's not hard to see why!
Drenched in luscious gravy, their mouth-watering Dry Sliced Beef Noodles (S$4) came with generous beef slices. The gravy really did the trick with its rich and robust flavour.
I appreciated how their tender their beef slices were. Though they were not the "melt-in-your-mouth" standard, they were wonderfully chewy.
This place definitely deserves all the hype and I'll urge you to check it out.
Kheng Fatt Hainanese Beef Noodles (瓊发海南牛肉粉): 505 Beach Road, #01-89, Golden Mile Food Centre, Singapore 199583 | Opening Hours: 11.30am – 7.30pm (Thu – Tue), Closed on Wed
8. Lee Kee (李記)
Lee Kee (李記) has stood the test of time with 40 years under its belt. This is one of my favourite go-to places whenever I crave roasted delights.
Their rendition of roasted duck is rare, as very few stalls nowadays sell the dish with a crispy skin. I enjoyed the mildly crispy yet wonderfully soft duck skin.
The roast duck was superbly succulent and made me feel that I was back in Hong Kong for a moment. You have to try it to believe it!
Lee Kee (李記): Block 503 West Coast Drive, #01-13,  Ayer Rajah Food Centre | Opening Hours: 8am – 3.30pm (Mon – Sat, Closed on Sun) 
9. Joo Chiat Chiap Kee (如切捷記)
I genuinely believe that this stall has a longer queue that its impressive 54-year history. I mean just look at that queue! Joo Chiat Chiap Kee (如切捷記) is one of rare few stalls that serves handmade fishballs, an art that is on the brink of extinction.
Check out how squishy that fishball is! The springy handmade fishballs exuded freshness on every bite.
The noodles were pretty decent too, with an al dente texture. They went well with the irresistible chilli that is backed by a secret family recipe.
Joo Chiat Chiap Kee (如切捷記): 216 Bedok North Street 1, #01-31, Singapore 460216 | Opening Hours: 6am – 1.30pm (Thu – Tue), Closed on Wed
Dating back to the 1970s, Inspirasi is truly the place for authentic Malay fare that wouldn't hurt your wallet. With only four options on the menu, this place whips up quick and hearty meals.
Don't underestimate the simplicity of this Mee Goreng (S$2.50). The starchy gravy had an optimal consistency and lovely flavour, and the sweet and sour flavours hit the right spots.
This place is a testament that good food doesn't need to be expensive.
Inspirasi: 208B New Upper Changi Road, #01-11, Bedok Interchange Hawker Centre Singapore 460207 | Opening Hours: 12noon – 9.30pm (Mon – Sat), Closed on Sun
11. Pin Xiang Chicken Rice (品香雞飯)
I mean, do I really need to introduce Pin Xiang Chicken Rice (品香雞飯)? Just look at the insane queue. With more than 30 years of experience, this place serves one of the best chicken rice in Bedok.
Their Chicken Rice (S$3) is a thing of beauty. The chunks of chicken soaked in savoury sauce are as pleasing to the tastebuds as they are to the eye.
Even the rice is fragrant and not too oily, pairing well with the chicken meat.
It definitely gives the other chicken rice stalls a run for their money.
Pin Xiang Chicken Rice (品香雞飯): 208B New Upper Changi Road, #01-03, Singapore 462208  | Opening Hours: 9.30am – 9.30pm (Daily) | Website 
12. Lian He Ben Ji Claypot Rice 联合本记煲饭
Customers at this 40-year-old stall will definitely be astonished by the 18 claypots sitting over an intense charcoal fire. It is indeed a rare sight to see such a traditional method of cooking and a single person skilfully managing so many claypots at the same time. Talk about real multitasking!
Needless to say, the claypot rice served at Lian He Ben Ji Claypot Rice was superb. Every single claypot rice was filled with a hearty amount of quality ingredients.
The chicken chunks in my Mixed Rice (S$10) were tender and juicy. The savoury Chinese sausages and salted fish enhanced the flavours of this dish to amazing levels.
This place is so overwhelmingly popular that waiting time can span up to an hour or more!
Lian He Ben Ji Claypot (联合本记砂煲饭): 335 Smith Street, #02-197/198/199, Singapore 050335 | Opening Hours: 4.30pm – 11pm (Mon – Wed, Fri – Sun), Closed on Thu | Tel: +65 6227 2470 | Facebook
13. Loo's Hainanese Curry Rice
In my humble opinion, nothing beats a hearty meal of curry rice. I mean, you get to enjoy several of your favourite dishes alongside some rice covered in luscious curry. What's there not to love? And my favourite curry rice fix is none other than Loo's Hainanese Curry Rice.
Their combination of fried pork chop, curry vegetable and sambal squid is a divine one. I may be biased because those are my favourite foods.
This is definitely the place for a hearty feast without breaking the bank.
Loo's Hainanese Curry Rice: 71 Seng Poh Road, #01-49, Singapore 160071 | Opening Hours: 8am – 2.45pm (Closed on alternate Tuesdays) | Tel: +65 6225 3762
---
We should count our lucky stars that these industrious hawker stalls have been providing quality food to us for decades without compromising quality.
Let's show our appreciation by giving them our support! I'm certain none of them will disappoint you.