Whether you like your eggs scrambled, poached, or fried, you've got to admit that they are the most nutritious foods on earth. After all, they pack a protein punch, you can't do breakfast without some omelettes. They just taste absolutely egg-ceptional!
Stay on the sunny side up, this time, as we're breaking down eight different eggs that you can find around Southeast Asia. Everybody knows they encompass many impressive health credentials, less known are the details of how many types of different eggs there are; here I am to shed some light! 
1. Quail Egg
What it is:
Quail eggs are rapidly gaining traction in cooking and are considered a delicacy in many parts of the world. Regarded as an alternative to chicken eggs, they are smaller in size; typically one-third the size of a standard chicken egg. The exterior features a cream-coloured shell with brown splotches and deep-yellow yolks. Don't let their diminutive sizes deceive you as they are packed with nutrients and help in fighting a number of diseases.
What makes it unique: 
They pack a protein-punch, especially relative to its size. They are rich in vitamins, minerals, antioxidants and have double the properties of a normal-sized chicken egg. Fitting nicely for gym-goers, they serve a good amount of amino, salt and fat that your body craves for after a gruelling session. They are additionally, very useful to those with low red blood cell counts as they contain two times as much iron and aid in multiplying red blood cells.
However, go easy on them and don't eat too much of them at once as they do contain a large amount of cholesterol!
What it's used in:
There are a myriad of ways to savour these eggs, the only caveat is that you need more of them if you are looking to replace a chicken egg. In Japan, they are considered a delicacy and are often consumed raw in sushi. In South American countries, they are used for toppings for hot dogs and hamburgers. In Asia, we savour them as snacks or accompaniment to other dishes.
For a unique twist, try adding them to your salads. There you have it, a healthy, elegant salad full of popping tastes, making up for a hearty lunch or a light supper! 
Price: From S$2 for a pack of 15 
2. Duck Egg
What it is:
Duck eggs are a phenomenal treat, they are bigger; possessing a richer yolk as compared to chicken eggs. The shell is significantly thicker than the latter, thus making it harder to crack. 
What makes it unique: 
They are highly prized by bakers and chefs alike, with their interiors setting them apart. A duck egg's white tends to be nearly transparent whilst a chicken egg possesses a slight yellowish tint. A duck yolk is also significantly bigger than a chicken yolk as they contain higher fat content which results in a richer taste when incorporated into dishes. Though they taste similar to a chicken egg, their flavour tends to be more intense due to the duck's diet. 
What it's used in:
The egg whites are firmer with more structural integrity. This gives baked goods such as cakes a lighter and fluffier texture. They also help form taller meringue peaks, lighter and more moist cookies. In Asia, they are regarded as a delicacy. They are preserved and added as an accoutrement to porridge, drizzled with some vinegar and sesame oil. The delectable mooncakes we relish in during Mid-Autumn Festival are also made with salted duck egg yolks.
Price: From S$2 for four per pack
3. Caviar
What it is:
If there's one food that's associated with luxury, it's caviar. Caviar traditionally refers only to roe from wild sturgeon in the Caspian Sea and Black Sea, but beluga caviar is the largest, rarest and most expensive caviar. At close to S$7000 per kilogram, it deserves its expensive nickname, 'black gold'. They are often eaten raw or as an appetiser and it's one of the most coveted items in the culinary world. 
What makes it unique: 
Sturgeons are saltwater anadromous fish—they are moved from saltwater to fresh tributaries to lay their eggs. After which, they will be monitored through ultrasound to determine whether their eggs are ready for harvesting. In addition, they are graded based on the size, texture, and flavour of the eggs. There are two main grades of caviar—grade 1 indicating firm, large eggs that are intact, which then generally cost more than those in grade 2 who possesses less delicate and perfectly formed eggs.
What it's used in:
Caviar has a delicate taste and is best eaten alone or with minimal accompaniments; a tablespoon or two is the perfect amount. They are usually consumed right off a spoon or served with crackers, crepes and eggs. Given its connotations of luxury, one might think that it best savoured on gold and silver spoons. However, this should be avoided as they react with metal, imparting a metallic flavour to the caviar. 
Caviar can also be added as a finishing touch or garnish to appetisers and pasta to preserve its flavour.
Price: From S$80 for 26.8g
4. Chicken Egg
What it is:
Did you know that there are more chickens than humans on earth? Without a doubt, the chicken egg is one of, if not the most, globally recognized ingredient in the culinary world. Its distinct oval shape lends a hand in it being easily discernible amongst other things. A staple in almost every household, it has a place in every culture and can be used in almost every type of dish from starters to desserts. 
What makes it unique: 
No food item has been subjected to a bigger debate than them. Playing a vital role in the 'Which Came First: The Chicken or Egg' debate, the chicken egg is famous for good reason. Looking past its various shades, yolk colour and grade, you begin to see just how versatile and unique they are. Each egg is commonly composed of a third yolk and two-thirds white.
It being a dietary mainstay is clear once you realise just how nutritional dense an egg is. Along with milk, eggs contain the highest biological value for protein! The average egg only consists of 75 calories, making it an egg-cellent snack any time of the day. 
What it's used in:
Being such a versatile ingredient, they can be found in literally every cuisine and culture. An iconic breakfast item, they are served sunny side up, completely fried or scrambled amongst many other variants. Eggs are also the main components of sauces such as mayonnaise. This nutrient-dense ingredient can also be used to make sweet items such as cakes and ice cream.
Price: From S$2 for 10 per pack
5. Ostrich Egg
What it is:
The ostrich egg is the largest bird egg on the planet. The female ostrich can lay between 14 to 16 eggs in the wild and up to 60 eggs in controlled breeding conditions. Weighing close to 1.5kg, the colour ranges from pearl white to cream. It possesses a thick shell and therefore makes it very hard to crack open. They are roughly 20 times bigger than a chicken egg.
What makes it unique: 
They pack vitamins similar to that of chicken eggs. The emu's yolk and the white ratio are 50:50, rendering them superb for baking. They are a good source of choline and vitamins such as Vitamin B12, riboflavin and folic acid. Ostrich eggs are a better choice for people on a low sodium diet.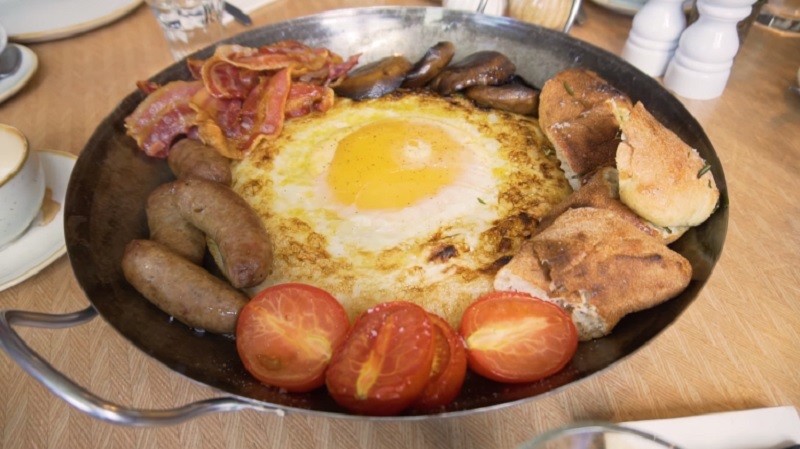 What it's used in: 
Although traditional hen's eggs are a shopping list staple, the ostrich eggs make a lovely treat. Perfect for a weekend brunch, they are mild in taste with a fluffy texture. Taking the phrase 'breakfast like a king' to the next level, how does a big breakfast platter with a gargantuan egg and bacon sound like to you?
Price: N.A
6. Ikura
What it is:
Ikura is the Japanese word for salmon roe. For sushi lovers, you'll probably be familiar and acquainted with them. Ikura is regarded as one of the more expensive ingredients used in Japanese cuisines and is ubiquitously found in sushi, salads, kaisen dons or served fresh alone. 
What makes it unique: 
Ikura is larger than other types of Japanese roes. Often described as 'small orange balls', they are gooey in texture and extremely delicate. Handle them with care as too much force may puncture them and exude its briny, slightly sweet liquid interior.
They are fairly mild with a fishy flavour. Each egg resembles a miniature water balloon that bursts in your mouth with a bold and rich flavour. They are extremely high in healthful fatty acid and high in Vitamin A, a popular antioxidant.
What it's used in: 
Ikura adds subtle brine and textural intrigue to just about any dish. Both Japanese and Western cuisines use it for flavouring and garnishing. They are often paired along with sushi, rice bowls and chirashi dons.
Price: From S$76.50 for 500g
7. Goose Egg
What it is:
Goose eggs are a seasonal treat prized by bakers and chefs alike.  They are three times larger than a chicken egg—but there's more to them than just their magnitude. They possess more vitamins and beneficial nutrients compared to the hen's eggs. 
What makes it unique: 
Having a harder shell than a chicken eggshell, this allows them to have a longer shelf life; it will keep about six weeks in the refrigerator. They have deeply-coloured and flavoured yolks, in view of the fact that they have a richer and varied diet. The eggs they produce are richer, fattier, heavier, and more deeply coloured. 
What it's used in: 
They are extremely desirable in Italy for pasta recipes. Most sought after for its thick and moist consistency, they are impeccable for baking as it allows the batter to hold together well. The extra huge yolks meld with the pasta to form a rich flavour, whilst the elastic texture is enhanced from the protein-rich white. 
Price: N.A
8. Turkey Egg
What it is:
Turkey eggs are often overlooked and forgotten, mainly due to supermarkets rarely carrying them in stores. The turkey is also a bird recognised predominantly for its meat during festive occasions such as Thanksgiving and Christmas. Noted to have a flavour profile similar to a hen egg, the latter are often larger and possess a patched exterior shell. 
What makes it unique:
They are considered scarce as they lay fewer eggs at a much lower frequency than other birds. Turkeys are also more expensive to raise commercially, requiring a larger pool of resources for maintenance. This is in stark contrast to turkey meat, as the meat from the bird is the fourth most consumed meat in the United States besides pork, beef and chicken.
What it's used in:
They are delicious when fried, poached, or boiled. 
Price: N.A
Although an impressive brunch with chicken eggs sounds like a good idea right about now, the spectrum of eggs doesn't just stop here. Step out of your comfort nest and be sure to savour some of these exotic eggs on your next vacation!