Chendol has to be one of my favourite desserts; a mound of ice topped with fragrant chendol strands, drizzled with treacly gula melaka and a side of red kidney beans. Definitely a much needed sweet relief from the scorching weather.
While chendol has made headlines for being quite the contentious dessert, it appears that the only thing we need to debate about is where serves the best chendol. As such, here are 10 places to beat the heat with refreshing chendol!
Located at the same market and food centre as the famous White Bee Hoon in Toa Payoh Lorong 8, you'll find Four Seasons Cendol right beside it.
With two great stalls side by side, we know that luck has been bestowed upon us because there's no need to walk too far if you need a sweet treat at the end of your meal.
This stall comes with high accolades, with the title 'The Best Chendol' bestowed upon them. There are even photos of Emeritus Senior Minister Goh Chok Tong displayed proudly at the storefront.
At Four Seasons, their Chendol (S$2.20) comes in a perfect sphere which as you can imagine is oh-so-pleasing to the eye.
First doused in thick and creamy coconut milk before being drizzled with a ladle of sweet gula melaka syrup.
Each mouthful was laced with an abundant serving of green jelly noodles, which had a strong pandan taste that most other dessert stalls lack in these days. A generous amount of attap seeds were present as well, and the addition of the red kidney beans gave it more texture than the regular sized red beans.
While it's very good, we wouldn't dub it as 'The Best Cendol', but it was one of the best we've had thus far.
Four Seasons Cendol: 210 Lor 8 Toa Payoh, #01-07, Singapore 310210 | Tel: +65 8720 1124 | Opening Hours: 8am – 9pm (Daily) | Facebook
2. Malaysia Boleh
In my quest to search for the best chendol, the hot favourite that kept coming up was the one at Malaysia Boleh!. I'm usually not one for commercialisation; blame it on the purist in me.
If you know your chendol, you'll be familiar with the renowned chendol sold along Penang Road, Georgetown. The Chendol (S$2) here comes with a smattering of sizeable kidney beans, bright chendol squiggles and a ladle of coconut milk.
I was surprised at the quality of this bowl.
Every element was well-executed and yummy. I was impressed, not to mention with a number of outlets scattered around Singapore you won't have to cross over to Malaysia when you get those pesky chendol cravings.
Malaysia Boleh!: 1 Jurong West Central 2, #03-28, Singapore 648886 | Tel: +65 6370 1155 | Opening Hours: 10am – 10pm (Daily) | Facebook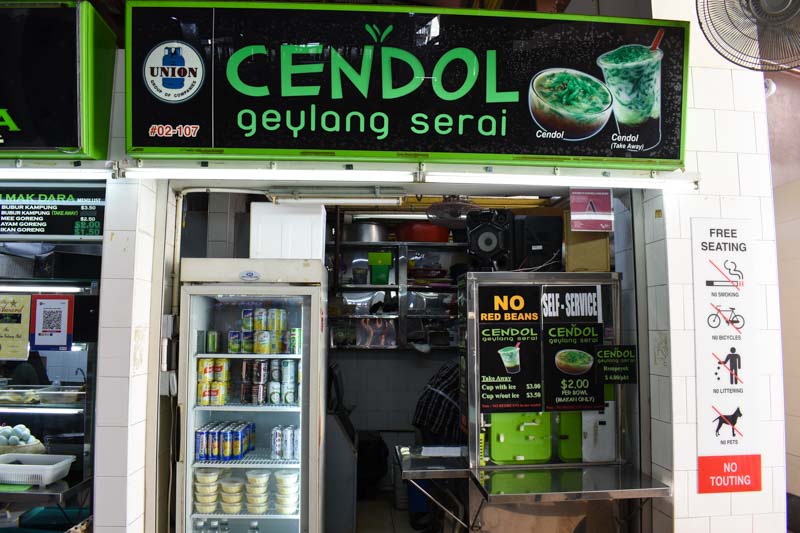 Established in 1952, Cendol Geylang Serai has since moved locations thrice. From the old Geylang Market to the current Geylang Serai Market, it has continued to prosper with its signature Chendol (S$2) dish.
Cendol Geylang Serai's chendol comes with the usual host of ingredients. A healthy dollop of chendol and a good ladle of gula melaka and coconut milk. Here, you get a no-frills bowl of chendol so don't expect any extraneous toppings such as attap seeds or durian.
Mr Rezal, the third-generation owner, prefers sticking to the traditional Indonesian-style passed down from his grandfather.
Additionally, Mr Rezal also makes his chendol from scratch and uses a little more rice flour than usual. This meant the chendol pieces were a lot softer than usual.
Although the process is tedious, Mr Rezal insists on preparing the pure gula melaka and coconut milk daily, which ensures the quality and freshness of the chendol. This deserves brownie points for sure.
This rendition of chendol had less shaved ice and a lot more coconut milk, making it more refreshing and liquidy.
Cendol Geylang Serai: 1 Geylang Serai, Geylang Serai Market and Food Centre, #02-107 Singapore 402001 | Tel: +65 9090 9605 | Opening Hours: 8am – 5pm (Daily) | Facebook
4. Jin Jin Hot/Cold Dessert (津津甜品)
Jin Jin Hot/Cold Dessert (津津甜品) has to be a household name when it comes to their desserts. Located in the famous ABC Brickworks Market & Food Centre, this is their Power Cendol (S$2) is one not to be missed.
Their gula melaka sauce is really something else, thick and gooey with just a little smokiness to keep you coming back for more. If you are a real chendol connoisseur, you have to try this one.
Just as a bonus from Jin Jin Hot/Cold Dessert, another well-known dessert has to be their Gangster Ice 流氓冰 (S$3). This beauty comes with decadent mango chunks atop shaved ice.
It gets better, the dessert completed with a dollop of pure Mao Shan Wang puree. Heaven for durian lovers I'm sure!
Jin Jin Hot/Cold Dessert (津津甜品): 6 Jalan Bukit Merah, #01-20, ABC Brickworks Market & Food Centre, Singapore 150006 | Tel: +65 9093 2018 | Opening Hours: 12.30pm – 10pm (Thurs – Tues), Closed on Wed | Facebook
Chinatown Complex Market & Food Centre is certainly a mecca for foodies. With over 260 hawker stalls, there is something for even the pickiest of eaters.
Amongst Chinatown Complex's seemingly endless plates of glorious food, there is a little gem of a stall selling perhaps the most perfect bowl of Chendol for S$2.
Tucked away in the yellow zone of Chinatown Complex is Old Amoy Chendol. Run by Youning, a third generation hawker tells me that he tries to keep everything natural and homemade so that each bowl that goes out is top-notch.
Watch as the auntie expertly spoons the creamy, snow-white coconut milk over a mountain of shaved ice. Then, adding a dollop of sticky red beans followed by a generous scoop of pea-green chendol.
The green jelly noodles were soft and gently perfumed with an aromatic pandan flavour. There is certainly a marked difference between eating freshly made rice flour jelly and frozen ones.
Unlike most chendol places, Old Amoy Chendol uses azuki beans instead of the traditional red kidney beans. Azuki beans are a lot less starchy so they make for a lighter and more refreshing dessert.
Old Amoy Chendol: 335 Smith Street #02-008,  Singapore 050335 | Tel: +65 8748 7590| Opening Hours: 10.30am – 9pm (Daily) | Facebook | Instagram |
6. Nyonya Chendol
Nyonya Chendol is probably one of the more ubiquitous chendol stalls in the list. Having more than six locations island-wide, Nyonya Chendol is here if you need an emergency chendol fix.

This was probably the cheapest chendol on the list, coming in at only S$1.50 a bowl.
While Nyonya Chendol has accumulated many accolades for being an excellent bowl of chendol, I would say otherwise. While I enjoyed my chendol, I found the gula melaka a little too sweet for me and the chendol bits a little too bland.
Nonetheless, if you need a fix, why not?
Nyonya Chendol: 851 Old Airport Road, #01-115, Singapore 390051| Opening Hours: 1oam  – 10pm (Daily) | Facebook
Located along Tampines Street 81, Penang A1 Chendol churns out fresh and affordable smoothies that will relieve you from the tropical heat.
Their Traditional Chendol (S$3) can be served either in the normal fashion (in a bowl), or in smoothie form. I preferred mine in a bowl.
A generous amount of gula melaka was drizzled over the top of the shaved ice, with sizeable red beans and pandan jelly completing the bowl.
I must say, being a chendol lover, this was pretty good. The richness of the gula melaka and coconut permeated every mouthful. It tasted authentic, fresh, and so good.
I can only assume that this same goodness will apply to the smoothie version as well, so give that a try when you're at Penang A1 Chendol! Just remember to consume the chendol on the spot as it melts rather quickly.
Penang A1 Chendol: 822 Tampines Street 81, #01-186, Singapore 520822| Tel: +65 8748 7590 | Opening Hours: 11.30am – 8pm (Mon to Fri) , 11.30am – 5pm (Sat & Sun)| Facebook
Here is another beautiful riff on chendol from Tok Tok Indonesian Soup House. This Es Cendol (S$3.80) is similar to the ones you can find in Thailand where you get an extra dollop of jackfruit.
The addition of jackfruit helps balance out the sweetness with its distinct sour and slightly tangy taste. A delightful rendition of our beloved chendol and one you should go for if you want something slightly different.
Tok Tok Indonesian Soup House: 18 Ann Siang Road, #01-01, Singapore 069698 | Tel: +65 6221 1760 | Opening Hours: 11am – 9pm (Daily) | Website | Facebook | Instagram
It's clear that our love for chendol knows no bounds. Rachelle the Rabbit Meadery is a local distillery that has taken this to the next level with Chendol Gin (S$98 for 500ml).
They used fermented gula melaka as their base distillate for a sweeter and mellower flavour. This is then followed by the usual host of the ingredients to make gin, namely juniper berries, pandan leaves and coconut.
Chendol Gin is good on its own, but great for mixology as well.
It has a long-lasting aromatic finish, with lingering pandan and coconut notes. This leaves a subtle creamy and soft trace, which is intense but not overbearing. Hence, it goes well with other cocktails. You can order this bottle of Chendol Gin from Rachelle The Rabbit Meadery's website.
When it comes to chendol, it would be remiss not mention Overrun.SG and their delectable chendol soft serve. A place that needs no introductions, this is the place you to get good quality Chendol Soft Serve (S$6).
Luscious swirls of creamy chendol soft serve drizzled with sticky gula melaka before being topped with squiggly pandan bits. Is there anything more perfect than chendol soft serve?
Overrun.SG: 18 Baghdad Street, Singapore 199657 | Opening Hours: 12pm – 8.30pm (Tues to Thurs), 12pm – 10 pm (Fri & Sat), 12pm – 8.30pm (Sun), Closed on Mon | Facebook | Instagram
---
No dessert has caused as much commotion or uproar as much as chendol. And for good reason as well, all uproar is just testament to just how much we hold chendol dear.
Rather than split hairs about who owns the birthright of this sweet and icy treat, rather, we can appreciate the craftsmanship and effort that goes into creating each bowl.