Leng Heng Chicken Rice was recommended to us by a reader. "It's the only chicken rice in the lagoon. For years," it read, "This dude owns the chicken rice scene on the ECP. But it's been gate-kept."
Well, it was time for us to gatecrash, then. My dining partner and I made my way down to East Coast Lagoon Food Village over the weekend.
The neat and tidy stall was easy to find. The first thing that struck me from the signage was how affordable the food here is. Because there was no one collecting their meals at the time we arrived, I didn't know if it was because of small portion sizes.
As our helpful reader had pointed out, this is the only chicken rice stall at the food centre. (There is a stall selling duck rice, though) It may have the chicken rice market cornered but, despite the name, doesn't limit itself to just that dish.
On the menu are Chicken Rice with Wanton Soup Set (S$6); a Set Meal (S$6) with steamed chicken, rice, soup and oyster sauce vegetables; Wanton Noodles (S$4); Roasted Chicken Noodle (S$4) and Dumpling Soup (S$5), among others.
As he cooked, the friendly uncle happily joked with us. He told us that he has been there for 16 years. He has 2 days off in the middle of the week but mans the stall till 7.30pm on the other days.
What I ordered at Leng Heng Chicken Rice
First on my order list was the Roasted Chicken Rice (S$4) with my usual request of no skin, no bones and breast meat. It came with the standard presentation of sprigs of coriander and cucumber slices alongside a bowl of soup.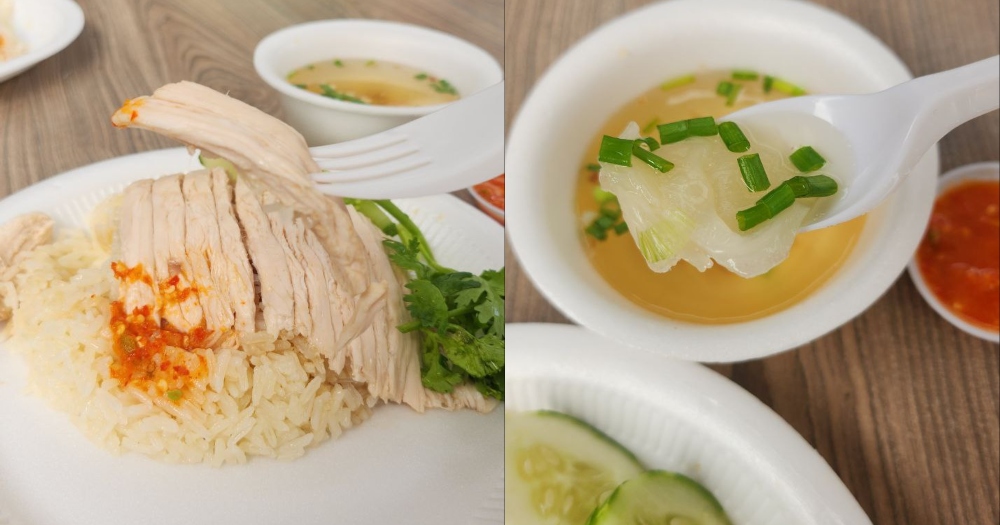 Any fan of chicken rice knows that overcooking breast meat is a common pitfall. That makes it all the more impressive when a humble chicken rice stall can prepare it so masterfully. It's a sure sign of a stall worth keeping an eye on. 
When compared to some of the highly regarded brands in Singapore, the chicken here is notably smooth, tender and not excessively oily. Yet, it manages to retain its succulent juiciness. The rice was delightfully fragrant and fluffy, with an alluring shiny coat of oil.
In my opinion, a delicious bowl of soup can truly enhance a plate of chicken rice, and that's exactly what you'll find here. The steaming bowl of clear liquid is packed with an abundance of cabbage and has a subtle yet refreshing herbaceous flavour. Additionally, the freshly chopped coriander adds a delightful earthy dimension to the soup.
A word of caution: the chilli is spicy!
The biggest selling point here is the affordable price for the large portion we were served. I could get used to this much chicken rice for 4 bucks.
We also tried the Lemon Chicken Rice ($4.50). It comes as fried chicken strips with lemon sauce. Lemon chicken is a tricky dish where the meat is first battered and fried before it is coated in the lemon marinade. This gives the chicken a crispy exterior that adds a delightful contrast to the tender and juicy meat.
I loved that it was not overly sweet or citrusy, nor too loaded with the lemon sauce. It was just nice by all those measures and my dining partner loved it so much that he ordered another pack to take home.
What's even better is that the chicken was still crispy when he got home almost an hour later. I don't know how it didn't end up moist and soggy but it's definitely a good tapau option.
Our third dish was the Thai-style Chicken Rice (S$4.50). You get the same strips of fried chicken as with the Lemon Chicken Rice. However, this time, they are coated in a mixture of flour and spices before being deep-fried until crispy and golden brown. Served with sweet & sour Thai chilli sauce, they are delicious! I wanted to eat just the chicken and forget about the rice.
I didn't, though, so I could be thorough with my review. As a whole, the Thai-style Chicken Rice is a simple but flavourful dish. I found it delicate and comforting and would order it again.
Final thoughts
We got all this for S$13! Leng Heng Chicken Rice is amazing value for money. I will gladly make my way down here at the next opportunity. That's not just because of how affordable it is to eat there but because the food was so enjoyable. I still salivate at the thought of the amazing soup and the crispiness of the chicken.
It's well worth a try.  
Expected damage: S$4 – $6 per pax
Order now Deliveroo
Other articles you might like:
Heng Ji Chicken Rice: Singapore's oldest chicken rice stall serves old-school versions for nearly 70 years at Chinatown
Price: $
Our Rating: 4 / 5
Leng Heng Chicken Rice
1220 ECP, East Coast Lagoon Food Village, #01-07, Singapore 468960
Price
Leng Heng Chicken Rice
1220 ECP, East Coast Lagoon Food Village, #01-07, Singapore 468960