Ramen – The ultimate Japanese comfort food which Singaporeans know and love. This is our take on the best ramen shops in Singapore.
A piping hot bowl of curly yellow noodles in a thick umami packed broth to warm you up. You can often find the best ramen spots in the most inconspicuous of places, cosy hole in the wall joints, true to the authentic ramen experience.
Also, slurp the noodles loudly to send your compliments to the chef. Pretty obnoxious elsewhere, but it is completely acceptable and a sign that you are enjoying your bowl of ramen.
With so many ramen joints popping up, here is a list of the best slurp-worthy ramen in town, in no particular order.
1. Marutama Ramen
Affectionately known as the "basketball ramen" because of the logo, Marutama Ramen serves up a chicken broth instead of the usual pork based one. Chicken as a base isn't as popular but Marutama has managed to convert many, having opened 3 outlets in Singapore. Chicken isn't usually as flavourful as pork but at Marutama they do it right and is equal to a tonkotsu broth in terms of hearty flavour in my opinion.
There have been divided opinions about Marutama's ramen but I love it (it's also Seth's favorite ramen in Singapore). There are only a handful of variations on the menu but frankly I don't think they need any more. It's a change from the pork based ramen but equally as satisfying and delicious.
Marutama Ramen: 6 Eu Tong Sen St, Clarke Quay Central, Singapore 059817 | Tel: +65 65348090 | Website 
2. Sanpoutei Ramen
Sanpoutei Ramen have pretty much taken care of every single detail that makes up their bowl of ramen. From the ingredients imported from Niigata Japan to the specially made ramen bowls to retain the heat of the ramen while keeping a cool exterior. The ramen noodles are handmade daily to ensure maximum freshness and springiness of the noodles.
The house special is the Niigata Shoyu Ramen, with a clear broth made out of fish instead of the usual pork bones. The fish stock gives the ramen a more refined taste and is what sets Sanpoutei Ramen apart from all the other joints.
Sanpoutei Ramen: #B1-04 Shaw House 350 Orchard Road, Singapore 238868 | Tel: +65 68364644 | Website
It's taken seven years for Ramen Nagi to open an outlet in Singapore, but this famed ramen chain from Fukuoka definitely does not disappoint.
I particularly enjoyed the Black King ($15.90) with its peppery, garlicky goodness. Darkened with blackened garlic and squid ink, it comes with a black ball of meat that you should break up and mix into the soup for a stronger flavour, along with a nice hint of sweetness.
Ramen Nagi: #01-512/513, Suntec City Tower II, Singapore 038989 | Tel: +65 68211601 | Facebook
Ramen Keisuke is a big player in the ramen game, with different outlets specialising in specific types of ramen, all of which are popular and you will see later on in the list. Tonkotsu broth is considered to be the preferred ramen broth of Singaporeans and Ramen Keisuke Tonkotsu King is what many, including Seth, consider to be the best tonkotsu ramen in Singapore.
Along the corner of Orchid Hotel, you can always expect to see a queue outside the tiny joint which seats only about 20 people. The tonkotsu broth is boiled for hours and hours to achieve the milkiest, and most flavourful broth that is good to the last drop and worth the queue.
Keisuke Tonkatsu King: 1 Tras Link, #01-19 Orchid Hotel, Singapore 078867 | Tel: +65 66360855 | Website
5. Ramen Santouka
Ramen Santouka is a wildly popular ramen brand with outlets all over the world. Famed for its toroniku (pork cheek) ramen, limited portions are available daily so you might need to call and reserve a portion. The pork cheeks are the perfect balance of fat and lean meat which soaks up all the spices and flavours it was braised in and melts in your mouth after. The noodles here are on the thinner side too, if you're into mee kia you would enjoy this.
Santouka also uses kurobuta, the more premium and flavourful black pig, Trust me, there really is a difference in the quality of normal pork vs black pork and I guess it's what sets this place apart from the rest. They do an exceptional shio ramen too, although it's not as popular as tonkotsu ramen amongst Singaporeans.
Ramen Santouka: 6 Eu Tong Sen Street, #02-76 The Central, Clarke Quay Central, Singapore 059817 | Tel: +65 62240668 | Website
6. Uma Uma Hakata Ramen
Started in Fukuoka in 1953, the popular ramen chain has set up it's first international branch in Singapore and has been well-received here too. The noodles are homemade and are slightly thinner than the thick yellow ones you might be used to, giving them more of a bite.
Besides the obvious favourite order being the Uma Uma Ramen, they also make a mean Cha Siu with Rice and Mazesoba with Cha Siu that is a dry ramen, a change from the usual bowl of noodles in soup.
Uma Uma Ramen: Orchard Road, Forum The Shopping Mall, Singapore 238884 | Tel: +65 62350855 | Website
7. Ramen Bari Uma
Hidden in an old shopping mall, Ramen Bari Uma is often overlooked by passersby and is one of the more underrated ramen places. But those in the know come back time and time again for its authentic bowls of piping hot ramen.
Served with a tonkotsu shoyu broth and thin hakata style noodles, Bari Uma definitely qualifies as one of the best ramen shops in Singapore, and a very underrated one at that. Diners often place additional orders for their thick torched cha siu that is tender and fatty, with lovely charred bits at the side. The gyoza is really popular too, crisp on the outside and juicy on the inside.
Ramen Bari Uma: 19 Tanglin Rd, Singapore 247909 | Tel: +65 97202791 | Website
8. Chabuton
Famed for being the only Michelin starred ramen restaurant in the world, Chabuton has seen mixed reviews from the public. The new kurobuta ramen was specially created by Chef Yasuji Morizumi and is exclusive to Chabuton outlets in Singapore. The thick slab of black pork is braised for hours until fork-tender.
The broth has strong notes of ginger too, which is a change from the usual tonkotsu broth. Thinner noodles are used here as well.
Chabuton: 313 Orchard Road, #B2-01 Somerset 313, Singapore 238895 | Tel: +65 66368335 | Website
 9. Ramen Bar Suzuki
Serving a variety of different broths for their ramen, Ramen Bar Suzuki has a unique selection of ramen for you to choose from. The usual white tonkotsu (pork broth), jet black (squid ink and garlic), cardinal red (spicy miso and pork), emerald green (basil and cheese), and sakura pink (prawn).
There is also a tsukemen that is served with a fish based broth. With so many choices, one of them is sure to suit your ramen tastebuds. The house specialty is the jet black ramen, with robust flavours of garlic, coloured with squid ink. Bonus for the free flow of side dishes like hardboiled eggs!
Ramen Bar Suzuki: 61 Circular Road #01-01 Singapore 049415 | Tel: +65 62258115 | Website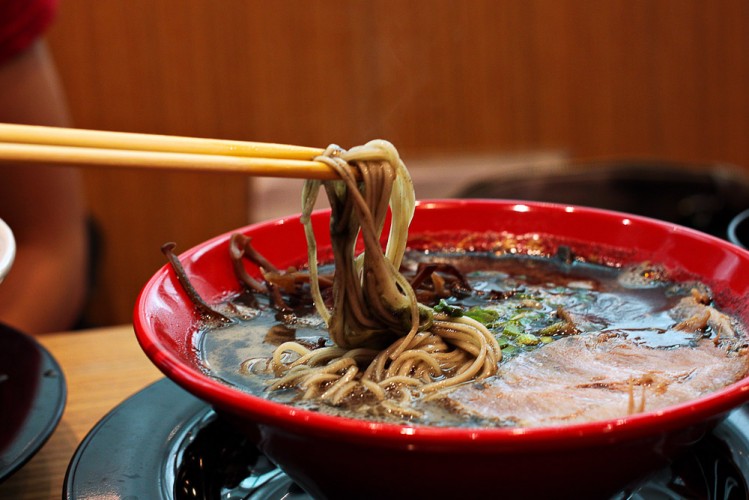 Two-time ramen champs in Japan, Ikkousha Hakata Ramen had set out to open its own stand alone shop and has a few outlets in Singapore itself. There is a variety of tonkotsu broths to choose from,from red to black and a special God Fire ramen for the spice loving Singaporean palate.
Your bowl of ramen is also fully customisable to your taste, right down to the thickness of the broth. Executed with care and tailored to each individual, it is no wonder it was awarded ultimate ramen champion twice. View our full review of Ikkousha Hakata Ramen here!
Ikkousha Hakata Ramen (CHIJMES): 30 Victoria Street, #01-07, CHIJMES, Singapore 187996 | Tel: +65 98225432 | Website
11. Keisuke Tori King
Another concept from the ridiculously popular Keisuke group, Keisuke Tori King specialises in chicken based ramen, as the name suggests. A close competitor with Marutama Ramen for the title of best chicken ramen in town, what sets Keisuke Tori King apart is the huge chicken thigh that tops every bowl of ramen here.
The meaty chicken thigh is grilled to perfection, achieving an even golden brown all over with tender and flavourful meat. Chicken bones are boiled for hours and hours to achieve the thick flavour, accompanied with a slightly more eggy yellow noodle and molten soft-boiled eggs.
Ramen Keisuke Tori King : 100 AM, 100 Tras St #03-15, Singapore 079027 | Tel: +65 66046861 | Website
A unique ramen concept opened by, you guessed it, the Keisuke group. The menu here is inspired by the flavours associated with the seasonal festivals in Japan. The amount of thought and detail that is placed in each creation is really praise-worthy. The highly imaginative and innovative creations prove that ramen doesn't have to be the same old tonkotsu broth.
Try the Tonkotsu Ramen Yurimatsuri ($18.90 for special combo) – A miso-based ramen with a mini-mountain of Parmesan cheese. Cheese fans will enjoy this interesting move added to ramen, but you have to finish this ramen fast before it turns into a creamy, sticky broth.  The cheese shavings resemble the snowflakes of the snow festival. Something for the more adventurous ramen lovers.
Tonkotsu King Four Seasons: 158 Rochor Road, Bugis Village, Singapore 188433 | Tel: +65 63335740 | Website