Ramen is probably the ultimate Japanese comfort food that Singaporeans know and love. This piping hot bowl of noodles in a thick umami-packed broth is sure to warm you up, and is my go-to meal when I crave something salty. With so many ramen joints popping up, here is a list of the best ramen shops in Singapore for a slurping good time.
Also, be sure to slurp the noodles loudly to send your compliments to the chef. Pretty obnoxious elsewhere, but it is completely acceptable and a sign that you are enjoying your bowl of ramen.
1. Kanada-Ya
Hailing from Fukuoka, Japan, Kanada-Ya is an immensely popular brand in its homeland. It is also highly raved about in London, earning itself the title of No.1 Ramen Restaurant in London.
Walk past any of their outlets and you will immediately be drawn to the aromatic fragrance of truffle exuding from the restaurant. Limited to 20 bowls daily, the most sought-after dish here is definitely their Truffle Ramen Special (S$29.32), a hearty bowl featuring 2 slices of truffle belly chashu, black truffle jelly, asparagus, hanjuku egg and a piece of tokudai nori. 
Filled with truffle oil, truffle jelly made from truffle paste and even truffle-marinated chashu, this is surely a truffle lover's heaven in a bowl. If you think that the strong earthy flavours of the truffle will overpower the tonkotsu broth, worry not as the creamy broth is so rich it complements the truffle even more!
Order Delivery: foodpanda Deliveroo
For location, contact numbers and opening hours, refer here.
Facebook | Instagram | Website
How about a bowl of noodles that is delicious yet affordable at the same time? At Takagi Ramen, every bowl of noodles will guarantee you get back some change from your S$10 bill. There's even no GST or service charge, talk about a steal!
Named after the shop, Takagi Ramen (S$6.90) showcases their signature tonkotsu pork broth that has been boiled for up to 12 hours, resulting in a full-flavoured and almost creamy base. The noodles have a lovely and distinct springy chewiness which I very much enjoyed. Paired together with the slow-braised, melt-in-your-mouth chashu slices, every mouthful was a delight, which surprisingly cost only S$6.90!
Here, the Mazemen (S$7.50) is another must-try. Served with a generous portion of juicy sweet corn, crisp toasted nori, strips of pickled ginger, thinly sliced scallions and topped with hand-pulled pork, this dish is an alluring mixture of colours that made my mouth water simply from the looks of it.
Order Delivery: foodpanda Deliveroo
For location, contact numbers and opening hours, refer here.
Facebook | Instagram | Website
3. Konjiki Hototogisu
Awarded Tokyo's Michelin Bib Gourmand for 5 consecutive years since 2015, Konjiki Hototogisu is one noodle joint ramen lovers should never miss. Originally with only 1 outlet in CHIJMES, this ramen spot now has 6 outlets across Singapore. With no MSG added to their broth, Konjiki Hototogisu provides ramen that's on the healthier side.
Famous for their clam-flavoured broth prepared using Hamaguri clams, the Shio Hamaguri Soup Signature (S$19) comes with white truffle oil and black truffle paste in the broth. Adding an extra depth of flavour to the dish are bacon bits and porcini flakes which enhance the chewy noodles with their complex flavours. Sadly, this dish is only available at the CHIJMES outlet. 
Konjiki Hototogisu also has an exclusive Singapore special — Tonkotsu Smoked Pepper Ramen (S$17), which uses smoked minced pork meat rather than the usual pork bones to make the broth. With a taste reminiscent of local classic bak chor mee, this ramen is definitely unlike the ones we normally encounter. 
Order Delivery: foodpanda Deliveroo
For location, contact numbers and opening hours, refer here.
Facebook | Instagram | Website

Whenever I travel to Japan, there are two ramen joints that I never fail to visit. They are Ichiran Ramen and AFURI Ramen. After a long wait, AFURI Ramen has finally opened its doors here in Funan Mall on the sunny island of Singapore.
Famed for their yuzu ramen, Yuzu Shoyu Ramen (S$19.50) is the dish first-timers to AFURI Ramen should not miss. Unlike a regular bowl of milky rich noodles, the citrusy taste from the yuzu adds a hint of unexpected freshness which matches perfectly with the chicken broth and charcoal-grilled pork. For a lighter option, you can opt for Yuzu Shio Ramen (S$19.50). 
It's also good to note that AFURI Ramen does not use any MSG, artificial ingredients like colouring agents, food preservatives and other chemical seasonings in any of their dishes. So, if you are dining with younger children or trying to eat healthy, go ahead and indulge all you like.
Order Delivery: foodpanda Deliveroo
107 North Bridge Road, Funan Mall, #B1-29, Singapore 179105
+65 6970 1386
Daily: 11.30am – 10pm
Facebook | Instagram | Website
For a tantalising array of ramen suitable for Muslim diets, head to Hokkaido Ramen, a halal-certified joint with 8 outlets scattered around Singapore. 
Without the use of pork, the broth here is flavoured with chicken bones that are simmered for several hours, then finished with a blend of bonito and mackerel as well as Hokkaido kelp. Surprisingly, there is not much of a difference in taste from the usual pork bone broth, so our Muslim friends won't miss out!
Bringing out the essence of their chicken broth is the classic Ichikokudo Original Ramen (S$10.90), a soy sauce-based ramen topped with chicken slices, bamboo shoots, Japanese kelp and an ajitama egg. Amazingly savoury and rich, the broth in this bowl works hand in hand with the springy noodles, resulting in addictively delightful bites.
If you are a seafood lover, I'll strongly recommend the Hokkai Ramen Gifts From The Sea (S$19.90). Assorted vegetables aside, this bowl is crowned with two gigantic crab legs, shrimp and scallops, brimming with fresh, briny flavours that will surely excite your palate. For less than S$20, this is truly a steal you won't want to miss.
Order Delivery: foodpanda
For location, contact number and opening hours, refer here.
Facebook | Instagram | Website
6. Marutama Ramen
Affectionately known as the 'basketball ramen' because of the logo, Marutama Ramen serves up chicken broth instead of the usual pork-based one. Chicken as a base isn't as popular but Marutama has managed to convert many, having opened 5 outlets in Singapore.
Chicken isn't usually as flavourful as pork, but at Marutama they do it right. In my opinion, the chicken broth is equivalent to a tonkotsu broth in terms of its hearty flavour.
The classic here has to be Marutama Ramen (S$14.90), which is just the good ol' combination of seasoned boiled egg, char siu and noodles. Personally, I especially love their noodles, which are on the springier side. Truly a bowl of goodness that cannot go wrong, in my opinion. 
There are only a handful of variations on the menu, which definitely add some variety in case folks want something different. It's a change from the regular pork-based Japanese noodles but equally satisfying and delicious.
Order Delivery: foodpanda
For location, contact number and opening hours, refer here.
Facebook | Instagram | Website
7. Sanpoutei Ramen
From the ingredients imported from Niigata, Japan to the specially made ramen bowls that keep the ramen piping hot, Sanpoutei Ramen takes care of all the details. The noodles are handmade daily to ensure maximum freshness and springiness.
Their broth is especially unique, having been stewed for 6 hours with a mixture of vegetables, whole chicken, tonkotsu as well as 2 different types of dried sardines. With this authentic fish stock, Sanpoutei Ramen truly stands out from the rest.
The house special is the Niigata Shoyu Ramen (S$15), traditional Japanese noodles made with a clear fish broth instead of the usual pork bone broth. The fish stock gives the ramen a more refined taste, with a light fish flavour that is not at all overpowering. A lighter shift from the norm ramen, which I'm sure would be appreciated by those with lighter taste buds.
Order Delivery: foodpanda
For location, contact number and opening hours, refer here.
Facebook | Website
8. Ramen Nagi
It's taken years for Ramen Nagi to open an outlet in Singapore, but this famed noodle chain from Fukuoka does not disappoint. Founder Chef Ikuta Satoshi won the Tokyo Ramen of the Year Championship in 2012, and this certainly built up anticipation for a taste of his ramen. 
For those who have visited Ichiran Ramen, the Omotenashi sheet at this ramen joint will be familiar. Using it, customers can customise their ramen to their heart's content, with options for everything from the richness of the broth to even choice of pork shoulder or belly chashu.
I particularly enjoyed the Black King ($15.90) for its peppery, garlicky goodness. Darkened with black garlic and squid ink, the black ball of meat adds stronger flavours and a hint of sweetness when you break it up and mix it into the soup. The broth had an extremely fragrant characteristic, with hints of sesame and a slight kick from the spicy sauce.
Order Delivery: foodpanda
2 Orchard Turn, ION Orchard, #B4-54, Singapore 238801
+65 8163 2185
Mon to Thu & Sun: 11am – 9pm
Fri & Sat: 11am – 10pm
Facebook | Instagram | Website
9. Ramen Keisuke Tonkotsu King
Ramen Keisuke is a big player in the ramen game, with different outlets specialising in specific types of noodles, all of which are popular. Tonkotsu broth is considered to be the preferred ramen broth of Singaporeans and Ramen Keisuke Tonkotsu King is what many, including Seth, consider to be the best tonkotsu ramen in Singapore. It currently has 3 outlets of this concept. 
No matter which outlet you head to, you can always expect to see a queue outside their cosy ramen joint. At Ramen Keisuke Tonkotsu King, the tonkotsu broth is boiled for hours to achieve a milky and flavourful broth that's good to the last drop and is definitely worth the queue.
Those who enjoy a little heat will adore their Red Spicy Tonkotsu Ramen (S$19.44), which is pretty similar to the store's classic Tonkotsu Ramen Special (S$18.36) other than the scary-looking chilli oil. The oil's flavour is truly unique, giving quite a heavy kick of spice to the flavourful broth.
Order Delivery: foodpanda Deliveroo
1 Tras Link, Orchid Hotel, #01-19, Singapore 078867 
+65 6636 0855
Mon to Fri: 11.30am – 3pm & 5pm – 10.30pm
Sat & Sun: 11.30am – 10pm
16A Lor Mambong, Singapore 277678 
+65 6463 4344
Mon to Fri: 12pm – 2.30pm & 5pm – 10pm
Sat & Sun: 12pm – 9.30pm
2 Jurong East Central 1, JCube, #B1-18/19, Singapore 609731 
+65 6694 6045
Daily: 11.30am – 9pm
Facebook | Instagram | Website
10. Hokkaido Ramen Santouka
Hokkaido Ramen Santouka is a wildly popular brand with outlets all over the world. Rather than having an extreme flavour, this ramen franchise favours milder broths to cater to families or more precisely, children and the elderly. On that same note, the soup's temperature is also not too high, for it to be just right when sipped.
Famed for its Tokusen Toroniku Ramen (S$21), the restaurant uses pork cheek from prized aged Iberico pork. They truly melt in your mouth, having a perfect balance of fat and lean meat, which soaks up all the spices and flavours it was braised in. The noodles here are on the thinner side too, so if you're into mee kia, you'll enjoy this.
Santouka also uses kurobuta, the more premium and flavourful black pig. Trust me, there really is a difference in the quality of normal pork versus black pork. I guess this is what sets this place apart from the rest.
Order Delivery: foodpanda Deliveroo
6 Eu Tong Sen Street, Clarke Quay Central, #02-76, Singapore 059817 
+65 6224 0668
Mon to Fri: 12pm – 3pm & 5.30pm – 9pm
Sat & Sun: 11.30am – 9pm
Facebook | Instagram | Website

11. Bariuma
We may all know Bariuma for their Free gyoza deal for birthdays, since it truly is a remarkable steal. Like, where else can you get the same number of free gyoza as your birthday? 
But those in the know come back time and time again for its authentic bowls of ramen. With branches in Malaysia, Indonesia, Hong Kong and many more countries, this ramen chain has quite the reputation for having the strongest tonkotsu flavour in their broth.
Served with a tonkotsu shoyu broth and thin hakata-style noodles, Bariuma definitely qualifies as one of the best ramen shops in Singapore for their Ajitama–Uma (S$16.09), a bowl of ramen served with thick-cut grilled chashu. 
Diners often place additional orders for their thick torched chashu that is tender and fatty, with lovely charred bits along the side. The gyoza is really popular too; crispy on the outside and juicy on the inside. It would be a shame to miss out on that birthday promotion, too!
Order Delivery: foodpanda Deliveroo
273 Thomson Road, Novena Gardens, #01-03/04, Singapore 307644 
+65 6354 3711
Daily: 11am – 9.30pm
Facebook | Instagram | Website
12. Chabuton
Being the first Michelin-starred ramen restaurant in the world, Chabuton has seen mixed reviews from the public. Having ceased operations in 2021, Chabuton returned from the hiatus in 2022 and has remained at 313@somerset ever since. 
Founded by the so-called "King of Ramen" Chef Yasuji Morizumi, this ramen lives up to the high expectations. Older folk may recall renowned Straits Times food critic Wong Ah Yoke naming this 1 of the top 3 ramen restaurants in Singapore.
The signature Chabuton Tonkotsu Ramen (S$15.90) won my heart with its thick and creamy broth, full of savoury flavours. Thinner noodles are used here and are cooked to al dente, making them the perfect texture to complement the soup. 
This, too, is one of the places where your ramen can be customised, with options for level of salt and oiliness. For some dishes, it is even possible to alter the spice level and size of ramen — isn't that great?
Order Delivery: foodpanda
31 Orchard Road, 313@somerset, #B2-01, Singapore 238895
+65 6636 8335
Daily: 11.30am – 9.30pm
Facebook

 13. Ramen Bar Suzuki
Serving a variety of different broths for their ramen, Ramen Bar Suzuki has a unique selection for you to choose from. This joint is especially proud of their noodles, which are made from Japanese wheat, making them highly compatible with their classic tonkotsu broth. 
The vital essence in each bowl is the particular sauce used with the 4 types of ramen available, each giving a distinct flavour profile despite having the same base.
There's Pure White (S$13.90) which is the can't-go-wrong option, Jet Black (S$14.90) with squid ink and garlic, and Cardinal Red (S$14.90) that contains spicy miso. With so many choices, one of them is sure to pique your interest. 
The house speciality is the Jet Black, with robust flavours of garlic and coloured with squid ink. Bonus for the free flow of side dishes like hard-boiled eggs!
Order Delivery: foodpanda Deliveroo
61 Circular Road, #01-01, Singapore 049415
+65 6225 8115
Mon to Fri: 11.30am – 10.30pm
Sat: 11.30am – 10pm
Closed on Sun
Facebook | Instagram | Website

14. Hakata Ikkousha Ramen
2-time ramen champion in Japan, Hakata Ikkousha Ramen has 2 outlets in Singapore; one is in CHIJMES while the other lies in Tanjong Pagar. With bold red torii beams at the front entrance, the interior truly makes you feel like you are dining at an authentic ramen bar in Japan. 
There are even health benefits with this ramen, thanks to the rich collagen that seeps out after being simmered for a long 12 hours with pork bones.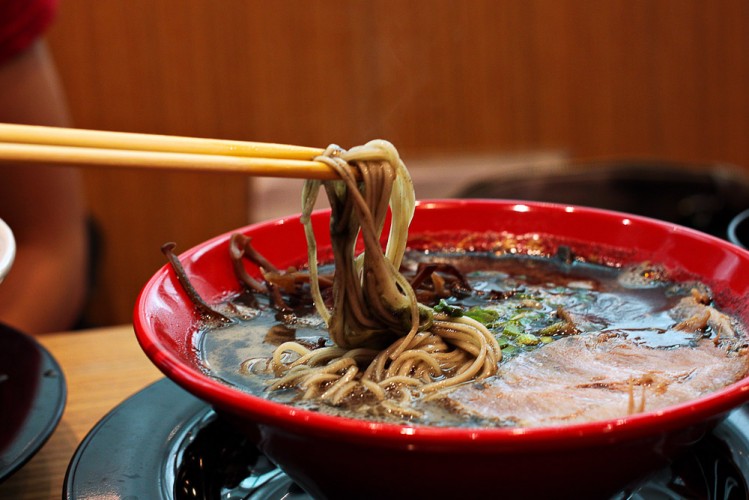 Their tonkotsu broths range from red to black, and there's even a special God Fire Ramen (S$15.50) for all you spice-loving Singaporeans. A perfect balance between the spicy kick and the creamy natural flavour of the broth, this truly is not for the faint-hearted. 
Each bowl of noodles is also fully customisable, right down to the thickness of the broth and cooked to perfection. It is no wonder it was awarded the Ultimate Ramen Champion twice!
Order Delivery: Deliveroo
30 Victoria Street, CHIJMES, #01-07, Singapore 187996 
+65 6338 8460
Mon to Sat: 11.30am – 9.30pm
Sun: 11.30am – 8.30pm
Block 7 HDB Tanjong Pagar, Tanjong Pagar Plaza, #01-104B, Singapore 081007 
+65 6538 1880
Mon to Sat: 11.30am – 10pm
Sun: 11.30am – 9pm
Facebook | Instagram | Website
15. Keisuke Tori King
Another concept from the ridiculously popular Keisuke group, Keisuke Tori King specialises in chicken-based ramen, as the name suggests. Made from chicken bones, chicken feet, Japanese seaweed and an assortment of vegetables, the broth here is boiled for a solid 8 hours to fully absorb all that flavour-packed goodness. 
A close competitor of Marutama Ramen for the title of best chicken ramen in town, Keisuke Tori King sets itself apart with the huge chicken thigh that tops every bowl of noodles.
The Tori King Ramen Special (S$18.90) features a meaty chicken thigh grilled to golden-brown perfection together with tender and flavourful meat. The thick flavour of the broth has an incredible richness without being overly salty. 
Accompanied with slightly more eggy yellow noodles and molten soft-boiled eggs, this ramen is packed with lots of protein, sure to keep you full throughout the day. Whoever said ramen had to be pork to be good, right?
Order Delivery: foodpanda
100 Tras Street, 100 AM, #03-15, Singapore 079027
+65 6604 6861
Mon to Fri: 11.30am – 3pm & 5.30pm – 10pm
Sat & Sun: 11.30am – 10pm
Facebook | Instagram | Website

16. Tonkotsu King Four Seasons
The menu at Tonkotsu King Four Seasons is inspired by the flavours associated with the 4 seasons in Japan — Spring, Summer, Fall and Winter. Formerly, this concept was named Ramen Keisuke Tonkotsu King Matsuri and was more focused on the festivals in Japan. After some R&D, it is now changed to Tonkotsu King Four Seasons that focuses on seasons. 
The amount of thought and detail behind each creation is really praise-worthy, proving that Japanese noodles don't always have to be paired with the same old tonkotsu broth.
You should try the Tonkotsu Ramen Spring Special ($17.90), a tonkotsu-based ramen with a mini mountain of Parmesan cheese as well as a dash of basil oil. With this ramen being on the experimental side, even the more adventurous ramen lovers will have quite the challenge.
Cheese fans will enjoy this interesting twist added to your bowl, but you have to finish it fast before it turns into a creamy, sticky broth.
158 Rochor Road, Bugis Village, Singapore 188433
+65 6333 5740
Mon to Fri: 11.30am – 2.30pm & 5pm – 10.30pm
Sat & Sun: 11.30am – 10.30pm
Facebook | Instagram | Website

17. Ramen Hitoyoshi
Ramen Hitoyoshi may not have as long a history as the other ramen shops on this list, but that is not to say that it is not worthy. Founded by the duo of Ray and Tan in 2017, who both worked in various reputable Japanese restaurants before coming out to establish one of their own. 
There are three flavours to choose from: Original Tonkotsu, Garlic Tonkotsu and Spicy Tonkotsu. Each flavour comes with a unique taste that elevates the original tonkotsu broth.
In Ramen Hitoyoshi, there is their prized Special Chashu, which is said to be Aburi Belly chashu! Since not every store serves their tonkotsu ramen with Aburi Belly Chashu, this will be the highlight of your visit. Unlike any regular chashu, this chashu is rich and melts in your mouth, complementing both the noodles and broth.
Personally, the Garlic Tonkotsu (S$11.90) gives an out-of-body experience as the dollop of garlic oil creates a fragrant broth with ultra long-lasting garlic flavour. Those who love garlic fried rice are sure to pick this as their winner. 
Order Delivery: foodpanda Deliveroo
For location, contact number and opening hours, refer here.
Facebook | Instagram | Website
18. Menya Kokoro
Menya Kokoro is slightly different from the rest of the entries on our list as it serves mazesoba, which is a soup-less ramen. For those who are unaware, mazesoba directly translates to "mixed noodles" and is a popular variety of ramen that exchanges broth for a soy-based tare.
This ramen joint has been awarded the title of Best Mazesoba by Tokyo Ramen of the Year, so it's unsurprising that Menya Kokoro is the biggest mazesoba chain in Japan. 
Folks mostly order the popular Zenbu All In Mazesoba (S$18.14), which essentially is their signature with the usual boatload of ingredients like bamboo shoots and seaweed as well as braised egg. It's truly indulgent, especially with the chewy noodles doused in an incredibly rich minced meat sauce. 
However, there are other mazesoba choices, too — Big Pork Mazesoba (S$17.60), Unagi Mazesoba (S$18.68) and Beef Mazesoba (S$18.14) for those who want some more protein. Surprisingly, they also offer Original Vegan Mazesoba (S$16). Even I am just a tad curious about what it would taste like. 
For location, contact number and opening hours, refer here. 
Facebook | Instagram | Website
19. Brothers Ramen
Founded by a pair of brothers right here in Singapore, Brothers Ramen definitely holds the crown for having an intriguing name. Although not Japanese themselves, the brothers have proven that their completely homemade ramen is the real deal.
Using a Yamato noodle-making machine (which is said to retail for at least $50K USD) imported from Japan, their noodles have a slight difference from the normal ramen strands. On the more eggy side, they have a flavour that transforms the whole ramen experience.
The broth in classic Brothers Ramen (S$13.90) is also a tad special as it's cooked with a combination of pork, chicken, fish and vegetables. Rich and flavourful, the hard work put into the soup definitely shows, as it is delightful to slurp while munching on the noodles.
This has to be the first time I've seen a mixture of both pork and chicken chashu in the same bowl of ramen, without any additional cost! Tender and hefty, the chashu makes for a fantastic side with the ramen.
10 Anson Road, International Plaza, #01-20, Singapore 079903 
Mon to Fri: 11.30am – 2.30pm & 6pm – 8pm
Sat: 11.30am – 2.30pm
Closed on Sun
Facebook | Instagram | Website
20. Nantsuttei
Garlic fans are sure to appreciate Nantsuttei's fare, which is intensively flavoured with the beloved herb. The broth used here is simmered with pork bones, pork bone marrow and chicken bones, along with a large amount of garlic. There's even extra black garlic oil ladled on top but the smell is not too strong. 
Their Kara-miso Chashu-men (S$18.40 for Normal, S$19.50 for Japan) looks incredibly menacing, with the spice levels from 0 all the way to 4. For the extra hungry, this shop offers 2 sizes — Normal & Japan size. Prices for each size differ for each type of ramen, with slight increases ranging from S$1 to S$2. Talk about a steal, I'll be sure to stop by for their garlic ramen! 
However, I do believe that the thick umami-heavy broth that has been laced with garlic flavour would taste fantastic with a good kick of spice.
181 Orchard Road, Orchard Central, #07-12/13, Singapore 238896
+65 6337 7166
Mon to Sat: 11am – 9.30pm
Sun: 11am – 2.45pm & 5.30pm – 9pm
Facebook | Instagram | Website
Need a wow-level performance before eating? Fire Ramen & Izakaya by Menbaka, also known as Menbaka Fire Ramen will definitely give you one you won't forget— it features a high tower of fire upon a bowl of ramen. Arriving from Kyoto, this ramen joint is quite famous for the spectacle. 
What lights the bowls aflame is actually the signature green onion oil poured over the ramen. It makes for dramatic visuals that are sure to look great on camera. Other than for aesthetics, the oil also helps to enhance the aroma and taste of the green onions.
A safe option here would be the Shoyu Fire Ramen (S$17.90). Tried and tested in the Kyoto branches, Menbaka Fire Ramen incorporates a renowned shoyu soy sauce in the broth of this ramen. Tatsuno, the shoyu brand has been in the trade for 226 years, hence the menu item name '226 Years Shoyu Recipe'. 
The freshness of the green onions helps balance out the jelak from the chicken broth, creating a harmony that is truly memorable.
Order Delivery: foodpanda
176 Orchard Road, The Centrepoint, #01-53/54/55/56, Singapore 238843
+65 8218 9236
Mon to Thu: 12pm – 10pm
Fri to Sat: 11.30am – 11pm
Sun: 11.30am – 10pm
Facebook | Instagram | Website
22. Kanshoku Ramen
Another local ramen shop rounds off this list. Kanshoku Ramen was started out by 2 close friends Melvin and Brendon in 2014. With the focus on creating fresh, healthy and tasty ramen, the pair wished to create a ramen that could be finished entirely without giving you food coma. 
As such, this ramen joint handmakes many of its ingredients! Their broth starts with filtered water and ends with no preservatives or added salt. Imported pork from Holland as well as fresh Hakata-style ramen are prepared in-house daily. All the stops have truly been pulled out to ensure the highest quality.
Their unique selling point has to be the Truffle Ramen selection, consisting of Dry Truffle Ramen (S$17.90), Truffle Uni Ramen (S$29) and Truffle Broth Ramen (S$18.90). Addictive truffle envelopes the taste buds in each mouthful, along with pure luxury from the scallops and ebi. An important note would be that the Dry Truffle Ramen is served cold, just like a refreshing somen!
Order Delivery: foodpanda Deliveroo
For location, contact number and opening hours, refer here. 
Facebook | Instagram | Website
OBBA Jjajang Express opens in Punggol hawker centre with slashed prices from flagship outlet!